Gold landed some important haymakers in the past week. But it may need to regroup in its corner before continuing the fight higher.
Gold had already been battling its way back in recent weeks. Beyond the spot price, the recent performance of gold can be monitored through several securities including the SPDR Gold Trust (NYSEARCA:GLD), the iShares COMEX Gold Trust (NYSEARCA:IAU) and the Sprott Physical Gold Trust (NYSEARCA:PHYS). The yellow metal by all of these measures had struggled for the last several months of 2011 despite the fact that the threat of crisis continued to overhang financial markets and global central banks remained wedded to aggressive money printing to combat the problem. But after bottoming on the second to last day of 2011, gold has been on the rise ever since. Heading into last week, gold was up roughly +7% so far in 2012.
The latest communications from the Fed this past Wednesday provided gold with an additional strong tailwind. Following its latest FOMC session, the Fed announced that it would extend its 0% interest rate commitment to late 2014. It also introduced explicit inflation targets and openly indicated that it stood ready to roll out QE3 at a moments notice. Such suggestions of additional money printing and the desire for more inflation quickly energized gold, which advanced another +5% from the moment Mr. Bernanke started speaking on Wednesday through the end of the week.
click to enlarge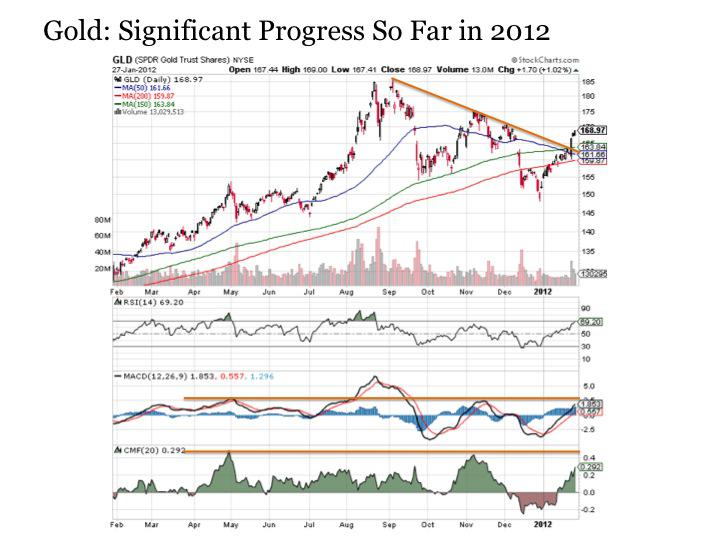 Gold's latest surge was particularly important from a technical perspective. Gold had already reclaimed support at its 200-day moving average (red line on chart) at the beginning of January, but remained locked below resistance at the previous critical support levels at the 50-day (blue line) and 150-day (green line) moving averages. It was also pushing under the weight of a downward sloping trend line (orange line) that had been place since the beginning of September.
In other words, gold had some significant resistance to overcome before it could continue its move higher. But the Fed's announcement on Wednesday provided the spark that enabled gold to break out decisively above all of these resistance levels. This is a very positive development for the gold price outlook assuming it is able to hold above these readings in the coming days.
Now that gold appears to have broken through to the upside, it is reasonable to consider what lies ahead for the yellow metal.
In the near-term, gold may need to spend some time consolidating its recent advance. Given that it had already risen fairly strongly since the beginning of the year, gold is now approaching overbought levels based on its Relative Strength Index (RSI). In addition, momentum and money flow indicators are both either at or approaching previous peak levels. And gold has either consolidated gains or pulled back after reaching similar technical readings in the recent past. As a result, it would not be surprising to see gold take a breather following its recent advance.
The outlook for gold remains bright, however, beyond any potential near-term consolidation. The fundamental case for owning gold continues to strengthen, as global central banks appear boundless in printing money and debasing currencies in the ongoing effort to generate growth and buy more time to work through what may ultimately be insurmountable debt problems. As a result, a return to previous peaks and an eventual breakout to new highs for gold would certainly not come as a surprise in the coming months.
Thus, while a period of near-term consolidation may be required for gold following its recent advance, if anything it would provide a good entry point for those interested in positioning for what is an increasingly positive outlook for gold moving forward.

Disclosure: I am long GLD.
Disclaimer: This post is for information purposes only. There are risks involved with investing including loss of principal. Gerring Wealth Management (GWM) makes no explicit or implicit guarantee with respect to performance or the outcome of any investment or projections made by GWM. There is no guarantee that the goals of the strategies discussed by GWM will be met.