I argued earlier that a shadow inventory of yet-to-be foreclosed homes is no longer a large concern for homebuilders. This argument provides additional support for buying the dips in housing stocks in anticipation of a 2013 bottom. KB Home (NYSE:KBH) is my prime pick for making this bet. It turns out that there is yet one more reason for buying the dips in KBH.
The company is second only to Meritage Homes Corporation (NYSE:MTH) for the percentage of homes built in states that do not require a lender to first file a lawsuit against a homeowner to initiate a foreclosure process. In other words, when it comes to battling under-priced foreclosures, KBH is building in a sweet spot. CNBC put together the following data from Lender Processing Services (LPS is another stock on my buy list):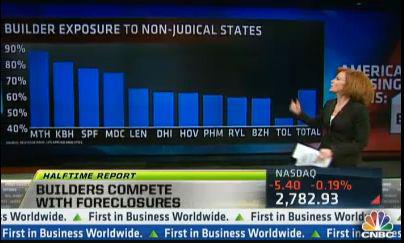 Meritage Homes and KB Homes are concentrated in non-judicial states.
Source: CNBC (January 20, 2012)
In this segment, CNBC further reported that non-judicial states should clear the current stock of foreclosures in about 33 months (range of two to four years). It could take 96 months for foreclosures to clear in judicial states. So, if I am proven over-optimistic using the tentative assessment that this swell of foreclosures now represents an inordinate amount of low quality inventory, it should help to own stock in a homebuilder who will suffer the least from this overhang.
Interestingly enough, Meritage Homes has consistently out-performed KBH, especially in the last two years.
click to enlarge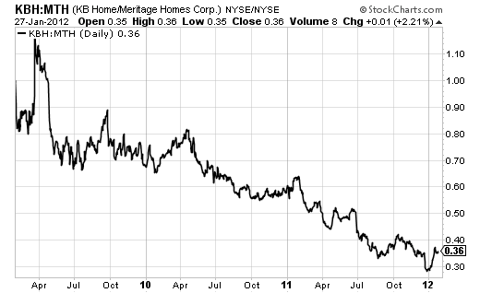 Click to enlarge
Meritage has outperformed KBH for at least the last three years.
Source: StockCharts.com
Finally, this CNBC segment presented 2011 year-end data that clearly demonstrates that housing has yet to carve out and confirm a bottom:
2011 was the worst year on record for the home construction industry
Single family starts and permits hit record lows
Be careful out there!
Disclosure: I am long KBH.