Last week Wells Fargo (NYSE:WFC) issued an equity report analyzing Equinix (NASDAQ:EQIX) from a different angle: What if the company decided to become a REIT?
At the end of his research, the analyst raised the company valuation range to $146-$156 (from $123-$131), and maintained an Outperform rating.
While we do not believe the conversion is round the corner, it is certainly an interesting exercise to examine some of Equinix's metrics in a different way and try compare them to other data center providers specialized in the wholesale business.
Long time followers of the company will remember that this is not the first time Equinix is mentioned as potentially creating shareholder value through financial engineering. Back in September 2010, Citigroup had gone through a similar process:
Citigroup believes a REIT structure is a viable long-term option for Equinix's colocation segment and thinks a conversion could be done as early as 2013. The firm sees potential valuation and tax benefits from such a move and upped its price target for shares to $121 from $110 while keeping a Buy rating.
The company itself has been very clear with investors, and let the door open to this possibility, as expressed by Equinix's CFO, Keith Taylor, at the time of the Switch and Data acquisition:
Over time we'll continue to think about the REIT structure, whether or not we can take any of our assets, put them into a REIT structure to become more tax efficient. That said, we do have NOLs; we have meaningful NOLs.

And with a combination of again Equinix and Switch & Data, there's some tax advantages to this as well. And so that would potentially delay that decision even further with the right structure and looking at the 382 limitations on their NOLs.
Another clue seems to indicate that such a move wouldn't just be the result of a hasty, opportunistic decision, as the company has long had an expert on its BoD:
Many corporate board appointments aren't particularly newsworthy. But Equinix made an interesting appointment today [February 20th, 2007], announcing that veteran real estate investment specialist Irving F. Lyons, III has joined its board of directors, which now has six members. Lyons is the Principal at Lyons Asset Management, a California-based private investment firm, and previously served as co-chairman and chief investment officer for Prologis, the world's largest industrial real estate investment trust [REIT].
Before coming back to Wells Fargo's recent analysis, let's take a quick look at a slide presented during Equinix's latest analyst day, back in November 2010.
While these data may sound obsolete, as they refer to Q3 2010, the bottom line remains of interest: compared to the sector's leading REITs, Digital Realty (NYSE:DLR) and Dupont Fabros Technology (NYSE:DFT), Equinix's cash flow and net leverage look favorable, assuming all these companies were reporting in a similar fashion: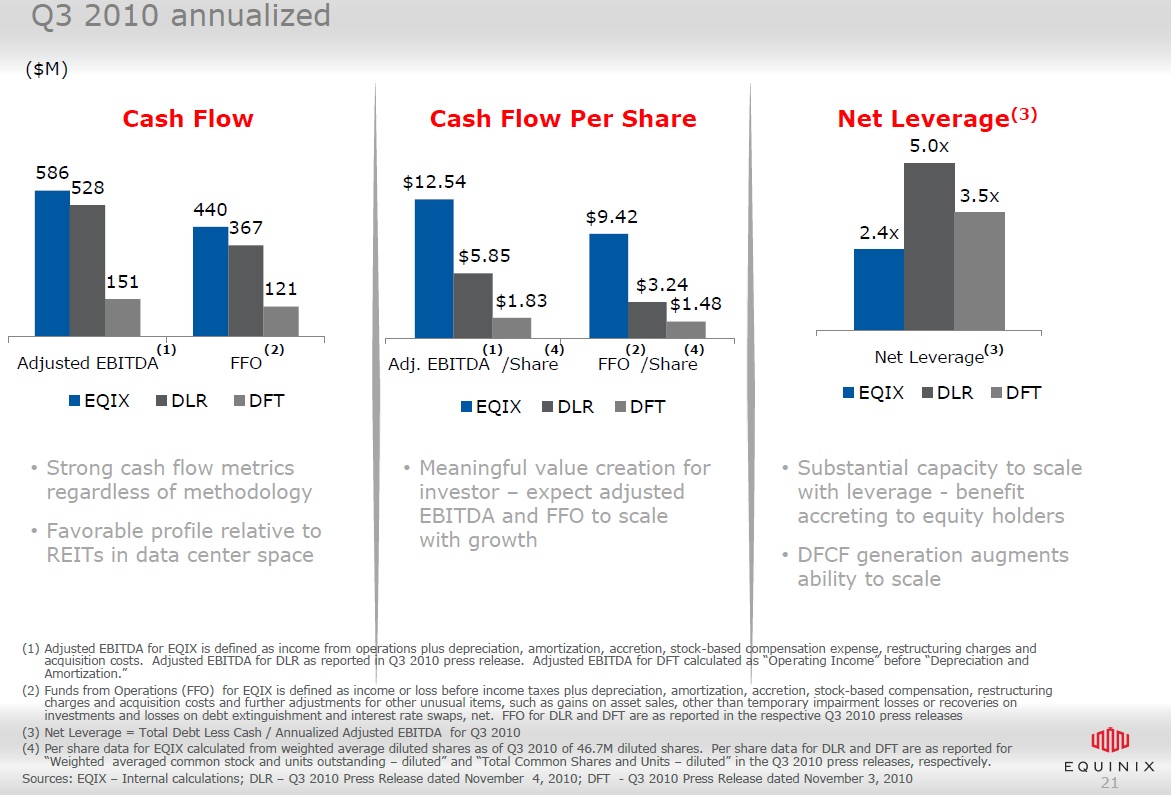 Wells Fargo analysis, which we mostly agree with, gets into more details as to the potential consequences of an Equinix's conversion into a REIT.
First of all, the analyst notes that the situation is quite similar to that of American Tower (NYSE:AMT), which became a REIT at the beginning of this year. As a result, the company, which traded at a discount to its peers Crown Castle International Corp. (NYSE:CCI) and SBA Communications Corporation (NASDAQ:SBAC) for roughly 4 years, has seen this gap recently converting into a premium of almost 10%, as the market is now granting the company higher multiples than before. In other words, the move seems to have worked as an opportunity to unlock value and probably attract different investors, now valuating the company under a new light.
Wells Fargo analysis notes that Equinix can drive 26% recurring FCF/share growth between now and 2015, compared to roughly 19% for the towers and about 16% for Digital Realty. The outlook is obviously assuming that these companies will execute in accordance to their plans, however, even a year-to-date analysis shows that Equinix has so far delivered a better return on invested capital (more than 13%) compared to Digital Realty (more than 9%), and probably in line with American Towers and its peers.
Without getting into too many details, this unusual approach to Equinix's metrics is interesting as the strong growth of the company, and the huge investments made in new facilities necessary to cope with it, have always somehow hidden the underlying performance. While adjusted EBITDA has always been, in our opinion, a much better way than EPS to judge the company's strength, a criticism for the lack of FCF has always surrounded the company, which led management to reporting discretionary FCF in order to highlight the great potential of the business model. In a different scenario like a REIT, it might probably be easier to recognize the company's strong performance, which could lead to granting Equinix higher multiples.
As a reminder, Equinix owns only a few of its data centers, usually those which may be considered strategic for its activity, like the campus in Ashburn, Virginia (Washington DC metro), the most connected peering hub on the US East Coast, or one key facility in San Jose, Silicon Valley, and data centers in Frankfurt (Germany) and Paris (France). This fact could obviously pose some problems if Equinix decided to convert into a REIT, as the company would only generate about 25% of its revenues from owned locations, and comparisons with other peers should also factor this concern.
Still, the exercise to look at the company from a different angle remains, in our opinion, very useful, as it shows that Equinix might be granted a different valuation, depending on the investor's approach to its story.
Disclosure: I am long EQIX.