Very early on Monday morning, Cell Therapeutics, Inc. (NASDAQ:CTIC) told Wall Street that they need additional time to prepare for the highly anticipated review of the Pixuvri NDA by the FDA's Oncologic Drugs Advisory Committee ("ODAC") at its February 9, 2012 meeting.
In a press release, the firm announced that it has voluntarily withdrawn its New Drug Application ("NDA") for Pixuvri (pixantrone) for the treatment of relapsed or refractory aggressive non-Hodgkin's lymphoma ("NHL") in patients who failed two or more lines of prior therapy.
CTIC shares had just seen its shares jump 15% two Fridays ago following news that Pixuvri should receive a decision on its marketability by the European Medicine Agency by mid-February. Now this.
Is it any wonder CTIC shares can't seem to break out of the painfully slow down-ward trend they've been on for years?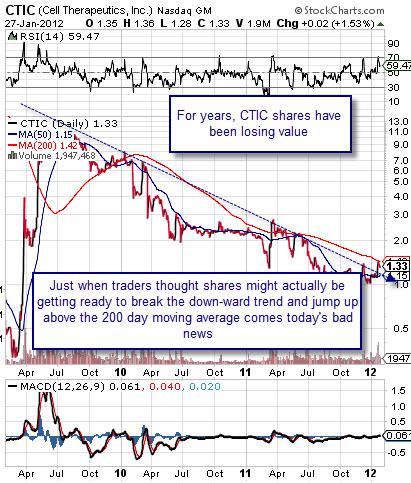 Officials at the company say that drug application was withdrawn because after communications with the FDA, Cell Therapeutics managment decided they needed additional time to prepare for the review of the Pixuvri NDA by the FDA's Oncologic Drugs Advisory Committee at its February 9, 2012 meeting.
According to officials, prior to withdrawing the NDA, the company had requested that the FDA consider rescheduling the review - even suggesting that the review be pushed back until March - but regulators informed the company that they were unable to accommodate the request to reschedule, and that given the April 24, 2012 Prescription Drug User Fee Act ("PDUFA") date, the only way to have Pixuvri possibly considered at a later ODAC meeting was for CTI to withdraw and later resubmit the NDA.
For now, it appears CTI plans to resubmit the NDA sometime in 2012. At what point the clock starts again remains to be seen.
In the past, Cell Therapeutics failed to meet its own clinical trial guidelines but was able to get regulators to agree that they would resubmit their study without running new studies. At the very least, biotech traders were looking forward to the February meeting as a run-up catalyst.
Very few of those traders it seems would consider taking any sort of stake in the company as investors given that the company has run up a bill totalling $1.7 billion since it was founded and they have no marketable drugs. Bashers say that the company is notorious for diluting shareholder value by raising money on a regular basis and that there are far more intriguing biotech plays - many with multiple shots on goal - which should be taken more seriously as investment candidates.
A little more background: Pixantrone is a topoisomerase II inhibitor, which is similar in structure to a class of molecules known as anthracyclines. These molecules all serve as effective therapeutics for the treatment of lymphoma although they induce cardiovascular damage. Due to this, patients cannot use anthracyclines past a certain threshold.
According to Cell Therapeutics, Pixantrone is a substantial improvement since it causes less damage to the patient's vascular system. A patient on Pixantrone can be injected through a peripheral vein, and will not need a catheter. In addition, Cell's PIX301 clinical trial of Pixantrone has confirmed statistically significant results regarding the drug's efficacy. After months of discussing an NDA resubmission with the FDA after its initial rejection, Cell believed that it had addressed all the issues brought up in the initial filing.
When the firm resubmitted the Pixantrone NDA to the FDA for consideration of accelerated approval they seemed rather optimistic; James A. Bianco, M.D., CEO, said:
We believe the resubmitted NDA not only addresses the items in the Complete Response Letter, but confirms the reliability of the initial efficacy results, which we believe demonstrates that pixantrone does provide a clinical benefit to this patient population for which there are no currently approved therapies.
Now, once again CTIC shareholders are left feeling frustrated. Unlike other firms who drop big news on investors in the middle of the night, CTIC did not give any indication that they would be holding a conference call to explain anything in any detail to anyone.
The power for life support that this one is on may have just dimmed. Still, the CTIC hopefuls will likely hold on to hope and whatever value their shares may hold by the end of the trading day.
Disclosure: I have no positions in any stocks mentioned, and no plans to initiate any positions within the next 72 hours.