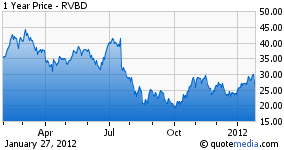 The earnings season continues to produce some wild stock swings in individual names reporting. Riverbed Technology (NASDAQ:RVBD) issued a disappointing fourth quarter report and promptly lost 18% of its share value.
Roller coaster ride
Riverbed Technology, which went public in 2006, has seen its shares move as a roller coaster in its first years as a public firm. Shares which were sold to the public at $9.75 per share quickly rose to $25 by 2007, before falling all the way back to $5 in 2008 as growth rates came down. Acceleration of revenue growth drove shares up from that point, almost ten-folding as they traded $45 in March 2011. Shares corrected along the rest of the market and hit $20 in September before recovering back to $30.
Fast growing company
Last week, the company announced its full year results. 2011 Revenue came in at $728 million on which the company net earned $64 million or $0.38 cents. Revenue was up 39% year-on-year, profits even more. To illustrate the enormous growth over the last years, in 2007 annual revenues came in at $236 million. For the fourth quarter revenue came in at $204 million above the previously guided range of $198-$202 million.
Outlook
The pain of today's announcements lies in the outlook for the first quarter and remainder of 2012. Riverbed expects first quarter revenue to come in at $183-$187 million, up just 13% year-on-year and down on the quarter. Earnings guidance of $0.19-$0.20 fell short on consensus around $0.25. The company expects growth to pick up again later in the year as it expects full year revenue growth at 17-20%.
Stellar valuation
Even after today's drop of 18% the company is still valued at $3.8 billion. With no debt and net cash position of $500 million, the company still trades at fifty times earnings. At these valuation multiples even the slightest change in growth rates have significant price impacts.
The drop in the price today is completely justified and I would not rule out a retest of the September $20 recent lows. Unless a major global IT firm wants to snap up a good asset in the red-hot cloud market, investors have better options to invest in.
Disclosure: I have no positions in any stocks mentioned, and no plans to initiate any positions within the next 72 hours.