"The least movement is of importance to all nature. The entire ocean is affected by a pebble." - Blaise Pascal
On January 5th I noted that the dramatic relative weakness in defensive sectors such as Utilities (XLU), Healthcare (XLV), and Consumer Staples (XLP), and the gradual selling off in the long bond (TLT) seemed to suggest a significant improvement in the environment for risk-assets. I specifically wrote that:
Market internals seem to be suddenly betting on rising inflation expectations, and should this continue, I think it's game on for the bulls. What would really cement this is if the financials (XLF) sector sustainably outperforms. And yes - it appears that this may indeed be in the early stages of happening - finally.
I'd like to revisit the relative performance of Financials, particularly given last week's FOMC statement and explicit targeting of 2% inflation by the Fed. Take a look below at the price ratio of the Financials Select Sector SPDR relative to the S&P 500 (IVV). As a reminder, a rising price ratio means the numerator/XLF is outperforming (up more/down less) the denominator/IVV.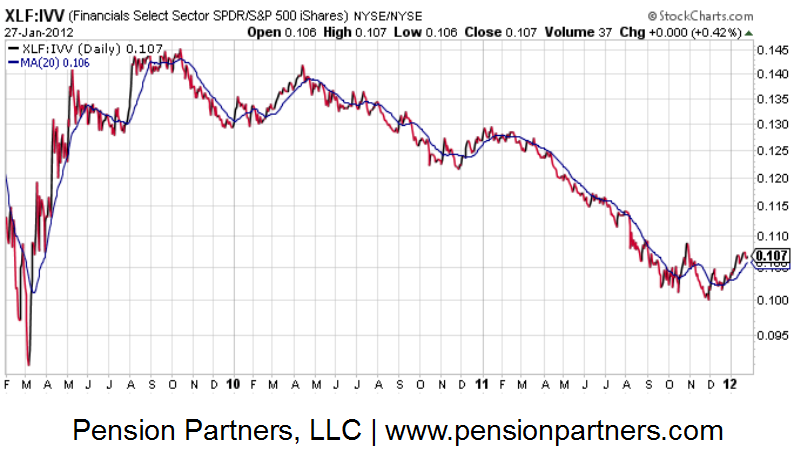 Financials have been performing quite nicely since the relative December low of last year, and has reached the level last hit before Italy's 10 year yield spiked to over 7% in early November (the whipsaw in the Fall Melt-Up case following the historic October move). The trend could certainly slow down its advance in terms of near-term leadership, but there still remains quite a bit of potential for the ratio to rise further.
There are two reasons why further strength may be justified. The first reason relates to the very real and growing possibility that Greece will avoid default, or at least in the kind of default which would equate to a Lehman-like fallout afterwards for financial markets. The second reason? The Fed's explicit targeting of 2% inflation may force money out of savings and into investment. Should this occur and the velocity of money pick up, banks would be direct beneficiaries as the demand for money rises. Either way, within the context of the "Winter Resolution" and a further continuation of the bullish environment for stocks, there does appear to be more room to run for the Financials sector to pull markets upwards.
Additional disclosure: This writing is for informational purposes only and does not constitute an offer to sell, a solicitation to buy, or a recommendation regarding any securities transaction, or as an offer to provide advisory or other services by Pension Partners, LLC in any jurisdiction in which such offer, solicitation, purchase or sale would be unlawful under the securities laws of such jurisdiction. The information contained in this writing should not be construed as financial or investment advice on any subject matter. Pension Partners, LLC expressly disclaims all liability in respect to actions taken based on any or all of the information on this writing.