Eastman Chemical (NYSE:EMN) not only reported its fourth-quarter earnings Friday but perhaps more importantly it announced the intention to acquire specialty chemical maker Solutia (NYSE:SOA) for a total consideration of $3.4 billion.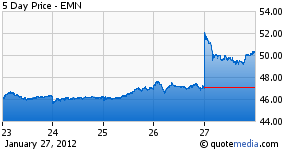 The acquisition
Eastman offers $22 in cash and 0.12 shares in Eastman Chemical for each share of Solutia. The offer to be financed in cash, debt and shares values Solutia at $3.4 billion. The offer represents a 42% premium compared with the close a day ealrier. With the rise in Eastman shares Friday, which closed up 7% on the news, the offer values Solutia at $28.05. Solutia shares closed up 41% at $27.52, still trading at a 2% discount compared with the implicit offer value.
Combination
Eastman pays a little higher multiple for Solutia compared with its own valuation. The offer represents 1.7 times expected 2011 revenue of Solutia and 13 times its net profit. Eastman trades at 1.0 times revenue and 10.5 times 2011 profits.
Shareholders in Eastman should not panic as they do get value in return. Solutia's more international orientation reduces the dependency on domestic customers. Furthermore it expects annual synergies of $100 million by 2013.
The market seems to have applauded the move, and the combined value of both companies rose by $1.5 billion Friday, despite what some analyst say is a "full" price for Solutia, which emerged from bankruptcy just four years ago.
Earnings below expectation, positive outlook
On a separate note, fourth-quarter earnings came in at $100 million or $0.71 per share, below expectations of $0.79. Revenue came in at $1.72 billion, above expectations of $1.64 billion. Eastman earned $696 million or $4.56 per share for the full year of 2011 and had revenue of $7.2 billion.
At the same time Eastman Chemical is confident about the near future as it sees encouraging signs in its key markets. It expects first-quarter earnings of $1.05-$1.15, vs. $1.03 expected. For the full year of 2012 it now expects earnings above $5.00 per share (excluding acquisition costs).
Despite a "full" valuation the acquisition makes sense for Eastman and shareholders should applaud the deal, which could be really beneficial for the combined entity in the medium future. A successful execution of the deal could raise margins and valuation multiples for all shareholders involved.
Disclosure: I have no positions in any stocks mentioned, and no plans to initiate any positions within the next 72 hours.