Success in the business world is a hard thing to come by. Returning to success after a long streak of failure is perhaps even harder. But when a company is able to turn things around, it often bodes well for its future. That is why we are recommending shares of Cisco Systems (NASDAQ:CSCO).
It was not that long ago that Cisco was deemed to have lost its status as a bellwether of the technology sector. For several straight quarters, the shares plunged after each earnings release, as concerns grew that Cisco was being overtaken by smaller competitors, such as Riverbed (NASDAQ:RVBD), Juniper (NYSE:JNPR), and F5 (NASDAQ:FFIV). This is why, over the past year, Cisco stock has underperformed the S&P 500-- falling almost 9%, compared to an advance of over 1% for the broader market.


Commentators gleefully jumped on this news, arguing that Cisco has lost its edge, and that newer, more nimble companies were going to eat its lunch.
However, recent events have served to show that the momentum has once again returned to Cisco. Cisco's 3 primary competitors (Riverbed, Juniper, and F5) have all recently released earnings, and each release serves to confirm that things are improving at Cisco. All 4 of these companies are levered to secular trends in networking. Thus, macroeconomic trends should affect them equally. If one company reports weak earnings, others should as well, since they are all in the same sector.
Yet, these earnings reports tell conflicting stories. On the one hand, we have F5 Networks. The company beat analyst estimates for the last quarter, posting EPS of 83 cents per share ($1.03 in non-GAAP EPS). In addition, F5 issued upbeat guidance for the quarter, calling for EPS of between $1.05 and $1.07 per share, versus consensus estimates for guidance of $1.05. On the call, CEO John McAdam credited strong sales in Asia, Japan, and North America offsetting seasonal weakness, and said that demand for F5's new product lines was strong.
If F5 Networks is reporting great earnings, shouldn't its networking peers do so as well? Logic would dictate this to be the case, but it is not. Given that each of these companies are all influenced by the same economic factors, conflicting quarterly results can only be explained by company-specific issues. Juniper Networks, Cisco's primary competitor, posted GAAP EPS of 18 cents per share (28 cents in non-GAAP) on revenues of $1.1208 billion. CEO Kevin Johnson said that weakness in the quarter was due to slackening demand from service providers. Juniper also issued guidance that was dramatically lower than consensus estimates. The company is guiding for EPS of 11 to 14 cents per share, versus analyst estimates of 27 cents per share.
Analysts also note that gross margins at Juniper have declined for the past 3 straight quarters, falling from 70.6% in the first quarter to 64.2% in the most recent quarter. This decline is most likely due to pricing pressures from Cisco, which has stated that it will become more aggressive in its attempts to reassert dominance in its core router and switcher markets. Even analysts bullish on Juniper, such as Brent Bracelin of Pacific Crest, state that there is limited visibility into the second half, especially when it comes to orders from service providers.
Juniper is not the only company to experience weakness in the networking sector. Riverbed Technology also missed expectations in the quarter, sending its stock down over 18%. Companies that compete in the same sector, as these 4 do, have little room to blame a weak economy for their earnings and/or revenue misses if their competitors are posting good numbers. It would be akin to AMD arguing that the global economy is weak at a time when Intel is posting record profits and revenues quarter after quarter. While Riverbed did beat expectations for this quarter, posting earnings of 25 cents per share compared to expectations for 24 cents, its guidance was poor. The company estimated sales and profits of $183-$187 million and 19-20 cents respectively. That compares to expectations of $193.7 million and 25 cents per share.
While there may be some truth to the argument that slowing sales this quarter can be attributed to pending upgrades in the Steelhead appliance line (companies may be delaying new purchases until the upgrade), some analysts are noting that Riverbed's market opportunity may be approaching saturation. A report from Infonetics pegs growth in the WAN optimization market at 10% in 2012 and 8% in 2013, and Riverbed could have a tough time achieving meaningful growth outside this core market. Analysts are split, however, on the issue of competition, with Aurigia warning of encroachments by Cisco, and Needham unphased by the industry titan.
Given the mixed reports at F5, Juniper, and Riverbed, we believe that Cisco should report a good quarter. Cisco reports on February 8, and it is projected to post record earnings of 43 cents per share on revenues of $11.2 billion, just $100 million shy of a record. Cisco's troubles are behind it, and the company has great metrics. It trades at a P/E ratio of 17.22, and a forward P/E ratio of just 11.19. With a 1.2% dividend yield, Cisco is an inexpensive way to invest in the explosive growth of the internet. And with over $27 billion in net cash on the balance sheet, Cisco is poised to reward stockholders with increased dividends and buybacks, as well as invest in new opportunities.
Click to enlarge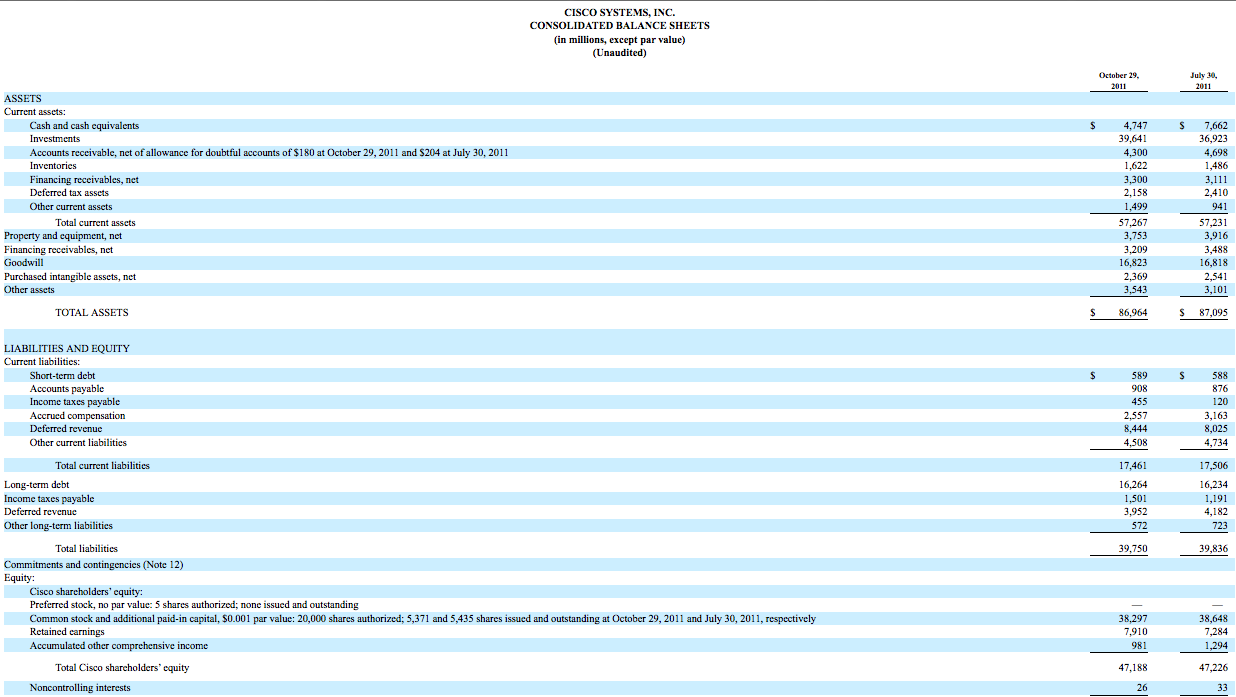 We think now is a good time to add to or initiate a position in Cisco, especially now that analysts remain too conservative. The Reuters average price target for Cisco is $21.88, just 11.86% above current prices. As Cisco proves that its issues are behind it, we are confident that estimates and price targets will rise. Cisco is working hard to reclaim its status as the undisputed leader in networking, and we think that shareholders who believe in Cisco will be amply rewarded for their faith.
Disclosure: I am long CSCO, RVBD.
Additional disclosure: We are long CSCO via the SPDR Dow Jones Industrial Average ETF. In addition, a mutual fund we own gives RVBD a weighting of 0.97%