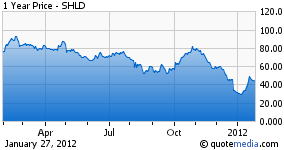 Sears Holdings (SHLD) has come under extreme pressure lately after a Q4 warning and fears of credit tightening around suppliers. The stock recently bounced back to above the gap down from the December warning, but it is has now closed down for five consecutive days.
What stopped the free fall to below $30 from a high above $80 in October was news that Chairman Eddie Lampert accepted management fees from his ESL Investments vehicle in Sears stock. Along with other transfers, Eddie obtained over $150M of stock in early January according to this Wall Street Journal report.
One has to wonder why a legendary investor like Eddie would take stock in a company like Sears unless he knows that bankruptcy isn't a looming issue. Would Eddie really just throw $150M down the drain?
As we've pointed out in previous articles, Sears is taking numerous steps to turnaround the retail operations including externalizing brands and moving to lease more space within and around stores possibly opening up the REIT option.
Ultimately the retail operations turnaround may depend on the housing market recovery. As the largest appliance seller in the U.S., a strong housing market might just solve all the ills at Sears. Is it possible for it to see a stock rebound similar to home improvement retailer Home Depot (HD) or home builder Toll Brothers (TOL)? Most investors would've never predicted 3 months ago that both housing related stocks would be hitting 52 week highs.
Back to the liquidity issues at Sears as ultimately all these plans to externalize brands and profit from real estate holdings won't matter if the company has cash flow issues. As of the Q3'11 report, Sears had over $4B in debt which isn't normally all that bad for a company with over $40B in revenues. Not to mention that Sears also had $624M in cash and over $6B in net merchandise inventories.
The company has reportedly bought $6.6B worth of shares since Eddie took over the company back in 2005. Sure that money would be nice in the bank right now, but on the flip side it has dramatically reduced the outstanding shares. The public float is virtually not existent when removing the shares held by ESL Investments and prominent mutual fund Fairholme.
These 2 funds own approximately 80M out of 107M shares leaving a very small float especially considering other non-trading mutual funds own millions of other shares as well.
While reported shorts amount to around 14M shares, the amount could be much higher with naked shorting. All reports are that Sears remains impossible to short these days. This leads us to believe that with any positive news Sears might just become impossible to cover for shorts.
Sure this seems unlikely but one needs to recall the VW scenario to see what happens when shorts become trapped and are forced to cover. Back in 2008, VW shot up 500% when Porsche bought all the outstanding float.
Shorts remain extremely confident that Sears will end up bankrupt, but they continue to invest counter to the two investment greats in Eddie and Bruce Berkowitz.
Being wrong will seem minor compared to the big run in January from $29 to $55 in a couple of weeks. Naturally on the flip side, Sears is a struggling retailer that could face bankruptcy if it can't turnaround operations or find a way to profit off the real estate holdings or prosper from externalizing the brands.
Sears might be the ultimate gamble. If shorts win, Sears will file for bankruptcy and longs will be cleaned out. If longs win, shorts will find it impossible to cover as the stock soars similar to VW.
Disclosure: I am long SHLD, HD.
Disclaimer: Please contact your financial advisor before making any investment decisions.