Baker Hughes Incorporated (NYSE:BHI) a leading supplier of oilfield services,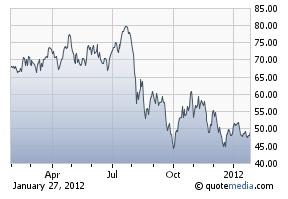 products, technology and systems to the worldwide oil and natural gas industry. The company provides products and services for:
Drilling and evaluation of oil and gas wells;
Completion and production of oil and gas wells;
Other industries, including downstream refining and process and pipeline industries; and reservoir development services.
The business operates primarily through geographic regions that have been aggregated into five reportable segments: North America, Latin America, Europe/Africa/Russia Caspian, Middle East/Asia Pacific and Industrial Services and Other. The key segment is North America, which accounts for 50% of the revenue and 66% of the profit. This makes Baker Hughes a great play on the booming oil industry in the U.S. and Canada.
The primary business driver is customers' capital and operating expenditures dedicated to oil and natural gas exploration, field development and production. The business is highly cyclical and so are the earnings. Earnings per share in the last five years have been as high as $7.27 (in 2006) and as low as $1.36 (in 2009). This looks like a great time to get into the stock. Earnings are increasing. The trailing twelve month EPS are $4.03. The recent announcements on monetary policies should support commodity prices and benefit the oil industry.
The latest 10-Q filing provides some good insight in how the business is doing:
A healthy balance sheet with $3.9 billion in debt and $15.7 billion in equity.
Owner earnings / Enterprise value is yielding around 7%.
Trailing twelve month revenue is the highest in the last 10 years.
The stock price of $49 is trading slightly above to its 52-week low of $42 (52-week high of $81) and is close to my estimate of replacement value.
Return on equity and operating margins are increasing from the lows in 2010.
Return on tangible capital is improving. Trailing twelve months ROTC is 15%. This is still far below the 22% and 26% reached in 2007 and 2008, but significantly above the 6% in 2010.
It is a business with a healthy balance sheet. The improvements in margins, return on equity and return on tangible capital point toward a turnaround in performance. A discounted cash flow analysis taking a discount rate of 10%, 10-year growth rate of 5% and terminal growth rate of 0% gives an intrinsic value of $79 per share. I consider this a conservative value. If oil prices and demand remain at current levels, then I see no reason why the company can't reach the $1.61 EPS realized in Q3 2011 ($6.44 annualized EPS) in the next quarters. Taking a P/E of 15 would take the stock price toward $100
Conclusion: Baker Hughes is a solid company in the middle of a turnaround with a potential upside of 100%. It is one of the best value bets on the oil industry in U.S. and Canada.
Disclosure: I have no positions in any stocks mentioned, but may initiate a long position in BHI over the next 72 hours.