by Brendan Gilmartin
Overview
Broadcom (BRCM) is scheduled to report 4Q 2011 earnings after the close of trading on Tuesday, January 31. Results are usually available at 4:05 p.m. EST and will follow with a conference call at 4:45 p.m. EST. Expectations are quite high headed into the release given the company's exposure to the Apple (NASDAQ:AAPL) iPhone 4S. According to iFixit, Broadcom's Bluetooth and Wi-Fi combo chip are embedded in the popular device, along with a host of other premier smartphones.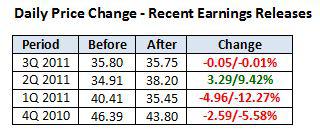 Outliers & Strategy
Key measures:
Non-GAAP Earnings Per Share: The Street estimate is $0.65 (Source: Yahoo! Finance), at the high end of the projected range ($0.58 - $0.68). Earnings have topped estimates by an average margin of 9.4% over the past 4 quarters.
Revenues: Broadcom said back in December it expects revenues at the high end of the prior range for approximately $1.8 billion. The company cited solid shipments and tight operational management for the positive outlook.
Revenues Guidance: The current consensus is $1.74 bln. If the low end of the outlook is above this estimate, Broadcom may extend its advance. If the high end of the range falls short of the consensus, look for potential pullback.
Sympathy Plays: MIPS Technologies (MIPS), Marvell Technology (MRVL), MaxLinear (MXL), PMC-Sierra (PMCS), and EZchip Semiconductor (EZCH).
Broadcom is now trading at just 12.5x forward earnings, resulting in a Forward PEG ratio of just 0.81, implying the shares are trading at roughly a 20% discount to the estimated earnings growth rate.
Recent News
01/25: Broadcom shares rallied after Apple reported that iPhone sales topped 37 million units, well above expectations.
01/09: Deutsche Bank upgraded Broadcom to a Buy rating with a price target of $35, according to StreetInsider.com, due in part to valuation and low near-term expectations.
12/21: MKM Partners initiated coverage on Broadcom with a Buy rating and a $35 price target, according to a post on Barron's. The form believes Broadcom will grow revenues well above its peers.
12/15: Wells Fargo upgraded Broadcom from Market Perform to Outperform and raised earnings forecasts for the full year, according to a post on Barron's. The positive outlook is based in part on the company's extensive product line.
11/09: Broadcom declared a quarterly cash dividend of $0.09 per share. The yield is just over 1.00%.
Technical Review
Broadcom shares are up more than 19% YTD, en route to its highest level since mid-November, taking out the 200-Day SMA (~$33.70) along the way. The shares are now up against a key resistance barrier near $36 - a level the stock has failed at several times going back to this past summer.
This time around, the shares look a bit extended, with the Relative Strength Index (RSI) near the overbought 70-level, while the MACD and steep upward slope in the 20-Day SMA suggest the near-term rally may be overdone. Should the rally fade, there is support near $34 (200-Day), followed by $33 and $32 (Chart courtesy of StockCharts.com).
click to enlarge
Broadcom shares are up more than 19% YTD, thanks in part to the blowout earnings last week from Apple, led by strength in the iPhone. Broadcom's chips are also common in other smartphone lines. The company also raised its 4Q revenue outlook back in December and still trades at a mere 12.5x forward earnings, resulting in a Forward PEG ratio of less than 1.0. The sell-side is also rather positive on the stock headed into the earnings release, leaving Broadcom shares vulnerable to any missteps. At a minimum, earnings are expected to be at or above the high end of analyst forecasts in order to push the shares any higher.

Disclosure: I have no positions in any stocks mentioned, and no plans to initiate any positions within the next 72 hours.