Last Thursday Nokia (NYSE:NOK) announced its financial results for the fourth quarter. It posted a net loss of $1.4 billion on revenue of more than $13 billion. The loss was mainly due to a writedown for its digital mapping assets.
Nokia's fourth-quarter core earnings per share were better than the market's expectation. The results were boosted by a $250 U.S. million payment from Microsoft (NASDAQ:MSFT) as part of the Windows Phone sales deal.
There was some good news to report as well: Nokia confirmed that it has sold "well over" 1 million Windows Phone handsets so far. Not bad for a new product line that's been on the market for roughly two months.
As mentioned in my last article Nokia's line of Windows Phone handsets carries the Lumia brand. The company delivered two Lumia models, the Lumia 800 and 710, to consumers in Europe in November 2011. The company then announced a U.S. model, the Lumia 900, in January. That product will hit the market on March 18.
"To date, we have introduced Lumia to consumers in Europe, Hong Kong, India, Russia, Singapore, South Korea, and Taiwan," Nokia CEO Stephen Elop noted in a prepared statement. "We have also started our important re-entry into the North American market ... we are in the heart of our transition."
Overall, Nokia handset sales fell 29 percent when compared with the same quarter a year ago. But the company's sales are strong. It sold 20 million smartphones in Q4 2011, in addition to 94 million feature phones, for a total of more than 113 million handsets. (In the year-ago quarter, it sold almost 124 million devices, and the average per-device price has dropped from $91 to $70.)
Nokia's push for 2012 will include a massive marketing campaign aimed at giving the company a new beachhead in the United States, a market that Nokia basically ignored even while it was performing strongly. Nokia's flagship device, the Lumia 900, will sell for just $99 with a two-year contract, helping establish a new upper limit for Windows Phone handset pricing.
Nokia and Microsoft will together spend more than $130 million marketing the Lumia 900 just in the first half of 2012, and in the United States only. That figure includes $90 million aimed at TV, print, and digital advertising, with Nokia spending $60 million, or two-thirds of the total front-line ad budget for just that one handset.
Nokia's other devices, like the Lumia 710, will have smaller but still impressive ad budgets. For example, Nokia and Microsoft have set aside $25 million to market the Lumia 710 in the United States in the first half of 2012 alone.
Microsoft has tried to enter the mobile industry for more than 10 years, but with little success. Microsoft's deal with Nokia was make or break for its ambitions in this sector.
Nokia's agreement with Microsoft is one of a kind. In exchange for royalty payments estimated to reach into the billions over the life of the agreement, Microsoft makes quarterly "platform support payments" of $250 million to Nokia according to the vendor's earnings report.
"Our broad strategic agreement with Microsoft includes platform support payments from Microsoft to us as well as software royalty payments from us to Microsoft," Nokia stated in a press release. "In the fourth quarter 2011, we received the first quarterly platform support payment of USD 250 million (EUR 180 million). We have a competitive software royalty structure, which includes minimum software royalty commitments. Over the life of the agreement, both the platform support payments and the minimum software royalty commitments are expected to measure in the billions of US Dollars."
The deal should be worth billions on Nokia's side of the equation, and Microsoft gets a number of things in return for its payments totaling $1 billion per year. As Windows Phone struggles to gain traction while Android and iOS dominate the smartphone market, Nokia represents a huge opportunity to help put the platform in the hands of consumers. Though Nokia's smartphones shipments are in sharp decline, the vendor still sold almost 20 million units into channels last quarter.
Nokia also contributes development efforts to Microsoft's mobile platform. While other Windows Phone partners simply license the software as vendors did with Windows Mobile, Nokia's position involves software development that will help shape the core Windows Phone OS.
Microsoft's mobile platform in more than a year old now, and its late entrance into the market has made consumer adoption quite slow. Carriers and subscribers are very focused on Android and iOS, and Microsoft had few choices beyond its current arrangement with Nokia. Whether or not the multi-billion dollar deal will pay off remains to be seen, but I think it has a good chance of succeeding.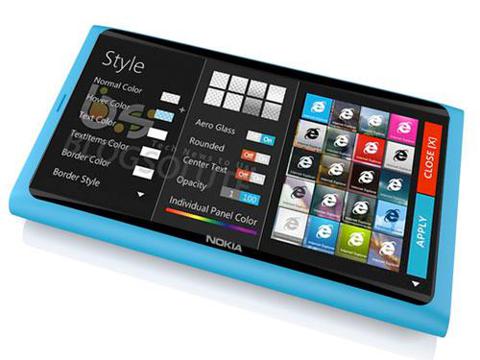 Click to enlarge
Nokia could be gearing up to launch a Windows 8 tablet if CEO Stephen Elop's cryptic remarks are to be believed. Elop did hint at 'opportunities' in the mobile and Windows ecosystem.
The CEO also talked about Microsoft's overall strategy for PCs, tablets and phones. Elop also talked about phone networks taking part in a 'larger play' - what else could he be talking about except selling other mobile gadgets to their customers, like tablets?
A Nokia Windows 8 tablet might look like the stretched Lumia above.
There is still a lot of fantasy left for a turnaround play such as Nokia. Investors who have faith and believe in the new Windows phones can snap up shares with an opportunity discount.
Disclosure: I am long NOK.