Noah (NYSE:NED) is a leading provider of education services in China. The company's brands include Wentai Education, Little New Star and Yuanbo Education. Wentai Education operates and manages high-end kindergartens, primary and secondary schools; Little New Star provides English language training for children aged 3-12 in its directly owned and franchised training centers; and Yuanbo Education operates premium kindergartens under the Qingan brand.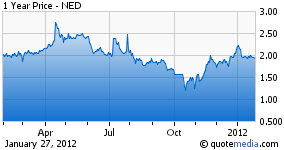 Initial Public Offering
The company became public on October 2007. The IPO was priced at $14. The company received $138 million from the offering. The underwriter of the IPO was Deutche Bank (NYSE:DB).
Transition from Electronic Learning Products to Education Services
Noah initially focused on the development and marketing of electronic learning products (ELPs), before entering the education services market in 2007. In light of the changing dynamics within China's ELP industry, Noah completed the sale of its ELP business and operating assets in June 2011. The sale of the ELP business allows Noah to focus exclusively on extending its track record of profitable growth within its more stable and higher-margin education services segment.
Financials
On November 18, 2011 the company announced first-quarter fiscal 2012 results.
Net revenue for the first quarter increased 73.8% to $5.4 million from the first quarter of fiscal 2011, driven mainly by the strong growth in existing Wentai and Little New Star (LNS) business and two months contribution from the newly acquired Yuanbo. Net income for the first quarter was $0.3 million. Commenting on the results, Jerry He , Chief Executive Officer of Noah, said:
We are delighted to start the fiscal year with strong year-over-year growth of 73.8% in revenue reaching the higher range of guidance, and resumed profit in the first quarter after completion of transformation as guided. The robust results reflected that Wentai Education and Little New Star continued to deliver anticipated strong growth and Yuanbo Education, acquired in July, provided acquisitive growth driver. The results also reflected our execution of the expansion plan to open a total of four kindergartens and one school in three businesses as scheduled, which further fuelled the organic growth momentum. Together we now operate a total of 33 kindergartens, 5 schools, and 15 learning centers in 16 cities in China .
Dora Li , Chief Financial Officer of Noah, said:
Our revenue growth continued to benefit from the expansion of our school network and the organic growth of the business. New schools in general will take two years to reach break-even and our new schools have consistently over-delivered. We are in expansion mode with the addition of five new schools and kindergartens in the quarter and with six in ramp-up stage with less than two years operating history. Therefore, we expect overall gross margin to increase as they reach full capacities and achieve a normalized 50% level gross margin on an annual basis.
As of September 30, 2011, the company had $2.15 cash per share. Real estate value is $0.51 per share. Cash plus real estate value per share is $2.66. For the three months ended September 30, 2011, the company generated $8.2 million in cash from operations.
Share Repurchase Program
The company has a $15 million share repurchase program authorized on June 15, 2011. The program's end date is June 2013. There has been 42,850 shares repurchased between June 17 and June 30, 2011, at average price of $2.11.
Financial Outlook for Full Fiscal 2012 and for the Second Quarter of Fiscal 2012
Based on current estimates and market conditions, for the first quarter of fiscal 2012, Noah expects to generate net revenue in the range of $5.5 million to $5.8 million. For the full fiscal 2012, the company continues to expect to generate revenue between $22.7 million and $24.3 million representing a 55% to 66% year-over-year growth. The company is expected to be profitable in fiscal year 2012 following completion of ELP business sale in June 2011.
Conclusion
I recommend buying this stock under $2.50. The company's cash plus real estate value per share is $2.66.
Disclosure: I have no positions in any stocks mentioned, but may initiate a long position in NED over the next 72 hours.