Ninetowns (NASDAQ:NINE) is the leading provider of online solutions for international trade, Ninetowns enables over 130,000 enterprises to accelerate the declaration process by using its import/export e-filing services and occupies about 90% market share. In order to further leverage our unrivalled market intelligence to extend the services on the value chain of international trade business, Ninetowns formally launched tootoo.com in May 2007, which is the cornerstone of our new B2B strategy of providing leading-edge, quality-driven vertical search and value-added services.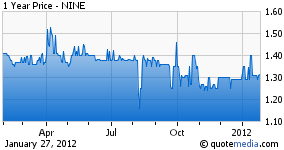 Initial Public Offering
Ninetowns' initial public offering was on December 3, 2004, and the IPO price was $11.00 per ADR. The company issued 6.4 million new shares. The underwriter was JP Morgan (NYSE:JPM).
Financials
On October 21, 2011 (pdf), the company reported its financial results for the six-month period ended June 30, 2011.
Total net revenue was $4.9 million, representing a 17% decrease as compared with $5.7 million for the first half of 2010. Net income was $0.8 million, as compared with a net loss of $1.0 million for the first half of 2010.
Mr. Shuang Wang, Chief Executive Officer of Ninetowns, commented:
We are pleased to see an improvement in our core enterprise software segment on a year-over-year basis driven by increased demand for our iDeclare software packages and service contracts. We continue to remain focused on maximizing customer retention and further expansion of our client base by leveraging our flexible pricing structure, continuous product updates and enhancements and our nationwide service and support. Nevertheless, we believe that the greatest opportunity for our long-term growth lies in our newer business initiatives, including our e-grocery business and our property development business. Both of these segments leverage our fundamental strength in e-commerce and technology innovation, and provide us with potential new revenue streams over the long-run that will mitigate the challenges we face in our enterprise software segment.
Cash, cash equivalents and term deposits decreased to $30.6 million as of June 30, 2011, compared with $77.1 million as of December 31, 2010. The decrease was primarily due to our use of cash for investments in the new property development business. The company has real estate under development for total of $67 million. The company's book value is $4.24 per share.
We continue to anticipate that the majority of our revenues in the near-term will come from our enterprise software and food related businesses, and expect to generate a substantial portion of our revenue in the near to mid term from these business segments. However, we are focusing significant resources on our new property development initiative. Despite recent initiatives by the PRC government to cool China's rapidly expanding real estate market, we believe that both growth potential and opportunity in China's third- and fourth tier cities for innovative property development projects remains strong, supported by powerful macro-economic trends. These drivers, coupled with the increasing usage of cloud computing and the Internet of Things, underpin our investment vision for our property development initiative. We remain well capitalized and financially sound, and are committed to our strategy to deliver long-term value for our shareholders.
Share Repurchase Program
On March 29, 2011, Ninetowns' Board of Directors approved and authorized the company to adopt a share repurchase plan that allows the company to purchase up to $5 million of its outstanding American Depositary Shares within two years. On August 30, 2011, Ninetowns announced the implementation of the share repurchase program.
Conclusion
I recommend this stock as a speculative buy. I could see this stock as high as $4 in 12-24 months if it is successful with their property development.
Disclosure: I have no positions in any stocks mentioned, but may initiate a long position in NINE over the next 72 hours.