With the recent surge in the solar industry as a result of the failed attempt in Germany to further reduce solar subsidies and the positive solar outlook for China in 2012 provided by some renowned solar CEOs, it seems that solar stocks will continue to reflect a somewhat sustained recovery, at least temporarily.
I say temporarily because I am not yet fully convinced that we have really seen a true industry consolidation or enough solar bankruptcies to guarantee a true bottom. The solar industry might have yet to establish one later on this year but whether we have experienced already "The One" remains to be seen. What looks quite positive is the near-term recovery in all of the solar names, given the potential prospects of the surge in demand from Germany in Q4 2011 (and possibly into Q1 2012 as a result of the failed agreement by the Government).
An investor considering to benefit from this temporary surge should look at the options. Options, when used properly, provide a way to leverage your money so that your risk remains limited. It's still very difficult to pick the right solar names that will survive and thrive for the long term in light of the still very pressing conditions in the sector. We don't know yet how much support the indebted Chinese solars will receive from their government; which solar companies will be driven to bankruptcy; which others the Chinese government will seek to consolidate; what resolution the Department of Commerce and International Trade Commission will determine in regards to the solar panel "dumping" case; and how much excessive supply still remains in the market to push solar prices further down.
But there are two clear realities at this point in time: 1) a short-term recovery is starting to take place, since all of the Tier-1 and Tier-2 solar names have already crossed to the upside their respective 50 day moving averages; and 2) many of these companies reflect in their option premiums the dire financial conditions under which they currently operate, as their calls are priced quite low whereas their puts demand much higher premiums. These realities present an investor the opportunity to take advantage.
But which companies to pick in order to benefit from this partial recovery while at the same time limiting my downside risk? After all, no matter how repetitive and convincing a CEO might sound about the unlikelihood of a bankruptcy, we all have been quite surprised many times before in that department. For those of you who have read some of my prior articles, it's well known that I have some eggs in the LDK Solar basket, but in order to eliminate any potential bias on my part and base an investment decision on some actual numbers and facts, I decided to construct the table below.
We will assume that an investor is looking to buy the immediate OTM (out-of-the-money) call following the current share price. We would also expect this temporary recovery to last at least 1 to 2 months while all solars begin to announce their Q4 2011 numbers, reflect the surge in demand experienced in the previous months, and provide the outlook for the future quarters. Since we are very early in the stages of a possible recovery, we want to spend the least amount of money and incur in the least possible risk, but still maximize our potential and be flexible enough on the upside as these stocks are highly volatile and can experience significant surges (and drops) in a matter of days, so we would be looking at the March 2012 Calls.
click to enlarge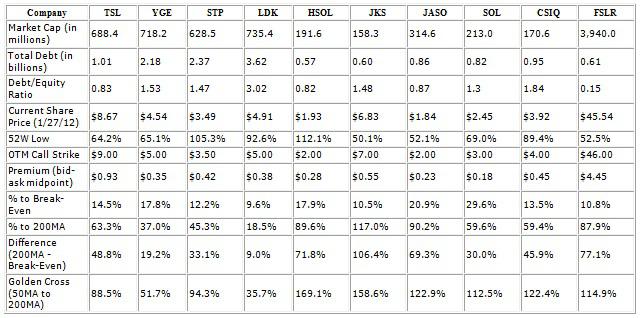 Source: Yahoo Finance (as of January 27th, 2012).
Let's break down this table piece by piece so we can determine the best play. First Solar (NASDAQ:FSLR), Hanwha SolarOne (HSOL), JA Solar (NASDAQ:JASO) and Trina Solar (NYSE:TSL), in that order, have the best (lowest) Debt/Equity ratios, but 2 out of the 4 have the highest premiums of all 10 solars ($0.93 for TSL and $4.45 for FSLR). These two require a % appreciation from current stock prices in the low double-digits to reach the break-even point (14.5% for TSL and 10.8% for FSLR). You could say at this time that you'd be willing to pay this high premium for either one of them, but the goal is to pay as little premium as possible, so let's keep exploring.
Yingli Green Energy (NYSE:YGE), Suntech Power (NYSE:STP), ReneSola (NYSE:SOL), and Canadian Solar (NASDAQ:CSIQ) are out of the equation because of either a high premium, a high debt/equity ratio, a high % appreciation to break-even, or some combination of them.
Which ones would then require the lowest appreciation to reach a break-even point? That would be LDK Solar (NYSE:LDK) and Jinko Solar (NYSE:JKS), with 9.6% and 10.5%, respectively. Also, LDK's premium would be the 5th lowest ($0.38) whereas JKS's would be the third most expensive ($0.55) just behind First Solar and Trina Solar, making the play in JKS a bit unattractive.
LDK seems then to look attractive, but what else can we positively determine from the table for this stock? LDK is the closest to the 200 day moving average (18.5% from current price) of all the 10 solars, and this could mean that the stock is very close to hit a significant resistance point, not too far above its break-even point (9%). This seems to be more of a negative factor than a positive, right? Well, not so fast. It turns out that out of the 10 solars, LDK has the shortest distance (by a wide margin with respect to all other solars) between its uptrending 50 day moving average and its downtrending 200 day moving average (35.7%). When they meet (and they will meet soon) that is considered a Golden Cross in the Technical Analysis School and it's usually a very bullish signal.
But what could be a positive catalyst to help the stock break the 200MA resistance point? And what about LDK's obscenely high Debt/Equity ratio (3.2), wouldn't this be a risk factor with the heaviest weight? While it's true that LDK has significant debt (most of it short term) you need to understand the intricacies of LDK's debt in order to assess the risk that the company's debt represent in light of the current solar "recovery". In a previous article, I had made a reference that LDK's survival was in China's best interest and that the company has been able to successfully roll over their short-term debt simply because they are in good terms with all the Chinese banks they owe and because, among other things, they continue to make good progress in all of their vertically integrated fronts in terms of capacity and costs (polysilicon plant, wafers, cells, modules & systems).
I won't repeat here what is stated on that article, but it basically made a reference to a successful Notes issuance (most likely backed by the Chinese government) in December 2011 to repay some of the short-term debts. After this occurrence, the stock started to experience its meteoric rise from its 52W low in hopes that LDK was beginning to heal its balance sheet (mostly replacing short-term debts with long-term debts). It so happens that another Notes issuance for the same amount is scheduled to occur on Q1 2012. If the first successful issuance is any indication, the second one would very likely serve as part of the catalyst for the stock to break the 200MA resistance point.
Put this together with the unexpectedly surge in solar panels from Germany and other countries, the stabilization in solar prices, and the outlook from China for 2012 and you have a very good recipe to obtain some benefit with very limited risk. Worst-case scenario you lose $0.38 per contract (100 x $0.38 = $38 plus commissions), even if LDK goes bankrupt in a month (again, unlikely but nothing in this world is certain but death and taxes). Best-case scenario you get a very decent return with the probability of keeping the shares for the long-term if the outlook improves.
Last but not least, please use the table I just constructed for your own reference in case that you're more convinced of any other solar name that you think provides a better potential under the same scenario described, and kindly provide me with your brief reasoning.