In technology, standing by a product in spite of its shortcomings is becoming unheard of. Hewlett-Packard (NYSE:HPQ) chose to walk away from its WebOS-based TouchPad in 2011. HP spent or wrote-down $3B for its venture in tablets. For Research in Motion (RIMM), a company that wrote down over 400M in inventory, its fate appears to be different. RIM's continued commitment to the Playbook will change the negative perception faced by the company since the initial launch of the tablet.
RIM's execution of the Playbook initiative was bungled. When Playbook 2.0 is released next month, it will give a positive view for the product line-up and for the company's reputation. This release was confirmed when representatives at multiple Best Buy (NYSE:BBY) locations across the U.S. and Canada received word that the PlayBook OS 2.0 upgrade will be made available to the public on Tuesday, February 21.
Early adaptors of the Playbook will face a fate different than those who bought the original BlackBerry Storm/Storm 2 touch screen devices. Existing Playbook customers will appreciate the significance of a company not abandoning a failed initiative.
How will Playbook 2.0 help RIM's shares?
Early Positive Reviews Suggest Continued Momentum for Playbook Sales
At the Computer Electronics Show, the Playbook 2.0 received positive reviews. Missing features like native email and calendar, along with enhancements like BlackBerry remote, Android Player, and a much-improved keyboard will improve RIM's reputation in the market place. It might be possible to see the improved onscreen keyboard and Bluetooth keyboard support for copying and pasting a feature in BlackBerry 10 smart phone devices later this year.
Shares will trade on Fundamentals, not on Speculation
When RIM announced its new CEO, shares dropped because CEO was hired internally. The management structure was essentially unchanged. A takeover is unlikely to take place. The roll-out of Playbook 2.0 will give existing buyers confidence in RIM's tablet product. The developer community, including developers for Electronic Arts (NASDAQ:EA), will build applications in an ecosystem with nearly 1M users. To-date, over 800,000 units were shipped or sold. EA is an important partner for RIM: the game maker released titles like "SimCity," "Dead Space," and "Need for Speed" on the Playbook platform.
Playbook 2.0 Will Coincide with a Ramp-up in Advertising
RIM has a goal of building brand awareness for BlackBerry 7 (BB7). A much-improved Playbook 2.0 will appeal to consumers who want an integrated use of both a tablet and a smart phone.
Playbook 2.0 Android Player is Unique
RIM's solution to having a limited number of applications for the Playbook is unique. Consumers considering an Android-based tablet will re-consider a Playbook at the current price range. The Playbook offers both tethered access to email on a BlackBerry device, native email, and android applications.
Playbook 3G Release Scheduled
The 3G Playbook plan was not forgotten. The 3G version of the tablet will be updated to a 1.5Ghz TI OMAP 4460 processor, 42Mbps HSPA+ and will have NFC capabilities. It will launch after Playbook OS 2.0, in the second quarter.
Roadmap: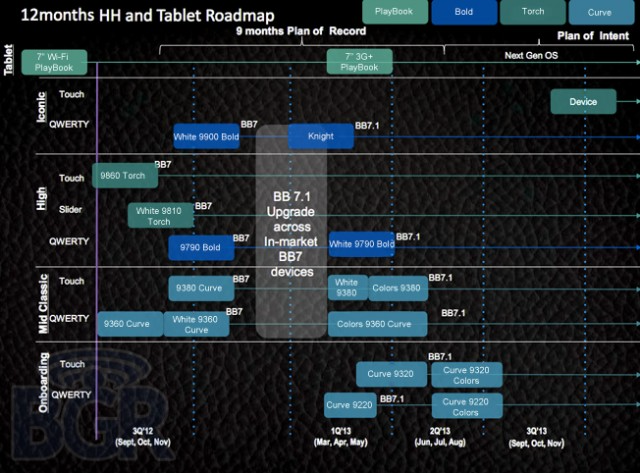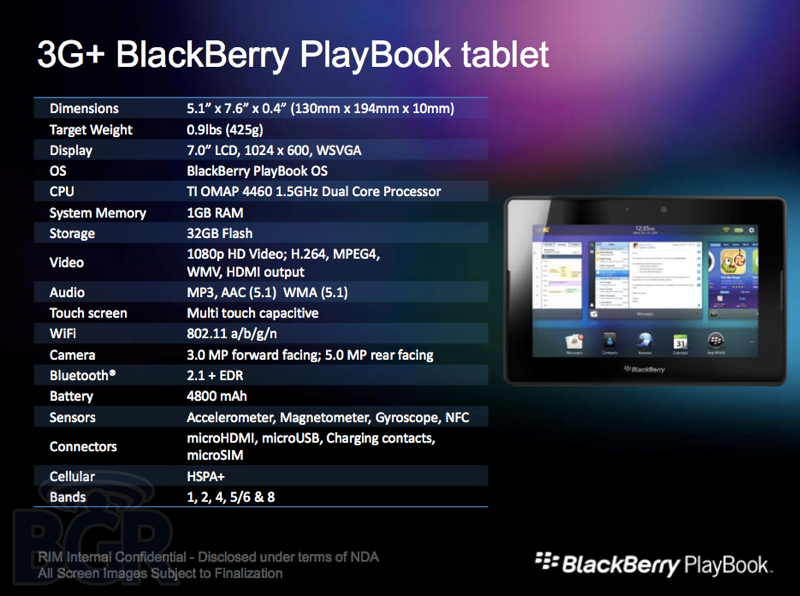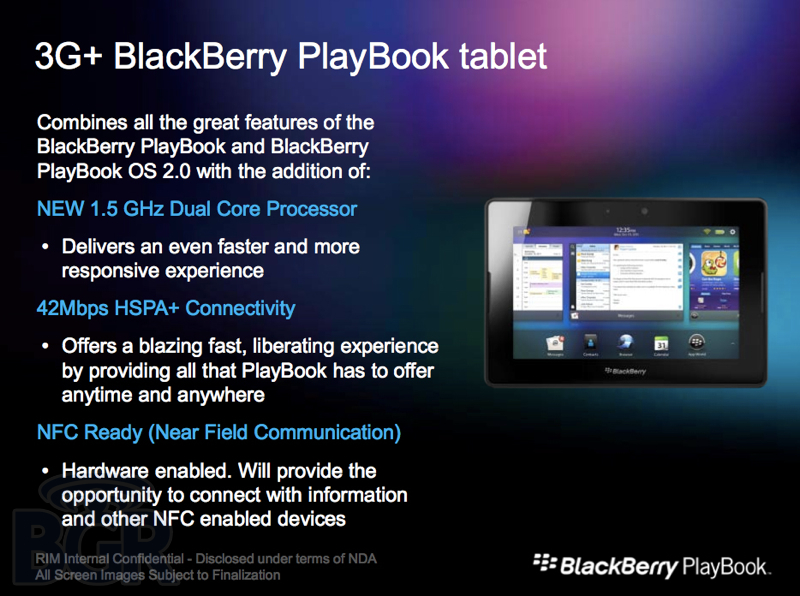 (Source: BGR)
Investors will Re-Evaluate RIM's Low P/E
Currently trading at a P/E of 3.94, RIM closed recently at $16.82. RIM is still considered too cheap when valuation metrics are used. Along with sales strength for BlackBerry 7 in the emerging markets, investors will assign a higher P/E for RIM. Even though RIM is up 30.92% from its 52-week low, the more positive perception for RIM's future would translate to a higher share price.
Disclosure: I have no positions in any stocks mentioned, but may initiate a long position in EA over the next 72 hours.