Investors clearly had higher expectations going into earnings than Ford's (NYSE:F) management was able to deliver. Leadership attempted to satisfy investors' expectations by stating that a dividend would come soon, however, this was not enough. Going forward, I believe that Ford's leadership needs to do a better job of managing investor expectations - to the extent possible at least - in order to help quell some of the angst surrounding the stock.
Sometimes, I hate being right. Ford investors, once again, were treated to another disappointment this past Friday. The company posted 4th quarter earnings of $0.20 per share - a 20% miss from the $0.25 analysts expected. The miss came 1 year after the 4th quarter miss of 2010 ($0.30 EPS reported vs. $0.48 expected). When we combine these two misses with the timing of the dividend announcement, I believe we can see that management faces a wall of expectations that they have found difficult to negotiate. I believe that this wall will have to shrink before Ford's management can take the company's performance over the top.
I will apply my $TOCK Analysis to the company, as detailed here.
Valuation & Financial Data
The stock's long-term story remains largely intact. Ford turned in another profitable year, earning $1.51 per share, down from $1.91 for 2010. Revenue increased by $15.4 Billion. The company increased its cash holdings by $2.4 Billion, ending the year with $22.9 Billion. They increased cash while paying down their debt, ending the year with $13.1 Billion in debt, down from $19.1 Billion a year earlier. This left the company with $9.8 Billion in net cash, an increase of $8.4 Billion from 2010.
The numbers reported Friday give the stock a trailing P/E ratio of 8.08. Going forward, analysts are expecting earnings of $1.55 for 2012, and $1.82 for 2013, giving a forward P/E ratio of 7.87 for 2012. Earnings are projected to grow at a rate of 2% and 17% for 2012 and 2013, respectively. This gives a forward PEG ratio of 4 for 2012, and 0.47 for 2013 (if assuming a P/E ratio of 8 for 2013). Overall, this indicates that the shares are fairly overvalued near-term, but potentially undervalued long-term.
Technical Analysis
Ford's latest chart is included below (courtesy of freestockcharts.com):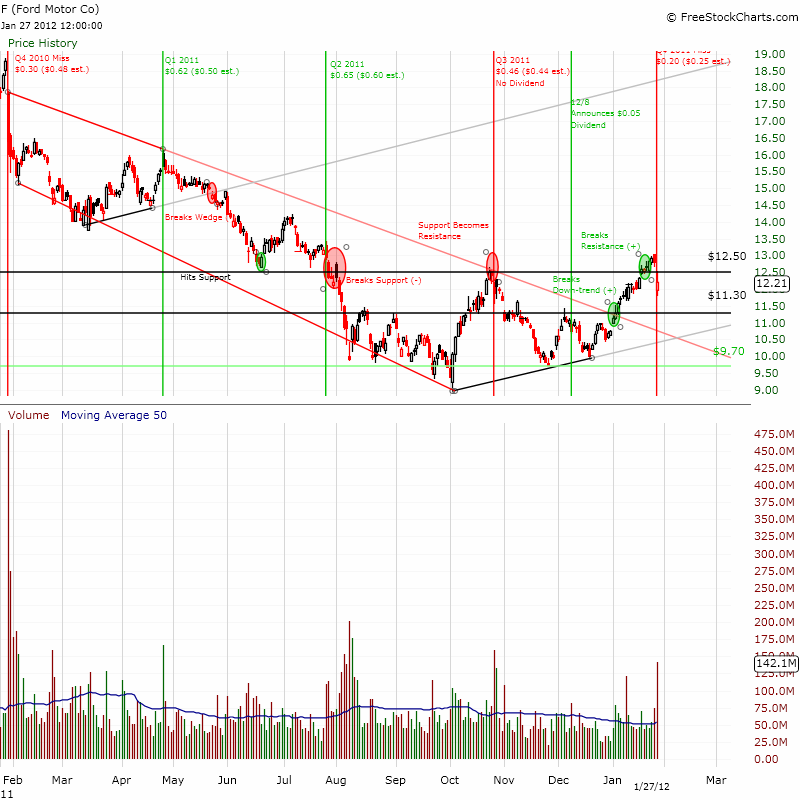 Click to enlarge
(Click to enlarge)
We can see that the original 4th quarter 2010 miss snowballed into a very firm downtrend. While the $12.50 level served as temporary support in July 2011, the stock eventually broke through this level, bottoming around $9.50. The stock challenged $12.50 leading up to the 3rd quarter's earnings, but the lack of a dividend announcement sent the stock plummeting again, through another support level established at $11.30.
The stock began consolidating in December, eventually breaking through $11.30 in the wake of its dividend announcement on December 8th. This also broke the previously mentioned down-trend. At the beginning of this year, the stock temporarily broke through the $12.50 resistance level leading into Friday's earnings announcement. Investors most likely were looking for a strong number to confirm this breakout; not getting strength sent the stock down.
Opportunities
Ford did eventually announce a dividend, even though the timing was the subject of much heartache. This dividend gives the stock a certain degree to downside cushioning. The annual dividend payout of $0.20 currently yields about 2%. While not much on the surface, the annual dividend commitment of $760 Million means that with Ford's net cash, the company can afford to pay that dividend for over 12 years. This gives the company plenty of room and discretion to raise the dividend, which could give the stock an added boost.
Ford has also done a tremendous job reducing its overall debt to sustainable levels. The stock could get an added boost from receiving an debt upgrade to Investment Grade. I would personally imagine that pressure to upgrade the company's debt would begin once total debt fell below $10 Billion.
Points of Caution
During the earnings conference call (transcript available from Seeking Alpha here), CEO Alan Mulally mentioned "commodity costs, exchange rates, and the floods in Thailand" as having an "adverse impact" on earnings. While the floods in Thailand can be considered a one-time event, the other two factors cannot. Commodity costs could be the biggest factor affecting earnings in the future. CEO Mulally stated that he expects these costs to "increase modestly in 2012," and "continue to trend upwards" longer term. The impact of exchange rates will not disappear in the near future, as the Euro should continue to exhibit significant weakness as the continent deals with its debt saga.
Key Takeaway
As Jim Cramer detailed in his show on Friday, Ford did the exact opposite of what he likes to see, in that the company "over-promised, and under-delivered." He specifically mentioned that analysts' numbers will have to come down before the company has any chance of blowing away the estimates once again. I agree, and expect analysts to revise expectations downward over the next few months. This will put pressure on the stock in the near-term. I fully expect the stock to test the $11.30 price level, however I do not see the stock falling below the $10 mark without further declines in Europe.
Ford remains a terrific company. The stock has come a long way from its days of trading at $1. I believe that the shares will eventually hit $20. However, I no longer believe this to be possible in 2012. To reflect new market dynamics, analysts covering the stock will most likely revise their EPS forecasts and stock target prices down. I fully expect the stock to largely trade sideways for the next 6 months, eventually ending the year at around the $15 level.
Disclosure: I am long F. I am long F call options expiring in January 2013; I may sell these options within the next 72 hours.