Netflix (NASDAQ:NFLX), like Bank of America (NYSE:BAC), is a company that put in new pricing, took tremendous heat in the press and from customers, then repented its evil ways this year. The bad press tanked the stocks, as you can see by this Barchart provided graph of Netflix's trading over the past year: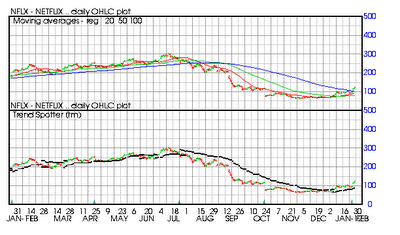 Both companies found redemption and did an about-face. Not only did customers settle down, but their stocks have soared. Since the first of the year, NFLX announced that 600,000 of the 800,000 customers they lost returned, and the 4th quarter saw customers purchase 24.4 million hours of content. These announcements plus a market rally have caused a 22.06% stock price surge in just the last month alone: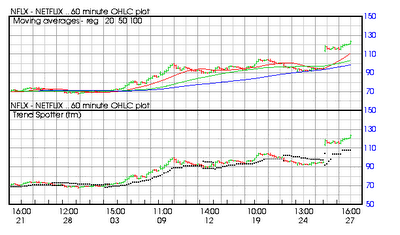 Netflix, Inc. provides subscription based Internet services for TV shows and movies in the United States and internationally. The company allows its subscribers to watch unlimited TV shows and movies streamed over the Internet to their televisions, computers, and mobile devices. Its subscribers in the United States would also receive standard definition DVDs and Blu-ray discs delivered to their homes. As of June 30, 2011, the company had approximately 25 million subscribers. Netflix, Inc. was founded in 1997 and is headquartered in Los Gatos, California. (Yahoo Finance profile)
Factors to Consider
Barchart technical indicators:
72% Barchart technical buy signal
Trend Spotter buy signal
Above its 20, 50 and 100 day moving averages
Although 59.39% off its 1 year high the stock had 11 up days and is up 22.06% in the last month
Relative Strength Index 76.32%
Barchart computes a technical support level at 110.98
The stock recently traded at 123.29 with a 50 day moving average of 79.74
Fundamental factors:
24 Wall Street brokerage firms have assigned 31 analysts to follow the stock
Analysts look for an increase of 13.80 in revenue this year and another 16.30% next year
Earnings are expected to take a hit of 105.40% this year, but return with an increase of 1226.10% next year (no typo) and average an increase of 17.78% a year over the next 5 years.
These consensus numbers resulted in analysts issuing a mixed bag of 3 strong buy, 4 buy, 15 hold, 3 sell and 6 under perform recommendations to clients
The analysts' consensus if their projected revenue, earnings and P/E numbers are met is about a 21% annual total return over the next 5 years
The company has an A financial strength rating
The P/E of 27.23 is higher that the market P/E of 14.80
The stock pays no dividend
General investor interest:
On Motley Fool 9,451 readers have expressed opinion on NFLX
81% think the stock will beat the market
91% of the more experienced and savvy All Stars give the stock a 91% vote for the same result
71% of the last 31 reports have been positive
Jim Cramer hasn't changed his sell guidance, but Gary B Smith, Wayne Rogers, Chris Davis, Bill Miller and George Soros are still into the stock.
Normally, I use a 1-year chart to track a stock against its competitors, but here with a good quarter in both the stock's press releases and a market rally since October I'll use a 2 1/2 month graph to compare stocks. While NFLX was up for the period by 43%, Trans World Entertainment (NASDAQ:TWMC) was up 9%, Amazon (NASDAQ:AMZN) down 10% and Hastings Entertainment (NASDAQ:HAST) down 11%: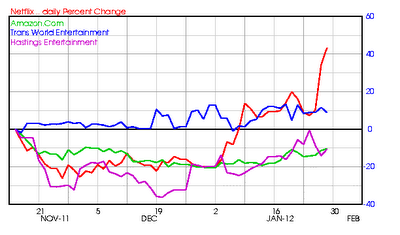 Summary: Netflix is up, partly from a dead cat bounce from bad press in the fall, and partly from good press in January. How far the stock is capable of going is any one's guess as you can see from the mixed bag of analysts' predictions. If you are interested in a little speculation at this level please monitor the 50 day moving average and the 14 day turtle channel if you'd like to ride the wave.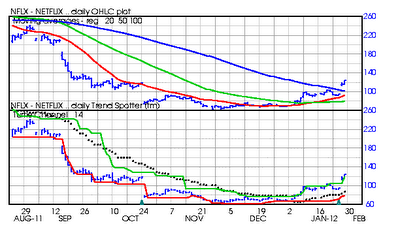 Disclosure: I have no positions in any stocks mentioned, but may initiate a long position in NFLX over the next 72 hours.