By Brendan Gilmartin

Qualcomm (NASDAQ:QCOM) is slated to report Q1 2012 earnings after the close on Wednesday, February 1. The results are expected to come through at 4:00 p.m. EST, with a conference call slated to follow at 4:30 p.m.
Sympathy Plays: Nokia (NYSE:NOK), Broadcom (BRCM), Texas Instruments (NYSE:TXN)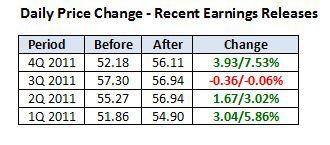 Outliers & Strategy
Key Measures:
Non-GAAP Earnings Per Share: For the Q1 2012 period, Qualcomm previously indicated it expects Non-GAAP EPS of $0.86 to $0.92. Guidance tends to be conservative and actual results tend to come in at the high end of forecasts.
Revenues: Qualcomm said in October it expects

Q1 revenue of $4.35 bln to $4.75 bln, an increase of 30% to 42% Y/Y.

Adjusted EPS Guidance & Revenue Guidance (Q2 2012): Guidance for the next quarter will be watched closely, given that results for the 4Q period are largely priced into the shares. The estimates are for Adjusted EPS of $0.89 on revenue of $4.50 bln.
At 21.32x trailing earnings, Qualcomm is trading at a discount to the 5-year average (24.3), but just 14.5x forward estimated profits. With an expected 5-year earnings growth rate of 13.4%, the FWD PEG ratio is just above 1.0.
Over the past several quarters, Qualcomm has benefited from its relationship with Apple, supplying chips for the popular iPhone device, including the recently launched iPhone 4S.
Recent News
01/26: Bank of America reiterated a Buy rating and price target of $65 on Qualcomm, according to a post on Benzinga.com, and suggested the firm is likely to report an in-line quarter.
01/23: Cowen & Co. reiterated an Outperform rating on Qualcomm, according to a post on Barron's Online. The firm also raised its earnings and revenue estimates for the

Q1 period, due in part to growth from the iPhone.

01/10: Qualcomm declared a quarterly cash dividend of $0.215 per common share. The shares are currently yielding 1.49%.
12/16: Lazard Capital initiated coverage of Qualcomm with a Buy rating and a price target of $67, according to Barron's Online. The firm cited increased spending for smartphones and "connected" devices, underpinning demand for chipsets.
11/16: Qualcomm made the following observations from its meeting with analysts:
Sees global adoption of smartphones in 2012; growth of 3G in emerging economies (India, China, Turkey).
Reaffirmed double-digit revenue and EPS CAGR through FY 2015; Approximately $20.9 bln in cash as of 9/30/2011.
Technical Review
Qualcomm recently climbed above $59, en route to its highest level since July and is up more than 12% over the past three months. Despite the momentum, longer-term charts show a potentially bearish "Triple-Top" formation, using the recent peak and the highs from July 2011 and February 2011. The $59 level would therefore be a critical resistance level to overcome in the event of a positive release. Conversely, there is support at $57, just above the 20-Day SMA, followed by the 50-Day SMA near $55.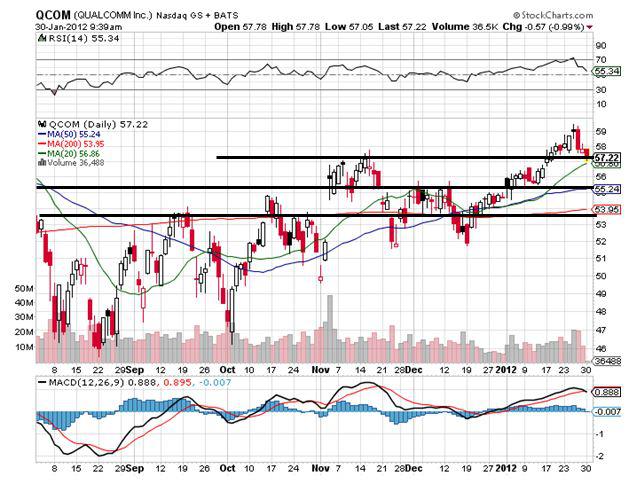 Click to enlargeChart courtesy of StockCharts.com.
Summary
Qualcomm shares have rallied over the past several weeks, benefiting from the frenzy surrounding the Apple iPhone. The chipset supplier is also seeing a pickup in demand for other smartphones and "connected" wireless devices. Despite the run-up however, there are concerns that the recent rally may be a bit extended from a technical perspective and speculation demand will slow entering the seasonally weaker second quarter. While most analysts see Qualcomm meeting or exceeding Street estimates, much of the attention will center on the forward outlook for the Q2 period and balance of the year for clues on demand deeper into 2012.
Disclosure: I have no positions in any stocks mentioned, and no plans to initiate any positions within the next 72 hours.
Disclaimer: By using this report, you acknowledge that Selerity, Inc. is in no way liable for losses or gains arising out of commentary, analysis, and or data in this report. Your investment decisions and recommendations are made entirely at your discretion. Selerity does not own securities in companies that they write about, is not an investment adviser, and the content contained herein is not an endorsement to buy or sell any securities. No content published as part of this report constitutes a recommendation that any particular investment, security, portfolio of securities, transaction or investment strategy is suitable for any specific person.