My first article here at SA on "Apple (NASDAQ:AAPL): If I could only buy and hold one stock, this is it" garnered quite a bit of attention - both complimentary and critical. Naturally, for Apple longs, they appreciated what I had to say. For the Apple bears (or those who were on the sidelines), I got my share of flack for suggesting something so irresponsible (no diversification) and for being blind and biased.
In this article, I would like the opportunity to re-visit the bearish arguments I heard then (and continue to hear it now) and compare it with what has transpired since my first article. I would then like to connect the dots backwards and provide some thoughts on why I continue to believe that the best is yet to come.
Before we get to the heart of the matter, I would like to share with you a short video that was shared to me by one my regular readers. I would encourage you to view it as it may open up some possibilities for you that you may not have considered before. Here is the link to that video.
Since July 2011, we have seen the following happen with Apple:
Q4 2011 was considered a "disappointment" as it missed analyst estimates. 4S was launched; Wall Street was unimpressed. 4S went on to break every sales record at each of the 3 major U.S. carriers. Siri, 4S' beta AI, was considered a flop (like most of Apple's disruptive initiatives). The stock, as if on cue, sold off.
Steve passed away; the Street was focused on wanting to believe that Apple will never be the same without him. I argued that the "Steve discount" will now be replaced by the "Tim discount". I also said that what they missed was - with Apple guiding higher for Q1, Tim has pretty much told the Street that it was "game on". How long will the Street keep on ignoring the fact that it "is" cheap?

Click to enlarge
(Click to enlarge)
Apple released 4S in China (albeit, it was a gong show); demand, according to Tim, was "staggering". What surprised me was the sequential change YOY across every region driven by iPhone and iPads. So much for the notion of "who can afford overpriced toys?".
Three low key announcements/events got lost amidst the noise and haste of tripping over Greece and sudden analyst upgrades - the purchase of Anobit, testing 25 mini stores at Target, and the launch of iBooks Author. How will these "dots" connect a few years from now?
Given Apple's recent monster quarter, Apple bashers are now using the company's own supplier compliance report as another excuse to paint it as a greedy and irresponsible corporation. Would they have garnered this attention if they weren't this profitable? Regardless of whether the bashing is fair; I look forward to see how Tim deal with this over time.
Now, lets revisit the "bear" camp's arguments and see how facts (and things in Apple's pipeline) stand against it. Here are the top 6 bearish arguments:
Apple sells "non essential" goods; with the advent of lower priced alternatives (aka Droids and Lumina), it will not be able to command premium pricing for its products forever. When margins compress, so will the stock price. I wrote about it here; keep in mind Apple kept on delivering against the backdrop of a global economic malaise.
Apple will run out of of "hit" products; it is impossible to any company to produce multiple "home runs" consistently.
Success breeds "laziness"; money ultimately will corrupt individuals. When this happens, Apple may loose its "key" people as they may become disenchanted and innovation dies (they then cite General Electric (NYSE:GE), Microsoft (NASDAQ:MSFT), Cisco (NASDAQ:CSCO), Dell (NASDAQ:DELL), etc. ...)
There is only one Steve Jobs.
The technology industry is fickle; no one company dominates forever.
At this price, Apple is overbought and priced for perfection. One misstep will send the stock crashing as it also does not have a dividend to provide a floor for its fall.
Guess what? Sans #4 (which has already happened), any of the arguments above may happen one day and can happen to any company. However, why should that preclude you from making money while the odds are still in your favor now? Unless, of course, the real reason that prevents you from making the right decision is your own fear of losing money.
A huge part of making money in the markets is your ability to manage your own demons (aka "fear"). To be fearful is natural; how we manage our own "fear" (as it relates to Trading) separates those who can make money consistently and those who don't.
Growing up, I remembered my parents telling me to "never ever invest your money" in the stock market. They got burnt by a stock broker who provided them with the wrong advice with their retirement savings. I remembered buying my first stock, the Loewen Group, and the ecstasy of being able to buy my first car (VW GTI) with the initial proceeds only to see my whole account wiped out as it came crashing down to earth! As my parents have always told me, I've got a mind of my own - I looked at that adventure as an expensive learning experience instead of avoiding the markets forever.
If I was to sum up the fear in buying Apple right now in a few words, it would be that "it might be too late for me to join the party!" Aren't parties a lot more fun when you come in a bit late and stay just before closing time?
I look at this chart every time I have the urge to wonder if the party is over.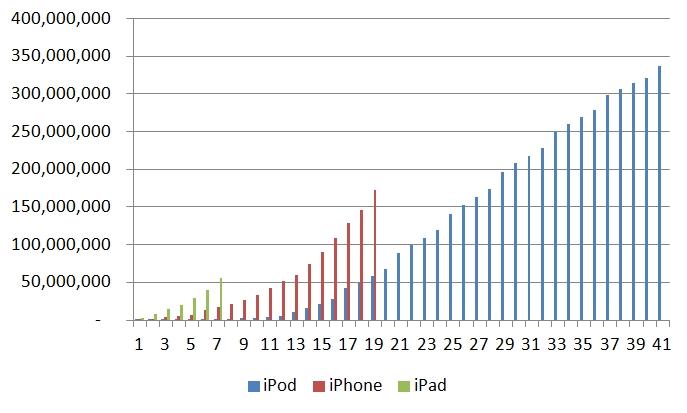 Click to enlarge
(Click to enlarge)
Just like the iPod was deemed "non essential" when it first came out (Oct 2001 when it was at $8.78); it has continued to evolve and has produced a halo effect on the other product lines. The first iPhone was launched in July 2007 (when it was at $122.04); the first iPad was launched in Jan 2010 (when it was at $192.06). How many times did you tell yourself that the "party was over"? As it crossed $50, $100, $150, $200, $300, $400 and now $450?.
There are over 5.6 BILLION mobile phones in the world! Apple, in its latest quarter, has only sold 37 million 4S's (or 173M cumulatively for all iPhone models since it launched in 2007). China alone has 951 million mobile users! With these types of numbers, I don't know how anyone could suggest that the party is over; they have less than 5% of the world mobile phone market!
Did 4S have any impact on Droid activations? You can be the judge; however, based on the data provided by Good Technology, the Droids took the backseat during the busiest quarter of the year. It will be interesting to see how the trend transpires over time.
The Street seems to be stuck with trying to figure out whether the iPad is a PC or laptop replacement. While IDC and Gartner are trying to find ways to justify this product anomaly; I just focus on the empirical "S" curve provided above. Given that the majority of the Fortune 500 companies have tested or have deployed the iPad and the iPhones in their markets, does it really matter what Gartner or IDC says? How are the netbooks doing at your local Best Buy store by the way?
It is true that it is difficult to find a tech stock that has perpetually gone up forever; one look at the chart below is enough to trigger the fear of heights in you!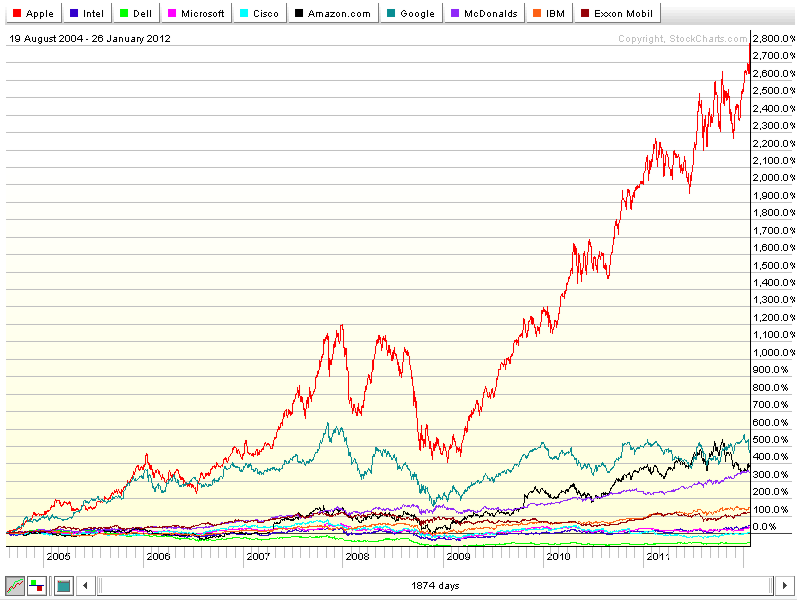 Click to enlarge
(Click to enlarge)
One way I manage my "fear" of loss is by managing my profit expectations. My brain does not process the logic of "it has returned 2,700% already; to do it again in the next 8 years is impossible!". My brain always focuses on: (1) "can I beat the SPY with less volatility and minimum drawdown?" and (2) which trading vehicle will allow me to accomplish that? Remember the profits we took with our Research in Motion (RIMM) short (while we were waiting for AAPL to make a run?) thesis? All the Apple leaps that we called along the way since I posted my first article should have made you money as well! These wouldn't have been possible had I allowed my own "fear" of losing dominate my thinking process.
An honest perspective is required when you are comparing Apple to the other tech companies who haven't done well over time. We keep on hearing the "curse" of companies who reach $400B in market cap and they wither away (Microsoft or Cisco during the dot com era). However, does anyone remember what their PE was during those days? In 2002, Microsoft was trading at a PE of 52x, Cisco was at 97x, Dell was at 59x, Intel (NASDAQ:INTC) was at 116x! Where was Apple? Try 34x!
How is this for empirical data - S&P, according to WS consensus, reports that Apple will grow its EPS by 12% ($39.62) for FY 2013! Despite their recent monster quarter and higher guidance, the Street continues to be out of touch. Apple's net income over the past 5 years have been growing at 65% (3 years at 74%)!
What did you think about the video I shared above? Imagine all those gadgets (or appliances) to be produced by Apple (in joint venture with General Electric or LG or Samsung?) with iOS and/or Siri in them!
Just like "you can lead a horse to water, but you can't make it drink it", investing in Apple will never appeal to everyone. How was your portfolio's return and drawdown when compared to Apple's return over the same time frame? For me, it is easier to really get to know a few stocks and ride them hard as compared to holding a basket and barely knowing them at all (kinda like dating isn't it?).
On my first article (Jul 2011), I suggested with a $50,000 portfolio:
Buy 1 contract AAPL 2013 325C = $9,960.00
Buy 102 shares of AAPL@$390.48 = $39,828.96
Cash = $211.04
Spy was at $129.33
Today:
102 shares of AAPL @ $447.28 = $45,622
1 contract of AAPL J 2013 325C $134.50 = $13,450
Total value = $59,072 + $211.04 cash = $59,283.04 or 18.56% return
Spy today = $131.82 or 4.49% return
I'll take 4x the market returns anytime; this even excludes incremental option trades we took during its retracements. For example, the Apr 2012 370's would have returned 108% based on EOD prices.
The time to sell Apple is when they cannot meet their own estimates consistently and start spinning the truth to defend themselves. Until then, maybe it is time to give it another look as a bigger story is about to transpire. Maybe we are too blind to see that the next Apple is Apple!