Recently, Seadrill Ltd. (NYSE:SDRL) gave a presentation at the SEB Enskilda Nordic Seminar in Copenhagen. Its presentation focused on the economics and outlook for the offshore drilling market and provided insight into Seadrill's place in the overall market. I recommend reviewing the presentation. The company does an excellent job of showcasing the opportunities to profit that are emerging for the offshore drilling industry.
Seadrill is currently the largest offshore drilling company in the world by market cap. The company has the world's second largest fleet of ultra-deepwater rigs and the largest fleet of jack-up and tender rigs. Seadrill also has one of the most modern fleets in the world, a factor which has proven to be a huge competitive advantage for the company. Seadrill has been growing extremely rapidly since 2005, growing from just five rigs as of that date to 60 rigs today. This growth has come with a rising price for Brent crude oil but was independent of it as Seadrill continued to grow their fleet straight through the rapid run-up and fall of oil prices in 2008.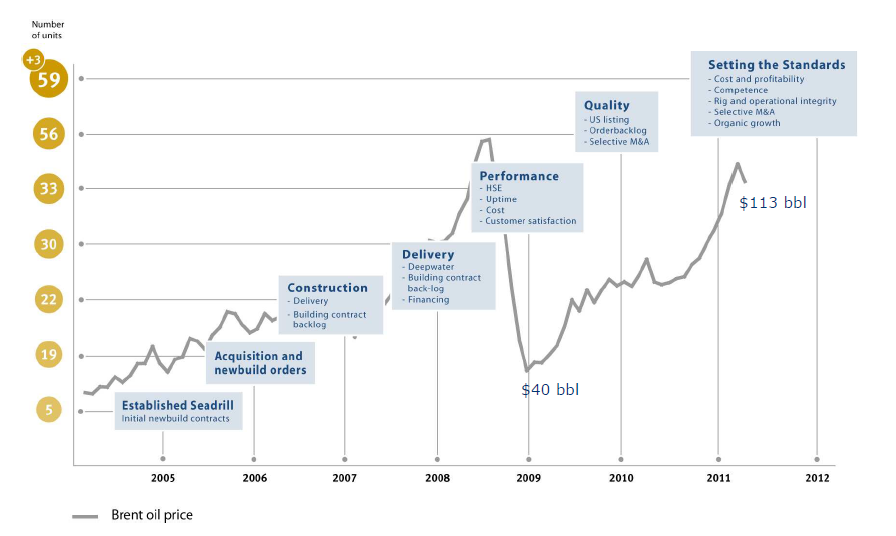 Source: SEB Enskilda Nordic Seminar
Seadrill is currently the only major offshore drilling company that has tender rigs in its fleet. This is a niche market that is focused on production drilling, but it is proving to be a very popular concept among customers located in Southeast Asia and West Africa. One reason for this is that tender rigs have significant versatility in the areas in which they can operate and they are very cost-effective. For example, although the traditional market for these rigs has been the shallow water environments of Southeast Asia and West Africa, the market is now expanding to Central and South America. Seadrill notes that the tender rig concept is now being used, in conjunction with mini TLPs and Spars, to drill in deepwater areas. Thus the market for these rigs is growing.
Seadrill is the only major offshore driller participating in the tender rig market at all. This makes the growing demand for these rigs a positive trend for the company. The lack of competition in this niche market has resulted in a tight supply of tender rigs. This, combined with the increasing demand among customers for them, has led to increasing dayrates Seadrill notes in its presentation that the average day rate of a currently contracted-out semi-tender drilling rig is $167,000. The current market dayrate for one of these rigs is just over $200,000. The average contract length for one of these rigs stands at 1.8 years. The higher current market rate ensures that as these rigs finish up their current contracts, Seadrill can obtain higher prices for them on their next assignments. This should increase the company's margins, which will lead to increasing profitability from these rigs.
Seadrill's new build portfolio offers another potential source for growth. The company has fourteen rigs currently under construction, just under half of which are already under contract.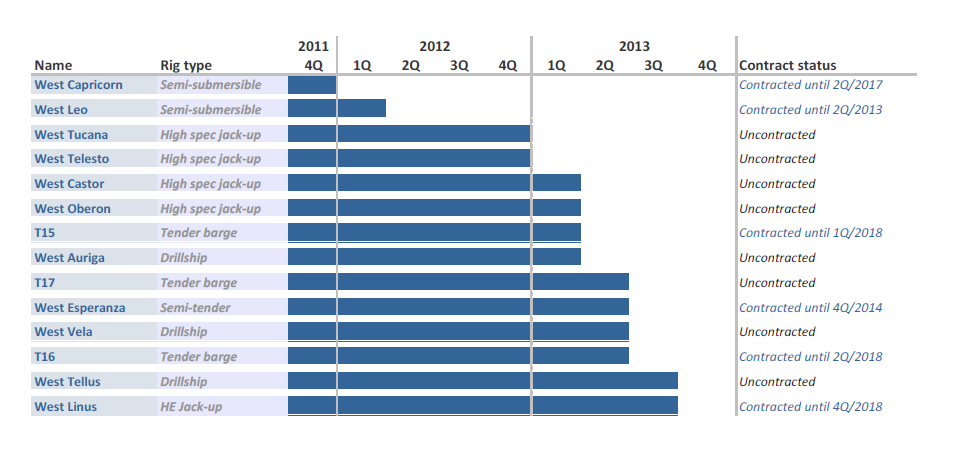 Source: SEB Enskilda Nordic Seminar
These fourteen rigs comprise approximately 23.3% of Seadrill's fleet. The company is receiving no revenues or profits from them while they are under construction. That all changes once the construction is complete and the rigs begin their assignments. At this point, the customers who contracted out the rigs will pay the day rates that have been assigned and this generates revenues, cash flows, and profits for Seadrill. Since these new builds will be added to the drilling rigs that are already in operation, this will grow Seadrill's business.
Only two of these new builds will be complete by the second quarter of 2012, and both of these have already been contracted out. Both of these units are ultra-deepwater semi-submersible drilling rigs, and as such command a higher day rate than other drilling rigs. The day rate for the West Capricorn rig will be $477,500 and the dayrate for the West Leo rig will be $510,000-$570,000. These two new builds will have a material effect on Seadrill's results, adding approximately $1 million per day in revenues by the second quarter of 2012.
Seadrill will take delivery of two high-specification jack-ups in the fourth quarter of 2012, West Tucana and West Telesto. Neither of these rigs is under contract yet, but given the current state of the market, they are likely to be contracted out prior to the day that they leave the yard. These two rigs are unlikely to have a material effect on Seadrill's financial results until 2013, for two reasons:
They are very unlikely to be able to reach their eventual assignment until the end of the fourth quarter of 2012 at the earliest. There will not be enough time for the rigs to generate enough revenue to have a material effect in the fourth quarter.
Jack-up rigs carry lower day rates than floaters or semi-tender rigs. The current market rate for jack-up rigs is $135,000 per day. The average day rate of one of the company's currently contracted-out rigs stands at $147,000. Contrast this with the market rates for deepwater rigs ($500,000+) and semi-tenders ($200,000+).
Thus, even if these two rigs are indeed able to begin operating around the end of the fourth quarter, their relatively low day rates, combined with the short operating time during the quarter, will prevent these two rigs from having any more than a token impact on the company's fourth quarter results. They will, however, be able to spur revenue growth in the first quarter of 2013.
In conclusion, Seadrill appears to be well-positioned for growth over the coming years. The strengthening of the market for offshore rigs should increase the revenues Seadrill can earn from its fleet. The fleet itself is getting larger, and that will give the company more offshore rigs to contract out and earn revenues from. These two factors position the company well for growth.
Disclosure: I am long SDRL.
Additional disclosure: I am long SDRL. I may increase my position within the next 72 hours.