We continue to believe the market is due for a breather; so are some stocks. Here are a couple more cases where you could take advantage of profit taking by others, a strategy bearing some success, like two 20% gains in a previous installment.
TESSCO Technologies Incorporated (NASDAQ:TESS) provides products and value chain solutions to support the construction, operation, and use of mobility and data wireless systems primarily in the United States. The company's Network Infrastructure segment offers base station antennas, cable and transmission lines, fixed and mobile broadband equipment, wireless local area network products, wireless networking, filtering systems, small towers, lightning protection devices, connectors, security and surveillance products, power systems, and miscellaneous hardware products that are used to build, repair, and upgrade wireless telecommunications, computing, and Internet networks. (Yahoo).
Well, they had good preliminary results out (record revenue and profit) on January 17, and the stock has been on a tear ever since.
Some metrics (Yahoo):
Market cap $138.5M on 7.82M shares
Revenues $668.9M
Cash $14.45M with $3M in debt
Eps will rise to $1.97 this year (which ends in March), coming from $1.27 last year, and rise to $2.04 next year (based on two analyst expectations).
Their accounts receivables are a bit erratic on a quarterly basis, but cash flow from operations is solidly positive on an annual basis to the tune of $12-15M per year.
Seeking Alpha contributor Simon Moore argued that the dependency on AT&T is a significant risk (for fiscal 2011, 25% of revenues depend on this single customer). That might be the case (it is really quite difficult to ascertain), but a few days later TESS won the 2011 AT&T Sustainability Award, so we have a feeling they're quite happy with them for the moment.
All in all, it's a good company with solid performance, and it is certainly not expensive. Insiders own a third of the business, which testifies to their confidence in the business, even if the sales have been far outnumbering the buys from executives.
We simply think it's time for some profit-taking, as the shares have been on a tear lately. You also see in the three year chart below that the shares are running against the all-time high from May 2010. This should give us some pause at least.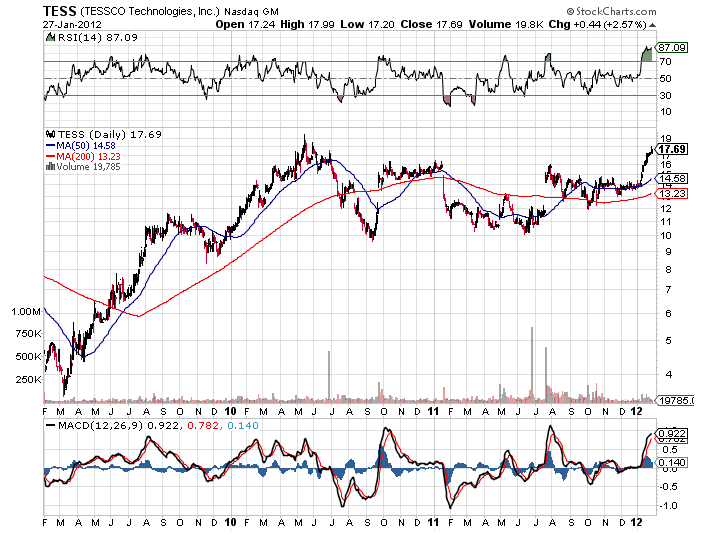 Datawatch (NASDAQ:DWCH) is a terrific company, no doubt about it. It is a provider of report analytics software and services, and is growing strongly. It just announced a 50% revenue gain in its latest quarter, with license revenue effectively doubling, and EPS more than doubling (from 4 to 9 cents).
Some basic metrics (Yahoo):
Market cap $53M on 6.16M shares
Revenue $17.9M
Cash $8.4M, no debt. (from the CC, it turns out that their cash balance is $9.65M)
Solid cash flow of more than $1M per year
The one analyst expects 9 cents per share profit this year (Sept) rising to 17 cents per share next year
The business model is fantastic. It sells licenses (at gross margins larger than 80%) then have maintenance contracts and significant opportunities to sell more services, like it did with Navy Federal Credit Union. It's difficult to be exact about this, but we suspect that the switching cost are significant, meaning that clients will stay, normally. Needless to say, it's also a growth market.
Actually this is a terrific story. From reading the conference call, we think the profit expectations (9 cents this year, rising to 17 cents per share next year, are very conservative and could (or, almost certainly, should) be far greater. On the other hand, it needs to be, because on these metrics, the company is rather expensive. On the 9 cents this year, the company would have a p/e of nearly 100.
But, the first quarter of this year, it already attained those 9 cents, so that could easily be 30-50 cents, and we expect rather large profit upgrades from the two analysts that were present at the conference call. We think 30-40 cents would be possible this year quite easily, perhaps even a little more. This would make the company much more reasonably priced, especially if the growth continues next year and we have no reason not to think so.
Of course, the market realized this, hence the explosion in the share price on Friday, where the shares rose 37% from $6.30 to $8.60, on very heavy volume.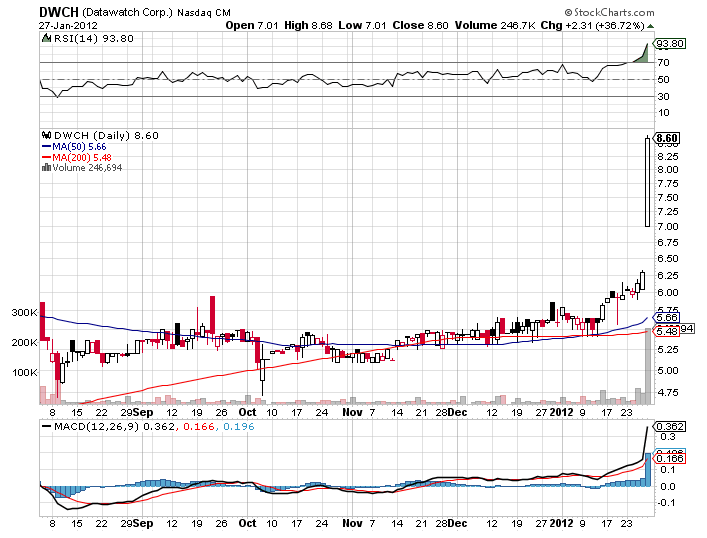 On 40 cents profit this year (our rough number) the shares trade at 22 times earnings, which seems reasonable to us. That is, we think that the immediate upside is somewhat limited, although the long-term growth story looks terrific.
Here is what we think is going to happen: The stock might continue to rise a little more, but in much smaller increments. But the moment there will come some profit-taking is already near, as the shares are already terribly overbought. We'll put out a stock talk or a comment to this article to alert. If the shares cool down and retreat a bit, we would be buyers.
Disclosure: I have no positions in any stocks mentioned, but may initiate a short position in TESS, DWCH over the next 72 hours.