In the quest for trading edges, the expiration of lock-up dates is an event with obvious potential. The lock-up period is the period after an IPO during which most existing shareholders are contractually prohibited from selling shares. Since there is an obvious incentive to sell when the market allows for an expensive price and also most IPOs trade up from their offering price in the short term, it's not surprising that a lot of insiders are anxious to sell as soon as they are allowed.
An increase in supply with the expiration of the lock-up period, hitting on about the same demand, should naturally produce lower prices.
Academic Research
There is a lot of academic research on this phenomenon. Naturally, it confirms what we expected. There are excess returns to be had around the expiration date, namely, the stocks tend to drop around that date.
I'll name a few academic studies for further reading:
What is most relevant for us is that these studies broadly confirm that stocks with lock-up periods that expire tend to drop. Also, the drop is around the expiration date, but not necessarily after it. Many times the effect happens slightly before the expiration date, along the lines seen in the following chart: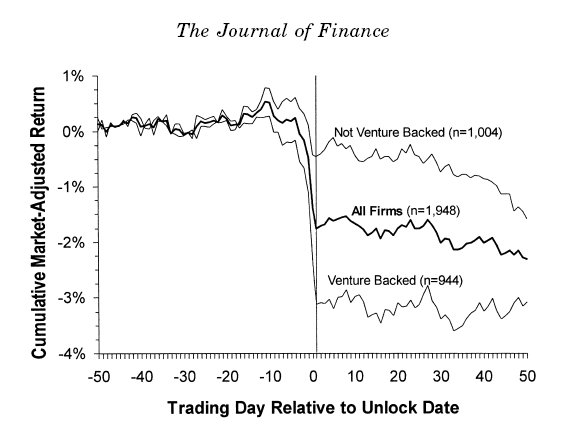 A Classic Example
Pandora (NYSE:P) offered the classic lockup expiration example late last year. Having listed the IPO on June 15, 2011, it had the lock-up expiration on December 12. The chart below exemplifies the entire process, with a huge drop into lock-up expiration, and an increase in volume on the day it expires. It's important to notice that the fall happens into (and before) the date in question.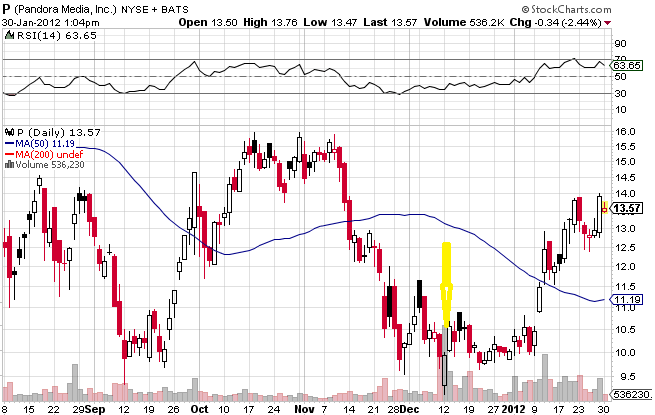 Upcoming Opportunities
Since we've already established the validity of this particular edge, how can we find specific opportunities to trade one? Luckily, Edgar Online can help us here, as it carries a page detailing the IPO lockup expiration dates by month.
Here are a few examples of well-known recent IPOs that trade at very high valuations and whose lock-ups are about to expire. These will probably be good opportunities to short in the month prior to the indicated lock-up expiration dates:
Conclusion
Trading the short side of soon to be expired lock-up dates presents an excess return according to many academic studies as well as empirical evidence. It might pay for the traders to keep an eye on future lock-up expirations, with a view toward trading these equities from the short side, up to a month before the indicated expiration dates. Five such opportunities are listed in the article, marrying approaching expiration dates with high valuations.
Disclosure: I have no positions in any stocks mentioned, and no plans to initiate any positions within the next 72 hours.