Drought in South American was affecting the corn and soybean crops, a record warm early winter helped heating oil sell off versus gasoline prices and natural gas prices recently reached multi-year lows two weeks ago (before some energy companies announced plans to cut production). Now we have other weather problems to consider, that being, bitter near historic cold in Russia's grain belt and eastern Europe's gas-oil producing region.
Let's comment on many of these markets and show some weather maps with respect to what is currently occurring.
GRAINS
Wheat is one of the most versatile commodities in the world and is used for livestock feed, flours, breads and even for construction companies for roof-tops. While we have huge world stocks of wheat that have pressured prices, the re-emergence of a developing drought in the southern Plains of Kansas-Texas (see bottom chart and the red region showing well below-normal rainfall the last month), plus a poor Ukraine crop, could mean that wheat has bottomed. The Wheat ETF (NYSEARCA:WEAT) is something to consider buying, though if ample spring rains fall, this would take the steam out of the market. Though there is limited volume in this ETF, one might consider buying futures outright for July, 2012 delivery (CBOT wheat) and maybe buying a put option against for protection (synthetic call) if spring weather improves around the world. But if the southern Plains drought continues and Russia's woes persist, wheat prices could explode over the next few months.
(Click charts to expand)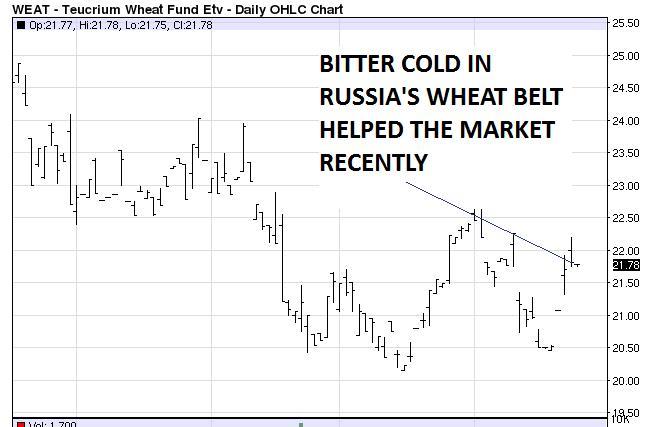 Click to enlarge
Source: BARCHART.COM, INC.
The charts below show the slowing soybean harvest in northern Brazil due to rains. However, with this region expected to see drier weather over the next week or two, plus critical rains for Argentina coming, it is possible that soybeans may not have a lot more upside potential for now. On the other hand, notice below the chart showing how dry it has been in Argentina till recently. The corn crop is beyond being able to be helped, and this is one key reason we recommended buying the Thorium Corn ETF (NYSEARCA:CORN) back in early December. If it were not for the USDA throwing another bearish report at the corn market two weeks ago, corn prices would be at least 4%-5% higher than where they currently are.
For corn prices to really explode, we will need to see a continuation of the Midwest snow drought and planting woes come April and May--something we will stay abreast of for clients.
(The charts below show the Brazil soybean harvest and concerns about it being too wet in the north, but things may begin to dry out. Also see the vegetative crop index for Argentina corn regions, in which irreversible damage to the corn market has kept this market strong. The last chart shows the "red" region throughout the southern Plains from Kansas to Texas, which should be watched for possible drought talk again for the wheat crop)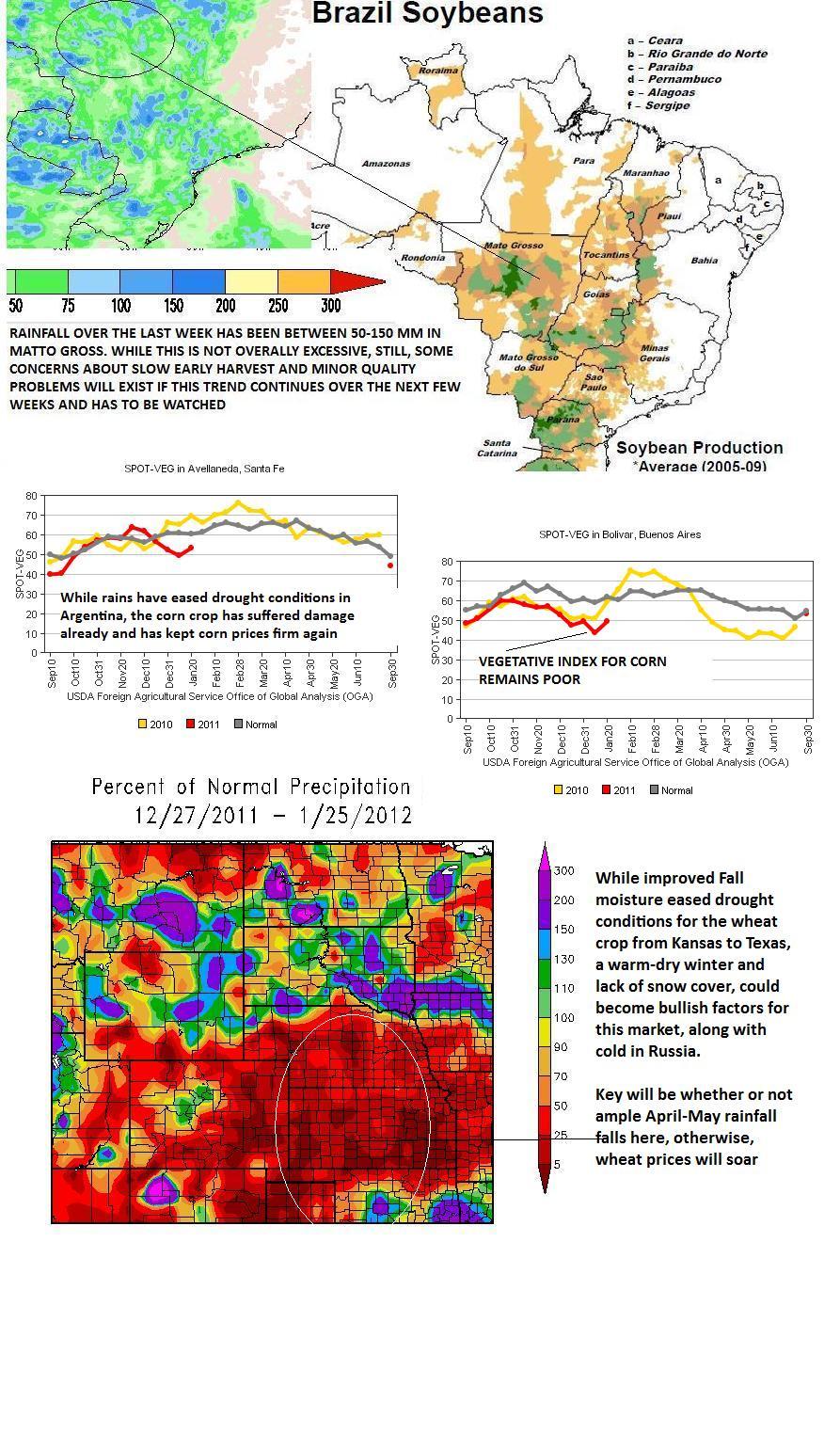 Click to enlarge
Source: FAS/NOAA
The charts and graphs below show the following. The first chart with all of the blue represents the coldest weather of winter for Europe. This may be a good shot in the arm for the ski industry in some countries and increase gas-oil demand. Other maps below show the lack of snow cover over a few areas of Ukraine in Russia and the bone-chilling cold that may be hurting some of the wheat crop. A dry fall there may mean that Russian officials will have to cut their export forecast down the road. This may possibly give the U.S. wheat export market a boost.
(First few charts and graphs below show the extreme cold in eastern Europe and Russia forecast for the next 2 weeks)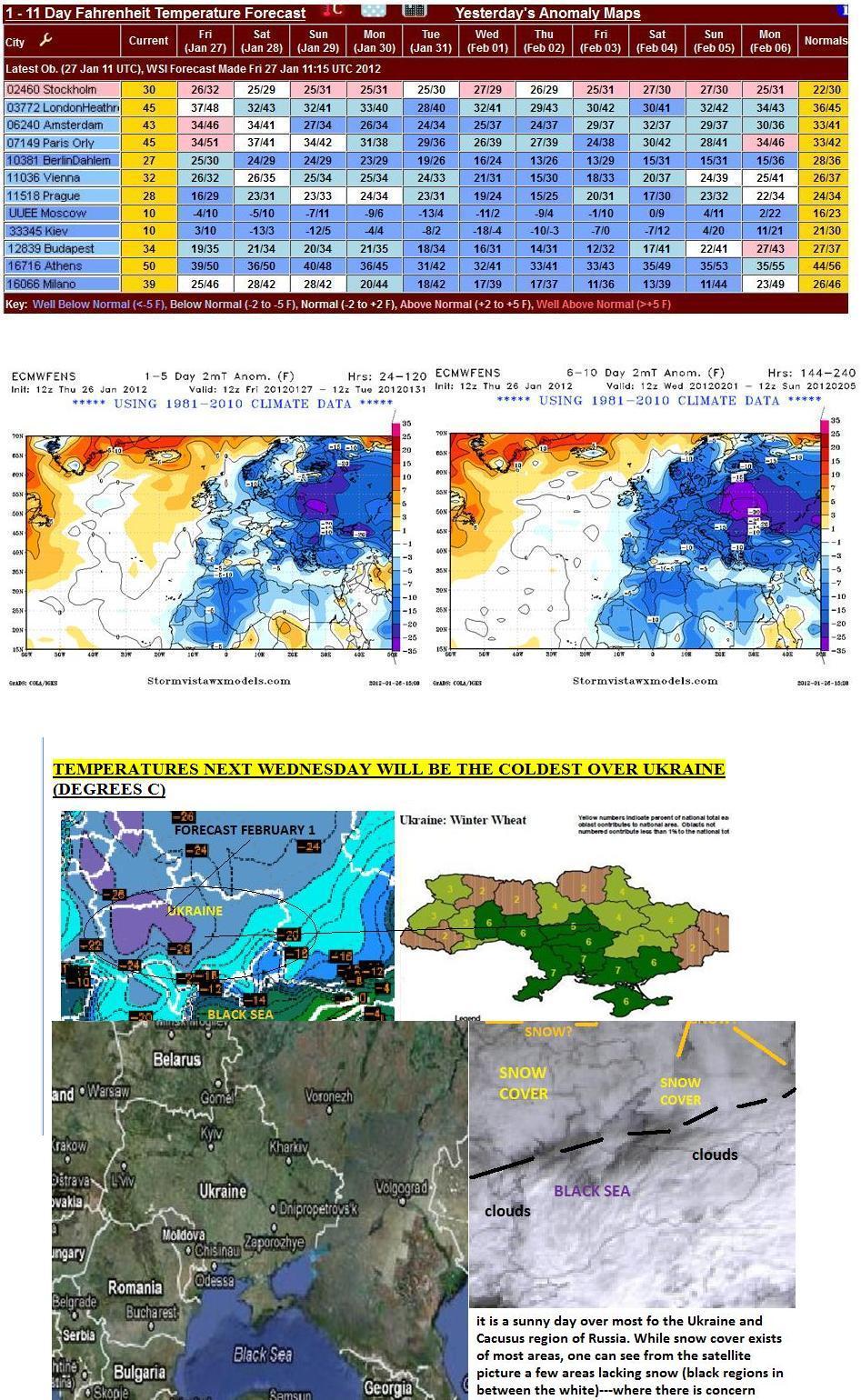 Click to enlarge
Notice the milky area at the top of the picture.That is snow cover in Russia's grain belt, but a few areas do not have enough snow, otherwise, wheat prices would go absolutely nuts and rally 10% quickly. (Roemer)
Source: FAS/USDA & WSI
HEATING OIL/GAS/OIL
Europe is a huge net importer of distillate (diesel) from the U.S., and even in the face of a mild winter in both the U.S. and Europe, heating oil prices (distillate) have stayed quite strong. As Europe switches to more diesel type cars (for price and environmental reasons), the lack of gasoline demand both abroad and in the United States forced key oil refineries at St. Croix to close down. Nevertheless, per comments back in December, a good trade this winter was being short heating oil (warm winter) and short gasoline. Now it may be time to get out of this spread trade, though typically gasoline prices do rise, relative to distillate/heating oil in February.
While weather this time of the year only has a limited impact on the heating oil market, extreme cold in eastern Europe and Russia may have a positive impact on gas-oil prices (European heating oil) over the next week or two.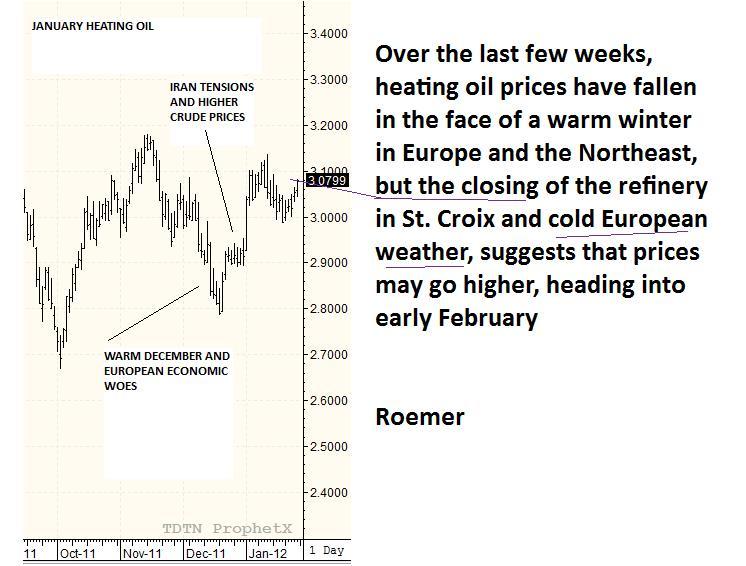 Source: DTN/PROPHETX
Disclosure: I have no positions in any stocks mentioned, and no plans to initiate any positions within the next 72 hours.