Shares of Astex Pharmaceuticals (NASDAQ:ASTX), the drug discovery company formed by the acquisition of Astex Therapeutics Ltd by Supergen Inc. In 2011 have been on the move.
The firm has a wide variety of products in development, and currently receive substantial royalties from the successful launch and marketing of the drug Dacogen by Eisai (OTC:ESALF). Astex expects roughly $61 million in total royalty revenue in 2011. For the most part, these royalties from Dacogen and other development and license payments have been enough to keep Astex earnings-positive, which should bode well for the stock as Astex's cash pile remains large.
Astex is focused on innovative small-molecule therapeutics with particular expertise in fragment-based drug discovery. Its primary areas of focus are oncology and hematology. The company employs a cutting-edge platform that rapidly delivers customized, high-quality drug leads with enhanced therapeutic potential. Its Pyramid technology defines a process by which a range of high-throughput biophysical and computational techniques are used to experimentally characterize the interactions of very low molecular weight compounds (fragments) with their target proteins. The company's Pyramid is used successfully to generate lead compounds for the potential treatment of cancer, viral infections, inflammation and Alzheimer's disease.
While their latest quarter (ended September 30th, 2011) resulted in a net loss, it's expected that the submission of a supplemental New Drug Application (NDA) to the FDA in 2011 to treat acute myeloid leukemia (AML) by Eisai will result in additional treatment options for Dacogen, which could mean substantial potential for Astex through additional revenues in the near future. The set PDUFA date, according to Eisai, is March 6 2012.
The drug will also be discussed prior, on the morning of February 9th, by the FDA's Oncologic Drugs Advisory Committee. The FDA also intends to publish background information on Dacogen and AML, which should draw investor attention as premonitions about the sNDA decision loom. Hype over the meeting has caused major bullish moves in the stock already, like on January 27 where ASTX jumped 18% and heavy volume in call options. Lastly, a response to the MAA (Marketing Authorization Application) submitted by Eisai is expected sometime in Q2 2012.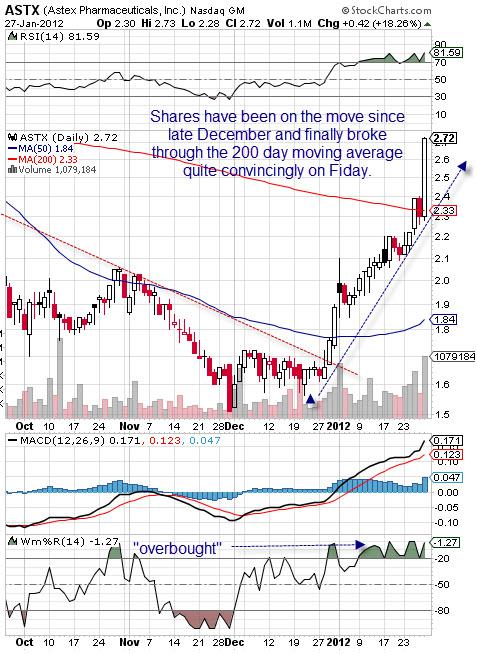 Click to enlarge
(Click to enlarge)
Other than Dacogen, Astex is also looking forward to news about AT13387, combined with the drug imatinib for gastrointestinal tumors. Additional data about the phase II trials should be released "later in the year". Then there is the drug AZD3839, which is being developed by AstraZeneca (NYSE:AZN). It is an Alzheimer's drug still in Phase I trials which will provide Astex with milestone payments given proper performance. Nonetheless, the most important information for the stock has to do with their cash cow Dacogen. There are two major catalysts ready for the stock in just Q1 2012 for that drug alone.
In additon, last October, the company announced that dose escalation of the second prioritized clinical product, SGI-110, continues in the Phase I portion of the MDS/AML trial with the goal of Phase II data readout late 2012. Following the AT13387 and SGI-110 trials is the amuvatinib Phase II ESCAPE trial in patients with small cell lung cancer. Patients have been dosed and trial accrual is proceeding.
Disclosure: I have no positions in any stocks mentioned, and no plans to initiate any positions within the next 72 hours.