Based in Shangri-La County, Yunnan Province, China, Tibet Pharmaceuticals (NASDAQ:TBET) is an emerging specialty pharmaceutical company engaged in the research, development, manufacturing and marketing of modernized traditional Tibetan medicines in China. With 190 employees and nation-wide distributors, the company develops both prescription and over-the-counter traditional Tibetan medicines that promote health in human respiratory, digestive, urinary and reproductive systems. Tibet Pharmaceuticals' products are sold throughout China, with a majority of sales concentrated in the southern provinces, most notably Yunnan Province, where the company's 52,000 sq. ft. GMP-certified manufacturing facilities are located. The access to key raw materials, not generally available outside the province, provides a significant advantage for Tibet Pharmaceuticals.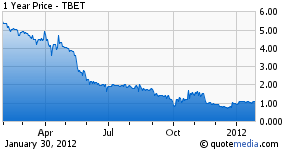 Initial Public Offering
The company became public on January 2011. The IPO was priced at $5.50. The company sold 3 million shares for a total of $16.5 million. The underwriter was Anderson & Strudwick.
Product Overview
Tibet Pharmaceuticals develops products in China for promoting health in human respiratory, digestive, urinary and reproductive systems. Its five SFDA-approved modernized traditional Tibetan medicines are designed to address large market opportunities. Tibet Pharmaceuticals' product development pipeline includes potential expanded uses of its existing products for additional medical indications and a number of new product candidates that are intended to address significant health needs in China.
Tibet Pharmaceuticals currently sells both prescription and over-the-counter traditional Tibetan medicines. The company has developed and presently is selling five pharmaceutical products, all of which have received Chinese government approval. Tibet Pharmaceuticals' principal commercialized product is its 25 Ingredients Mandrake Pill, which is authorized by the SFDA for use to regulate menses to treat endometritis as well as pelvic inflammations and female anemia. Tibet Pharmaceuticals' second largest selling product is its 15 Ingredients Gentiana Pill, which the SFDA approved for use in regulating lung function, alleviating coughing and removing phlegm, and for the treatment of bronchus-related coughing, asthma and hoarseness.
Tibet Pharmaceuticals has received SFDA approval for a sixth product, and is evaluating market potential before beginning commercialization. In addition, the company is in the process of developing several additional products for which it hopes to secure government approval and to commercialize in the future. Tibet Pharmaceuticals sells its products principally to distributors in China, who in turn sell them chiefly to hospitals, hospital pharmacies and retail pharmacies.
In China, traditional Tibetan medicine is not an alternative form of therapy but is used in the state-run hospitals alongside modern medicine. For its practitioners and advocates, traditional Tibetan medicine is seen as a safe and effective solution to diseases, having the advantage of causing fewer side effects than Western medicine, due to the natural ingredients used. Traditional Tibetan medicine is also believed to promote long term wellness and vigor, and many modern-day drugs have been developed from herbal sources.
Financials
On November 15th 2011 the company reported its financial results for the third quarter ended September 30, 2011.
Revenue was $8.6 million in Q3 2011, compared to $9.0 million in Q3 2010. Net income was $1.6 million in Q3 2011, compared to $3.8 million in Q3 2010.
Total revenue for the nine months ended September 30, 2011 increased 7% to $25.6 million as compared to approximately $23.9 million for the same period of 2010. Net income for the nine months were $7.7 million.
Cash and cash equivalents increased from $7.6 million as of December 31, 2010 to $26.0 million as of September 30, 2011. The September 30, 2011 total reflects the receipt of proceeds of the company's January 24, 2011 initial public offering of three million shares of its common stock at an offering price of $5.50.
"Tibet Pharmaceuticals and its management team faced several challenges in the third quarter, however, we remain committed to our sales initiatives and will be poised for growth as conditions improve," said Hong Yu, CEO and Chairman of Tibet Pharmaceuticals. "Despite rising raw material costs, Tibet Pharmaceuticals maintained high revenue levels, as well as $1.6 million in net income for the third quarter of 2011. The decrease compared to the same period of 2010 was primarily due to the increasingly competitive business environment of the Chinese medicine market, especially the effects of soaring inflation which caused customers to cut back on their expenditures for health-related products and medicine. In spite of these difficulties, we remain optimistic about the long-term prospects of the Tibetan medicine sector given the continuing rise of China's middle class, and we are taking strong measures to combat the immediate challenges we face."
Conclusion
I recommend buying this stock under $1.75. The company has cash $1.75 per share.
Disclosure: I am long TBET.