As I wrote in my instablog on my Sun Tzu portfolio last week, as of the January 27, I am posting an end-of-month performance wrap on the portfolio following the last Friday trading day in the month.
The Sun Tzu portfolio wrap as at January 27, 2012, is as follows:

In reviewing the portfolio over the weekend, I have decided I am going to capitalize on the "CAT in the hat" and take some profit to rebalance the portfolio and reinvest these earnings. I am aiming to sell 18.5% of my Caterpillar (NYSE:CAT) shares this week, with a target sell price between $110 and $112 per share. I still assess CAT to be a core stock within the portfolio, but noting that the stock is up 36% from its purchase price, I think it is time to take some of that profit and reinvest it elsewhere to further diversify the portfolio. CAT's three-month performance is illustrated below: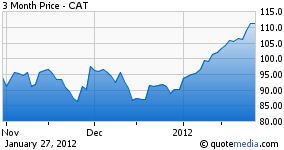 Once sold, I am looking to buy a $5,000 parcel (approximately) of Chevron (NYSE:CVX) at a target price of between $102 and $104 per share. My reasons for Chevron is for the value I see in the company, its investment in the Gorgon Project in Western Australia, and for its strong, consistent history in paying dividends. These reasons are covered in more detail in my recent article on CVX.
I am also setting a stop-loss of $7 per share for Patriot Coal (PCX) and a sell target of $12 per share. As you will recall, PCX was my one speculative stock inclusion in the portfolio.
For those unfamiliar with my Sun Tzu portfolio, you can read the first article and then follow the updates on my instablog. The portfolio is a model portfolio only, with the exception of BHP Billiton (NYSE:BHP), in which I currently hold a long position.
Disclosure: I am long BHP.
Additional disclosure: This advice is general advice only. You should seek independent financial advice prior to making any investments of your own.