In today's news the focus has been on Apple (NASDAQ:AAPL) and how they are taking the technology sector by storm. Though this is true, that does not minimize the performance of other strong technology companies or make their businesses unworthy of your money. Microsoft (NASDAQ:MSFT) was a pioneer in the software industry and was able to grow to an incredible level through a diverse grouping of products, a stable vision, and an innovative spirit. Although AAPL and others have been able to erode the market share of MSFT, the company still is a dynamic and thriving enterprise that continues to service nearly every nation in the world.
There is a finite difference between stock performance and company performance. Stocks are often traded based on patterns and expectations. Companies, on the other hand, look toward a strategic vision that can often get lost in the chaos of Wall Street. MSFT is an incredible company that offers investors both long-term stability and a steady stream of dividends that is currently 2.7%. Several key factors can be attributed to the safety and stability of MSFT and its ability to continue to pay a strong and growing dividend to shareholders: large and increasing cash reserves, strong performance on the market front due to a stable business model, and strong market performance. For these reasons, MSFT is an exceptional opportunity for investors to harness a source of income, while maintaining the stability of a strong and dynamic company within their portfolio.

Cash Reserves: When an investor buys shares in a company, he/she is buying in a stake in both the company's equity and the liability. In order for a dividend to be considered both sustainable and growing, the company needs to have either capital coming in or the cash in the bank to protect the income source. For MSFT, the cash in the bank is $50.69 billion while the company's debt is only $12.80 billion. This presents a landscape for MSFT to continue to have the ability to pay its investors the 2.7% dividend they expect, but also to raise the dividend as MSFT has in past years. The fact that MSFT has this level of cash on hand as well as the ability to add to it marks a dividend some could argue is the safest in the world.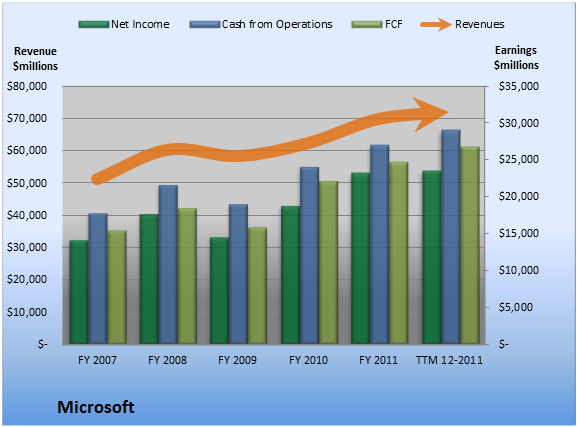 Click to enlarge
(S&P Capital IQ)
Strong Company Performance: MSFT has been under fire as of late due to the company's inability to use its clout to break into the mobile market in a larger way. This claim has validity, but for a long-term investor, MSFT has a foundation that is both stable and thriving. Through brands like Office, Windows (8), and Xbox, MSFT's broad array of products do not show any signs of instability. MSFT CEO Steve Ballmer stated: "We delivered solid financial results, even as we prepare for a launch year that will accelerate many of our key products and services." These intangible products come to life within the company's earnings reports and profit margins. In the last quarter, MSFT exceeded analysts' earnings predictions and delivered $.78 per share and grew revenue by 4.7%. This points to a strong company vision for the future, which will ultimately lead to further cash reserves that lead to stockholder value and stability.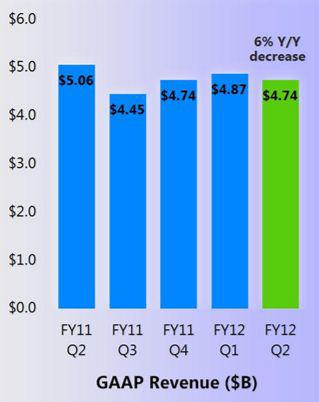 (Microsoft)
Low Volatility In the Market: Though a company's performance is not always directly tied to how Wall Street values the company, from an investor perspective, it is important that the stock is stable and does not make large fluctuations in value. MSFT has not seen the swings to the upside or downside that companies like Google (NASDAQ:GOOG) or AAPL have because the stock is not as "hot." For an investor looking for a steady stream of income, this is positive because market timing is not a part of a long-term investment. Over the past years MSFT has stayed within a trading range between $25 and $30, which does not compare to the percentage moves that other companies in its sector have.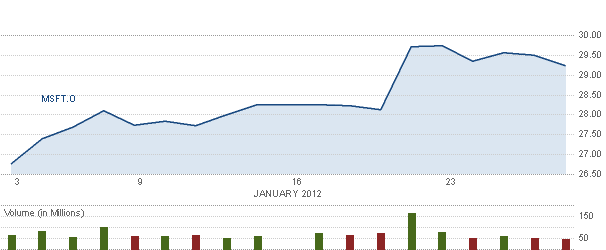 Click to enlarge
(CNBC)
Conclusion: Due to the slew of positive factors aforementioned, MSFT still proves to be a stable and vibrant company with a future that does not look to diminishing dividend returns and stockholder value. Even if MSFT runs into trouble, the dividend will not be eliminated. Not all companies can say that…
Disclosure: I have no positions in any stocks mentioned, and no plans to initiate any positions within the next 72 hours.