Of all of the commercial real estate sectors, ground leases are considered one of the safest and secure forms of investment. Ground leases are considered a defensive investment choice, and the ground lease investor is able to realize a long-term stream of income without transfer of ownership, but rather through transferring control of the land in order to maximize an income stream over a fixed period of time. The ground lease investor benefits from a risk-averse transaction which is distinguished by low capital costs, stable income and increased property appreciation potential.
Like most income-producing assets, ground leases are attractive because of their consistent and sustainable revenue features. Most ground lease investors recognize that ground revenue is a risk-conservative model where the investor owns the land but the tenant is responsible for all of the expenses for building on the land (roof, parking lot, lighting, etc...) as well as taxes and insurance costs. The income generated by a ground lease is akin to a bond investment. Like a bond, most ground leases are for terms of 15 to 20 years (with options that reach up to 60 years) - making these sustainable low-risk investments much more appealing.
A Margin of Safety for REIT Investors
Several Real Estate Investment Trusts (REITs) utilize ground-lease properties as a means of providing balanced risk-aligned revenues. For example, Kimco (NYSE:KIM), one of the largest shopping center REITs in the U.S. (with assets under management of around $24.0 billion), invests in a broad category of lease properties ranging from home improvement retailers, discount stores, restaurants, banks, gas stations, and supermarkets. According to the company's latest results, Kimco ground-leases around 600 properties and around 33 are ground-leased to home improvement tenants with the majority of sites leased to Home Depot (NYSE:HD) - one of Kimco's largest tenant relationships (3.1% of Kimco's annualized base rent is from Home Depot). In addition, Kimco ground-leases 54 sites to discount chains that collectively provide annual ground rent of around $18.1 million (for the discount sector). Kimco's total 2010 net operating income (NOI) was around $956.4 million and ground lease revenue was around $87.4 million (or 9.1% of the portfolio). This risk-aligned capital model provides Kimco investors and shareholders with a well-balanced "margin-of-safety" model (with sound principal preservation qualities) while also providing Kimco tenants with strategic development relationships.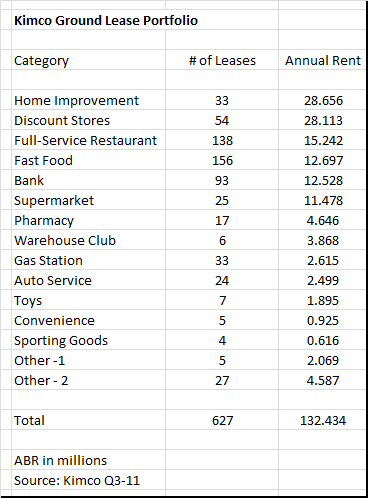 Click to enlarge
Another REIT, American Campus Communities (NYSE:ACC), utilizes ground-lease structures as a way to brand and market services to colleges and universities. However, unlike Kimco, American Campus Communities formulates its low-risk ground-lease investments as a tenant (instead of a landlord) whereby the student housing REIT leases the land from the university under a long-term ground lease contract. The Austin based REIT has around 107 campus housing facilities and assets of around $2.705 billion (as of 9-30-11) and the ground-lease structure, known as the American Campus Equity (ACE) program, provides a strategic lower-risk investment opportunity (compared to other off-campus projects).
ACE projects have premier on-campus locations with marketing and operational assistance from the university. The subject university substantially benefits by increasing its housing capacity with modern, well-amenitized student housing with no or minimal impacts to its own credit ratios, preserving the university's credit capacity to fund academic and research facilities. The ACE ground-lease model provides the REIT investor or shareholder with a strategic revenue model aimed to leverage capital resources and optimize shareholder value.
According to American Campus Communities' latest Investor Presentation, the student housing REIT has around eleven ground-lease projects in various stages. There are around four completed projects (University of New Mexico and Prairie View A&M University) and several under construction or in the pipeline (Portland State, University of New Mexico, Northern Arizona University (2), Arizona State University (2), and Drexel University).
Summary of Safety
Due to the risk-averse fundamentals associated with a ground lease investment, cap rate yields are generally around 100 bps less than conventional net lease properties. For example, a Walgreens (WAG) that would trade for around 6.5% today would also trade for around 5.5% under a Walgreens ground lease. This "bond-like" investment strategy provides for an increased "margin of safety" while also increasing property appreciation potential since the improvements to the land revert to the landowner upon lease expiration. Here are some recent ground-lease comparables provided by Calkain Companies Research (calkain.com):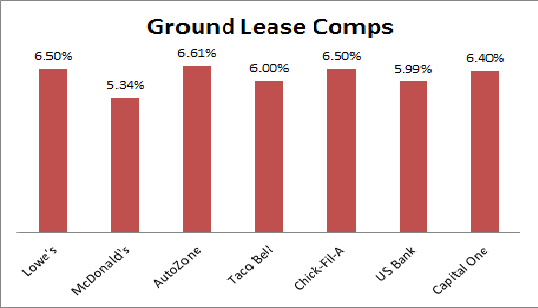 Click to enlarge
In summary, ground leases are distinguished by sustainably low-risk income and sound principal preservation fundamentals. Like a bond, these high-quality leases are differentiated from other asset sectors by risk-averse asset selection and uninterrupted income fundamentals. A well-balanced portfolio should include defensive high-quality income that also provides considerable safety. REITs are also differentiated by this same "margin-of-safety" concept, such as when Kimco and American Campus Communities use strategically deployed ground leases to their advantage, further distinguishing themselves from other investment structures and even their peer group. Kimco is trading at $18.29 a share and the dividend yield is 4.6 %. American Campus Communities is trading at $42.68 a share and the dividend yield is 3.6 %.
For more information on Kimco and American Campus Communities you can link to my recent Seeking Alpha articles about Kimco and about ACC.
Disclosure: I have no positions in any stocks mentioned, and no plans to initiate any positions within the next 72 hours.