Actionable Items:
Highest Positive Spread: JH Tax Advantaged Global Fund (NYSE:HTY)
Lowest Negative Spread: Invesco Value Municipal Bond Trust (IIM)
Focus Stock of the Week: Invesco Value Municipal Bond Trust
Last Week s Focus Stock: Sprott Physical Silver Trust (NYSEARCA:PSLV)
CEF Weekly Review: On average, the 13 closed-end fund (NYSEMKT:CEF) types registered a share price increase of 1.9% for the week ending 1/27/12. The high-low spread (average percentage price change difference between the highest and lowest fund types) registered this week was +2.2% versus +2.8% the previous week. On an aggregate unweighted basis, the weekly average price change for the approximately 600 CEFs in the GrowthIncome database was also up 1.9%.
The PowerShares CEF Income Composite (NYSEARCA:PCEF), an ETF that invests in taxable income CEFs, increased 1.9% for the week. PCEF is up 5.1% YTD on price appreciation alone. S&P 500 squeaked out a gain for the week. It rose 0.2%; the S&P 500 is up a robust 4.8% YTD.
The Eqcome CEF Fear Index eased for the week on the upside. The average CEF unweighted price increased 1.9% while the average related NAV advanced 1.1%. The VIX increased 1.4% after dropping 13.1% the previous week. The VIX remains below the 20 mark at 18.53.
CEF Weekly Fund Type Performance: For a second week in a row all of the CEF fund types experienced weekly share price appreciation. There was some dispersion among fixed-income and equity CEFs regarding average fund type share price performance.
The CEF fund type with the greatest appreciation was LoanPartFnds. This is a curious leader. This fund type typically performs well in an expanding economy and in a rising interest rate environment. With the mixed economic and corporate earnings, along with the Fed's well telegraphed decision to keep rates low forever, one would not have expected this type of performance from LoanPartFnds. The advance was broad-based. In the "place" and "show" positions were WrldIncFnds and WrldEqFnds. HiYldBndFnds also placed higher than the domestic equity-oriented fund types.
A quick reading of these results would indicate investors are anticipating a satisfactory interim settlement of the Greece debt issue and some a positive bias toward economic growth despite recent "fits and starts".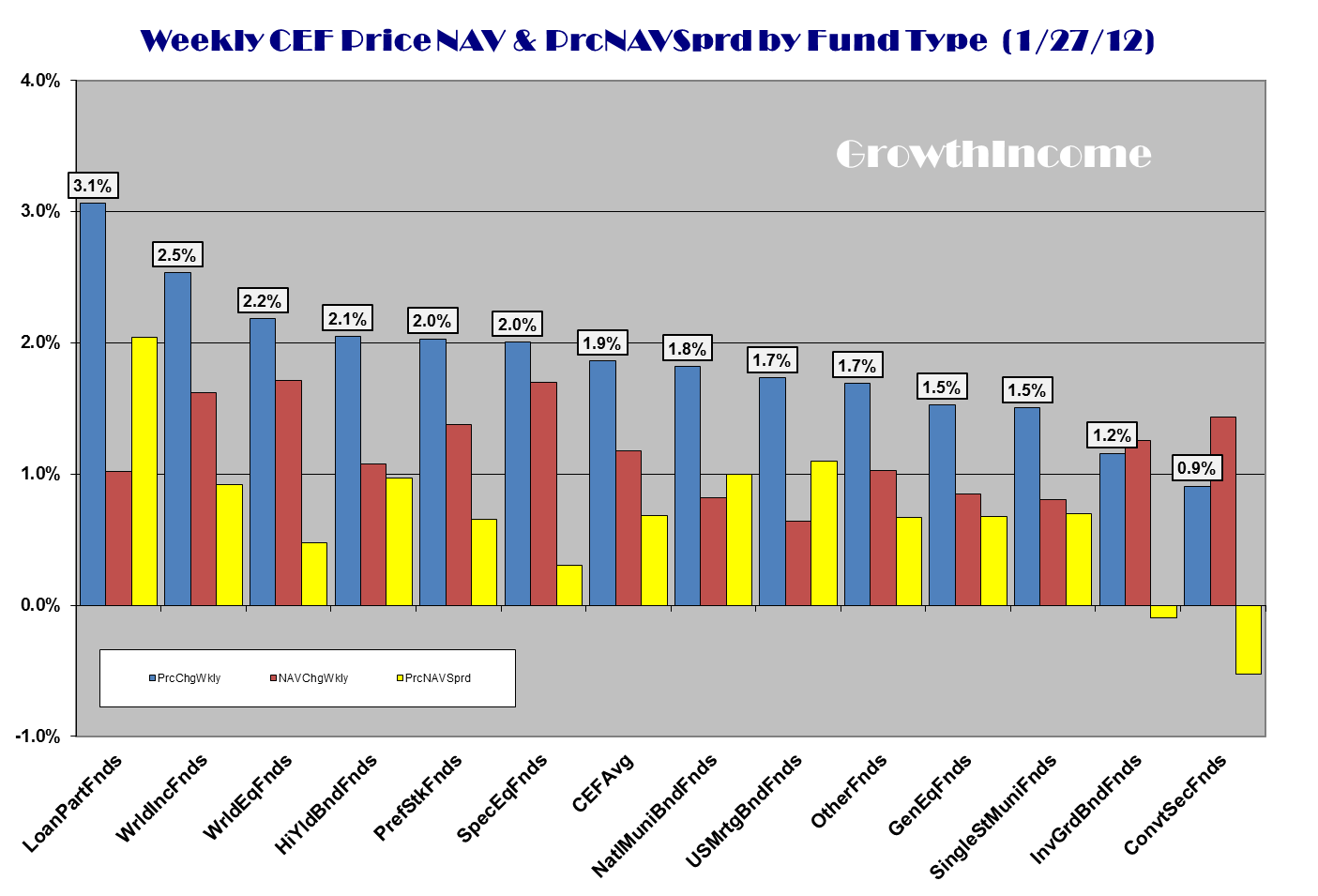 Weekly CEF Winners and Losers: One of the CEFs with the greatest positive PrcNAVSprd for the week was JH Tax Advantaged Global Fund . HTY's price increased 14.2% while its NAV was flat, generating a positive PrcNAVSprd* of 14.2%. HTY is classified as a member of WrldEqFnds although it is probably a misnomer. Over 50% of its assets are in the U.S. Additionally, HTY employs an option strategy. So, it may be closer to the buy/write CEFs which are included in the OtherFnds type category.
HTY experienced very heavy volume this week. For a CEF whose 3 month average daily volume is around 35,040 shares, there were 232,900 shares traded on Monday and another 113,600 traded on Tuesday. Average daily volume for the week was 118,600 shares. HTY recently reduced its distribution from $0.36 to $0.32 in December of last year. It has $113 million in total net assets and no leverage.
First Trust Portfolios LP may be the accumulator as the interest went from 10.2% in July of last year to 12.5% as of their filing on January the 13th.
The CEFs with the greatest negative PrcNAVSprd for the week were the Invesco sponsored insured municipal CEFs. The three included Invesco Value Municipal Trust (NYSE:IMT), Invesco Value Municipal Income Trust (IMM) and Invesco Value Municipal Bond Trust (Pending:IMC), although there were six such CEFs of the same nature advised by Invesco.
Investment Policy Changes: The reason for this wholesale price reduction to this group of CEFs was an announcement that it is changing its policy to eliminate the requirement investing only in municipal bonds that at the time of purchase were insured by a company with an "A" rating. So, effectively they can buy muni bonds that don't have an insurance "back stop". Accordingly, they changed their respective names to drop "Insured" from its name and added "Value" in its place.
Logic: There is some logic behind their policy changes. Number one; there are very few insurers that have an "A" rating that are in this business. Secondly, like reverse mortgages, none of the serious institutions want to be in this business of insuring municipal bonds.
Baby with the Bathwater: The steep downward price adjustments seem over-done. These CEFS still retain the insurance coverage in the bonds they currently hold. Additionally, it will expand their investable universe. Given the low level of muni default-even in light of dire prophesies-I'm not sure it added much value given the weakened state of the insurers.
There may have been portfolios where this change caused a "knee-jerk reaction causing such accounts to dump the stock.
Economic & Earnings Outlook: (Click here for next week's economic calendar; click here for earnings' announcements and estimates.)
Insider Trading: There was additional buying in two CEFs for the week. Babson Capital Participation Investors (NYSE:MPV), trustee William J. Barrett added 2,600 shares at an average price of $15.10 per share bringing his cumulative holdings to 36,188 shares. (His wife holds another 16,012 shares in MPV.) Donald Benson, also a trustee, added almost 1,000 additional shares to his holdings in MPV. This brings his cumulative interest to 12,729 shares.
There has also been some incremental insider buying in MVC Capital (NYSE:MVC). Michael T. Tokarz, the chairman, purchased an additional 2,739 shares at an average price of $12.08 per share. This brought Mr. Tokarz's ownership up to 736,928 shares. This was on top of two other insiders purchasing shares earlier this month. Gerald Hellerman and Bruce Shewmaker, respectively, of MVC Capital acquired an additional 1,000 shares each at an average price of $11.98 per share. Wynnefield Partners Small Cap Value, L.P., owns 6.5% of MVC. This broad-based buying probably warrants some attention.
Two new insider positions were established this week. The first was John G. Popp, CEO of Credit Suisse High Yield Bond Fund (NYSEMKT:DHY), who appeared to establish an initial position of 5,000 shares at a cost of $3.03 per share. We also saw some insider buying of the shares in December of last year by several of the trustees which looked like option exercising given the uniformity of the shares purchased.
The other new position this month was established by Richard Silver, director of Korea Fund (NYSE:KF) of 350 shares at $38.85 per share increasing his holdings to 2,392 shares. This is his first purchase since early 2008. The top holder of KF is the City of London Investment Management Co, Limited, with a 35% ownership stake. KF stock recovered from a massive sell-off in late 2011 as a result of a $5.45 distribution. It has made a nice recovery since year end. YTD it is up 8.7% while its NAV is up 10.5%.
CEF Distribution Announcements This Week The following is a link to a table of CEF distribution announcements this week as well as the previous week's with yet expired ex-dividend dates. The list is not intended to be inclusive. Additionally, mid-month is a time when many CEFs go ex-dividend and the beginning of the month is typically the time distributions are announced. (Click Here for Joe Eqcome's Weekly CEF Distribution Announcements-see, "Research" Menu; "CEF Weekly Information" tab.)
CEF Focus Stock(s) for the Week: The focus stock(s) of the week is Invesco Value Municipal Bond Trust . IIM was one of the Invesco advised CEFs that sold off with regards to a change in its investment policy which dropped the requirement that its bonds must be insured by an insurer with at least an "A" rating. (See, section "CEFs with the greatest negative PrcNAVSprd" above.)
Overdone? We believe the "sell off" may be overdone and a "knee-jerk" reaction to the policy change. The stocks may have been "kicked out" of very conservative portfolio without consideration of the economics. Average daily volume was 180,000 shares for the 3 days post the announcement for a stock. In comparison, its 3 month average daily volume is 60,800. The stock price dropped 4.6% for the week while it's NAV advanced by 0.8%, generating one of the larger negative PrcNAVSprds for the week (5.4%). The Muni ETF (MUB) was up 2.0% for the week.
IIM is the largest of the three that suffered the most this week. It has $365 million in assets. Its portfolio is national in scope and has the highest trading volume (average 46,000 shares daily). Its annualized monthly distribution rate is 5.5% (8.5% on a taxable yield equivalent basis).
Bigger Issue: The bigger issue is whether or not muni CEFs, which performed well last year, will continue to retain or further enhance their value this year. This group is a "risk-off" trade and if the equity markets find their footing, it may be a class that lags this year.
Last Week's Focus Stock(s): Our focus stock last week was Sprott Physical Silver Trust . PSLV is a newly created CEF in October of last year. Its objective is to own physical silver. PSLV is unique because large shareholders are able to redeem shares on a monthly basis in exchange for silver bullion. The CEF's silver is stored by the Royal Canadian Mint. Originally offered at $10 per unit, the shares have been as high as $22 in April of last year.
Our thesis was that PSLV's share price may have been depressed as a result of a successful follow-on offering during the week that may have temporarily depressed its share price on high turn-over volume of the newly-issued shares.
Additionally, the silver ETF (NYSEARCA:SLV) share price was up 8.3% while PSLV's stock was down 2.5% last week. Lastly, there were technical indications that the three major ETFs that track silver (SLV, DBS, SIVR) appear to have climbed above the 50-day moving average which is a constructive indicator for the upside.
Final Punch: However, in the final analysis, it was the Fed's move to keep interest rates at extremely-low levels for an extremely-long period of time that gave the metals a boost. This is because it weakened the U.S. dollar. Many metals are priced in U.S dollars. Ergo, this allows foreign buyers to buy the metals, silver included, more cheaply. Additionally, lower U.S. interest rates both reduce leverage and opportunity costs of owning metals like silver. PSLV finished up 3.6%this week.
Caveat: However, the longer-term price performance of the metals will depend on global economic growth. The economic data of late has been mixed but bias on the upside. Personally, we believe we're closer to an economic recovery than we are to a global recession and there is a fairly sizable equity risk premium in equity that provides an adequate cushion. However, we could see equities retrace as we've reach new interim highs based on technical factors or with more uncertainty from Europe.
[*] All things being equal, price and NAV should move in tandem. A price movement greater than the NAV generates a positive PrcNAVSprd and may be interpreted as negative on a near-term basis and indicate that the stock is overvalued relative to its NAV which in theory is the stock's intrinsic value. The opposite would be true for a negative PrcNAVSprd.