Vale S.A.(NYSE:VALE), the Brazil-based miner, announced Jan 17th that it would boost its dividend by $6 billion.
Vale is the world's largest miner of iron ore. It has metals and mining interests in ferrous/base metals in 24 countries. It weighs in with a market cap of $130 billion, making it the world's second largest miner after BHP Billiton PLC.(NYSE:BHP). Mining companies generally do not make very generous dividend payers, so the Bloomberg story headline announcing that Vale's would boost its dividend by $6 billion in 2012 caught my eye.
There is plenty for income investors to like about this stock. Before last week's announcement, Vale had:
a current yield of 7.77%
5 year dividend growth = 8.12%
5yr EPS growth = 25.35%
The dividend is very well covered. Price to Free Cash Flow = 48.37%. The company also has a modest debt. Total Long Term Debt/Equity ratio = 31.42.
All of the above financials make Vale attractive at these levels.
But the real 'kickers' that argue for adding Vale to an income portfolio include:
A very low payout ratio: 23%. The low payout, despite future commodity price volatility, allows Vale plenty of wiggle room to increase the dividend. In fact, they have increased the dividend by an impressive 208% since 2008 alone. In addition, Vale periodically makes extraordinary dividend payments which it calls ISEs, (interest on shareholders equity). The 6 billion announcement also exceeded the top end of market expectations. It confirms that CEO Murilo Ferreira and his management team view returning cash to company owners as a high priority. "I have a huge discipline in capital allocation," Ferreira boasts. "The most important thing for us is to provide the right return to our shareholders." The fact that he has backed these statements with hard cold cash bodes well for income investors.
A very low earning multiple. Trailing P/E = 5.71. Despite recent earnings growth Vale is still very cheap, currently trading at May 2010 levels. The market's low valuation simply does not reflect the 25% earnings growth of the previous 5 years. Technically, the stock also looks strong. On the daily chart VALE broke convincingly above the neckline of the head and shoulders reversal pattern following the Jan 17th announcement.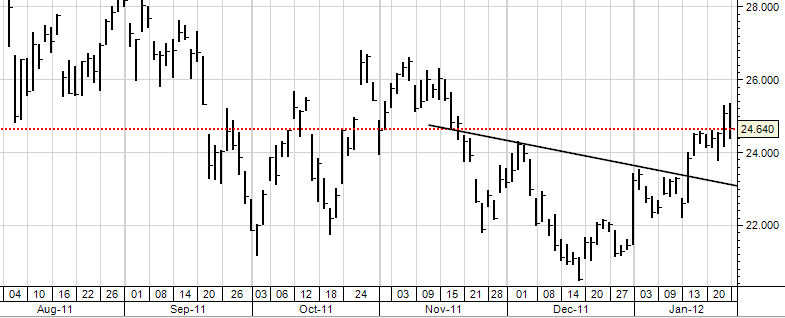 Buying a miner is a commodity play. Despite being diversified into metals production, coal, fertilizers and logistics, future earnings are tied to metals prices. However, I believe current commodity prices levels are structural - not cyclical, with demand only intensifying. And it is not just about China. Vale is well positioned to take advantage of this long term trend to grow their earnings. Jan 17th's announcement makes Vale one of the best value candidates in the mining sector for income investors. In short, it is value priced, has a great current yield - supported by earnings momentum and a low payout ratio. In addition, management have indicated they are strongly committed to returning cash to shareholders.
Accumulate at this level.
NB: For retirement accounts there is the added bonus of zero Brazilian withholding tax for dividend payments.
Disclosure: I have no positions in any stocks mentioned, but may initiate a long position in VALE over the next 72 hours.