Apple (AAPL) reported blowout earnings on Tuesday after hours. The last quarter EPS of $13.87 was 35% higher than the consensus estimate of $10.08. Its revenue of $46.33 billion was almost double that of the previous quarter. That was one heck of a quarter for Apple. Even the management was not expecting such strong results. The management was projecting to generate $37 billion in revenues and an EPS of $9.30 for FQ1. The market greatly welcomed Apple's earnings report. The stock ended the week with a return of 6.42%. Apple's year-to-date return of 10.44% also outperformed the broad market indices.
As of the time of writing, Apple stock was trading at $447 with a 52-week range of $310 - $454. It has a market cap of $416 billion. Trailing twelve month (TTM) P/E ratio is 12.7, and forward P/E ratio is 11.31. P/B, P/S, and P/CF ratios stand at 4.7, 3.3, and 9.3, respectively. The 3-year annualized revenue and EPS growth stand at 42.4% and 59.8%, respectively. Operating margin is 34%, and net profit margin is 25.8%. The company has a no debt issues. Debt-to-equity ratio is 0. Apple does not have a dividend policy yet.
Apple has a 4-star rating from Morningstar. It is categorized as a large-growth company. While its trailing P/E ratio is 12.7, it has a 5-year average P/E ratio of 22.5. Thus, Apple is trading well below its historical P/E ratio. Out of 20 analysts covering the company, 17 have buy, 2 have outperform, and 1 has hold ratings. Wall Street has diverse opinions on Apple's future. Average five-year annualized growth forecast estimate is 19%.
What is the fair value of Apple given the forecast estimates? We can estimate Apple's fair value using discounted earnings plus equity model as follows.
Discounted Earnings Plus Equity Model
This model is primarily used for estimating the returns from long-term projects. It is also frequently used to price fair-valued IPOs. The methodology is based on discounting the present value of the future earnings to the current period:
V = E0 + E1 /(1+r) + E2 /(1+r)2 + E3/(1+r)3 + E4/(1+r)4 + E5/(1+r)5 + Disposal Value
V = E0 + E0 (1+g)/(1+r) + E0(1+g)2/(1+r)2 + … + E0(1+g)5/(1+r)5 + E0(1+g)5/[r(1+r)5]
The earnings after the last period act as a perpetuity that creates regular earnings:
Disposal Value = D = E0(1+g)5/[r(1+r)5] = E5 / r
While this formula might look scary for many of us, it easily calculates the fair value of a stock. All we need is the current-period earnings, earnings growth estimate, and the discount rate. To be as objective as possible, I use Morningstar data for my growth estimates. You can set these parameters as you wish, according to your own diligence.
Valuation
Historically, the average return of the DJI has been around 11% (including dividends). Therefore, I will use 11% as my discount rate. In order to smooth the results, I will also take the average of ttm EPS along with the mean EPS estimate for the next year.
E0 = EPS = ($35.11 + $39.56) / 2 = $37.34
Wall Street holds diversified opinions on the company's future. While analysts tend to impose subjective opinions on their estimates, the average analyst estimate is a good starting point. Average five-year growth forecast is 19% (Morningstar). Book value per share is $96.60.
The rest is as follows:
Fair Value Estimator

V (t=0)

E0

$37.34

V (t=1)

E0 (1+g)/(1+r)

$40.03

V (t=2)

E0((1+g)/(1+r))2

$42.91

V (t=3)

E0((1+g)/(1+r))3

$46.00

V (t=4)

E0((1+g)/(1+r))4

$49.32

V (t=5)

E0((1+g)/(1+r))5

$52.87

Disposal Value

E0(1+g)5/[r(1+r)5]

$480.67

Book Value

BV

$96.6

Fair Value Range

Lower Boundary

$750

Upper Boundary

$845

Minimum Potential

68%

Maximum Potential

89%
(You can download FED+ Fair Value Estimator, here.)
I decided to add the book value per share so that we can distinguish between a low-debt and debt-loaded company. The lower boundary does not include the book value. According to my 5-year discounted-earnings-plus-book-value model, the fair-value range for Apple is between $750 and $845 per share. While Apple returned 30% in a year, it has at least 68% upside potential to reach its fair value range. At a price of $447, Apple is significantly undervalued.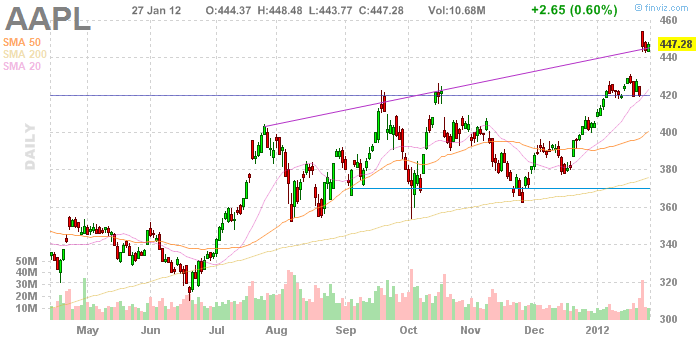 Summary
Apple is the center of innovation. The company has its moat in almost every single segment it is involved. It is not just one of those companies that steal market share from other. Apple creates its own market segment with its original and innovative products. Since the invention of iPods with touchable surfaces, Apple's product line has greatly expanded to different areas ranging from smart phones to tablets. I also expect Apple to continue innovating new products.
Apple is very likely to come up with a new television set that looks just like a mega-screen iMac computer. Another product that I expect from Apple in 2012 is the iRadio, where users will be able to stream their favorite radio station through iTunes. A dual screen iPad and a relatively cheaper 7-inch tablet are among my other expectations that can be added into Apple's products pipeline in 2012 and beyond.
Apple is also one of the widely followed stocks in the market. Its performance in the last 10 years has been remarkably well. With no debt in the balance sheet, Apple is sitting on cash and equivalent assets of almost $100 billion. The only thing that bothers me regarding Apple is the high price to book ratio. However, if IBM's (IBM) P/B ratio of 11.15 does not bother Warren Buffett, Apple's P/B ratio of 5.43 should not both investors. I would probably add more Apple shares to my portfolio once the earnings boosted rally fades, and the stock falls below the overbought territory.
Disclosure: I am long AAPL.