Here are two bullish utility companies that we found that a channeling upward. We take a look at each one to determine if they are worth looking at for a long-term investment.
Unitil Corporation, (UTL) a public utility holding company, engages in the distribution of electricity and natural gas in the states of New Hampshire, Massachusetts, and Maine. It also operates 87 miles of interstate underground natural gas transmission pipeline that provides interstate natural gas pipeline access and transportation services in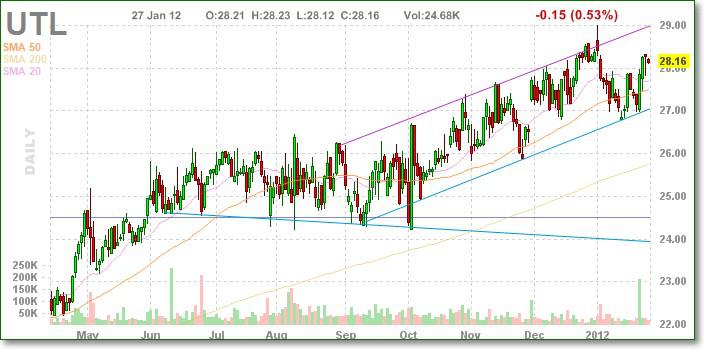 the New Hampshire and Maine service territory. In addition, the company provides energy brokering and advisory services to commercial and industrial customers in the northeastern United States.
UTL has been going up, but we are not enthusiastically embracing it as a long-term investment because we are not thrilled with the debt the company has taken on at this point. It has used more equity than the average utility company to finance its assets. While the industry as a whole has a debt/equity ratio of 1.03 UTL comes in almost double that at 1.93. The second most important thing to look at is a company's ability to pay the interest on its debt. Who wants to invest in a company that can barely pay its interest while its debt just grows fat and happy? Its Interest Coverage Ratio is 1.4 while the industry average is 7.8; the lower the ratio, the higher the burden of debt.
Because of its debt load, we do not believe UTL is a company that we would consider for long-term investing right now. We believe there are better opportunities to look at.
Northwestern Corporation, (NWE) doing business as NorthWestern Energy, provides electricity and natural gas in Montana, South Dakota, and Nebraska. It engages in the generation, transmission and distribution of electricity, and is involved in the purchase, transmission, distribution, and storage of natural gas. It serves approximately 665,000 residential, commercial, and industrial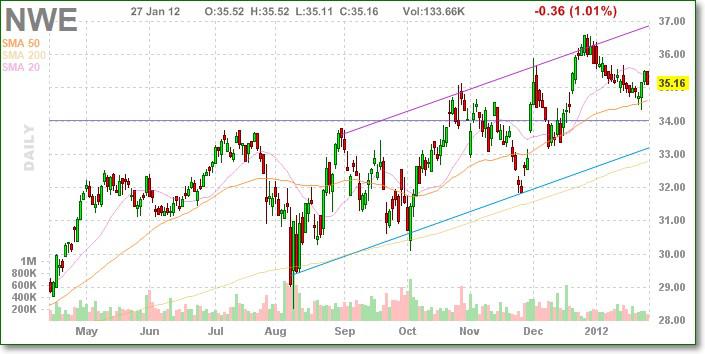 customers. The company was founded in 1923 and is based in Sioux Falls, South Dakota
We like NEW as the company has good value. Here are the things we look for in a company for value:
Earnings per Share
P/E Ratio
5-Year PEG
Year to year, NEW is projected to grow its EPS by 21%, from $0.73 to $0.89 (December 20122- 2012), and as a long-term investor we like this. The P/E ratio for this company fairs much better than the industry as a whole, coming in at 15.8 to 11.5, which means it has a higher value than the average utility company. With a five-year PEG Ratio of 2.74, we like its prospects for further growth. Not only does NEW look like a company with good value but it also has a nice five-year dividend average of 4.7%.
NWE is in a nice bullish trend and we believe it is a good stock to consider for a long-term investment both for growth and income.
Disclosure: Long NWE, UTL