Over the last sixty days Yum Brands Inc. (NYSE:YUM) has been up over 11.7% and is still at an all-time high. I recently came across an article on the web that Taco Bell will now be serving breakfast and this got me thinking about Yum Brands. With Yum Brand shares at an all-time high, is there still room to go higher or should you wait for a pullback? Yum Brands was founded in 1997 and has five segments to their company. These segments are almost like the golden arches of McDonald's (NYSE:MCD), they're everywhere and most of us have at one point or another come across a Kentucky Fried Chicken, Pizza Hut, Taco Bell, Long John Silvers and A&W All American Restaurant Brands.
When looking across the restaurant sector, investors will notice that two of Yum Brands biggest competitors' (McDonald's and Starbucks (NASDAQ:SBUX)) shares are also at all-time highs. I believe competition for consumers will be fierce for the restaurant sector for 2012 as discretionary income will still be a focus for consumers. As competition gets fierce, chain restaurants will have to find additional ways to bring in revenue since consumers have a variety of choices to dine at in the restaurant sector. One change that Yum Brands will be doing to Taco Bell will be to serve breakfast at almost 800 restaurants in the United States.
When any restaurant makes big changes to its brand, investors have to wonder how this will play out. There are many positives that come about with changes but there also concerns. With Taco Bell now serving breakfast, will they be able to steal customers from their two biggest competitors, McDonald's and Starbucks? Over the last couple of years McDonald's restaurants have undergone a face life from adding flat screen televisions, newer tables, free Wi-Fi, comfortable chairs and meeting rooms. Starbucks' atmosphere also has an ambiance that's inviting and makes you want to stay a while (if you have the time). These changes that McDonald's and Starbucks have made allow them to get consumers to want to stay rather than just grab your food and go. In a way I wish Taco Bell would make some of these changes. There are still a lot of Taco Bells that have the metal chairs, are small in size and mostly cause you to order your food and leave. But, with Yum Brands being up over 11.2% in sixty days, who cares? When looking at an analyst report by Credit Suisse, Yum Brands' free cash flow has been increasing since 2006 and with increasing cash on hand, now may be the time to put some of this cash to use.
Whether investors are excited or not about Taco Bell serving breakfast, Yum Brands needs to try and grab share of the breakfast market. Yum Brands segments mainly operate in lunch and dinner times and breakfast sales could be a boost to company profits. I'll have to admit I'm not overly excited about the idea of eating breakfast at Taco Bell, but as long as I'm able to profit off the stock this is all I am concerned with. While the idea of adding breakfast to Taco Bell's menu could add to additional profits and revenues, there are also concerns. Some of these concerns include higher labor costs, increased margins and raw cost of food. Another concern I also have is with marketing. Taco Bell has always been the place to go if one has "the late night munchies" and now with breakfast I wonder if this theme will continue. Also, making the transition from breakfast to lunch on a daily basis can hurt food costs if not managed properly.
I wonder why Yum Brands didn't try this earlier, but the experiment is on and investors will have to wait and see how breakfast at Taco Bell plays out. If this experiment fails this could be another blow to Taco Bell's image. The last hit to Taco Bell's image occurred when an Alabama based law firm sued for calling the meat it serves "beef" (the suit has since been withdrawn). While the lawsuit sounds funny, this has hurt revenue at Taco Bell restaurants in revenue in each quarter since the suit was filed. Going against McDonald's and Starbucks in the breakfast arena is going to tough, but if successful this will be cash well spent.
When looking at the technicals on Yum Brands, it has a Relative Strength of 75 (70 is oversold). Despite a high Relative Strength, the stock is still in an upward bullish channel. When looking at the chart below you will also notice Yum Brands is on the upper part of its Bollinger Band, Full Stochastic and Intraday Momentum Index.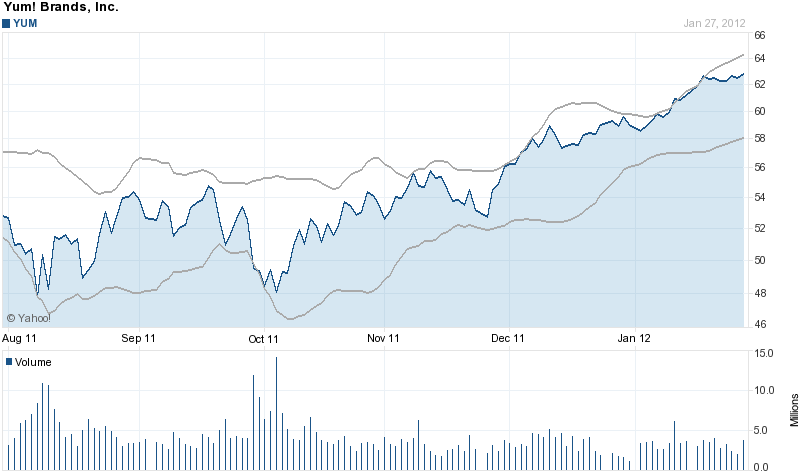 I would rather wait for a pullback before initiating a position in Yum Brands. While Taco Bell is only one segment out of the five, I believe Yum Brands can continue to head higher, but I would rather wait until earnings. Yum Brands are expected to report the week of February 6, 2012. If Yum Brands' shares pull back, I will be looking at placing a bullish options strategy if the shares go below $60.
Disclosure: I have no positions in any stocks mentioned, and no plans to initiate any positions within the next 72 hours.