I currently have just one international stock in my portfolio, which is Imax (NYSE:IMAX). I wanted to diversify my holding and include more international securities so I started my research in foreign companies and found a stock that looks very promising.
The company is Banco Macro in Argentina (NYSE:BMA), it is one of the greatest banks in Argentina and has grown incredibly fast over the past several years. The bank has a solid balance sheet and has been grown by implementing smart business strategies and acquisitions that competitors haven't been able to replicate.
Banco Macro started operating as a non-banking financial institution in 1985, through the purchase of Macro Financiera. In 1988, it was granted the authorization to operate as a Commercial Bank by the Central Bank of Argentina. Up to 1995, Banco Macro operated as a wholesale bank, and pioneer issuing corporate bonds. Its main focus areas are money markets, trading of government and corporate bonds, and financial services for medium and large sized companies.
Later on, as a consequence of the banking crisis generated by the "Mexican crisis", it made a substantial change in its business strategy, focusing on the retail banking, in the market areas with a low level of banking transactions and high growth potential. Over time the bank has grown by acquiring regional banks specially in the northern part of Argentina. The list of mergers and acquisitions is very long and includes: Banco Misiones, Banco Salta, Banco Jujuy, Bansud, Scotiabank Quilmes, Banco Suquia, Banco del Tucuman, Nuevo Banco Bisel, and Banco Privado de Inversionas, becoming the third private bank in terms of net worth, the fourth in terms of deposits and the fifth in terms of credits to the private sector. That's how the bank created the greatest private branch network in Argentina and the one with the highest presence in the interior of the country. The result is one of the best and largest banks in Latin America with 7,900 employees and 440 branches. The bank went from 2 branches in 1996 to 440 today.
By the end of March 2006 Macro started to be listed in the New York Stock Exchange, making it the first company to be listed from Argentina since 1997. Macro is the only bank in Argentina that has shown 38 consecutive quarters with a profit.
Macro's Return on Equity TTM (26.49%) is higher that other big banks in the region such as Bancolombia in Colombia (NYSE:CIB) (21.05%) or Itau in Brazil (NYSE:ITUB) (20.05%). Actually Macro 's ROE and ROA has been superior to that of ROE and ROA of the entire financial industry in Argentina since 2005. Macro has issued 25% of the total credits to the private sector in Argentina and accounts for 23% of the total private sector deposits.
The success of Macro has been credited to a focus on four strategies:
Lending to medium and small companies, 97% of its clients are small businesses.
Offering financial solutions to middle and low income individuals.
Working with regional governments, becoming the exclusive financial agent of 4 regions so far: Salta, Misionas, Jujuy and Tucuman.
Establishing strong presence in places where other banks have been unwilling to venture, the strongest presence of Macro is outside of the Buenos Aires metropolitan area. Just 41 of its branches are in Buenos Aires as compared with Banco de Galicia y Buenos Aires with 157 branches or Banco Santander Rio with 151. Macro is currently working to expand its presence in the Buenos Aires metropolitan area, which could give a great boost to its business.
While revenues and earnings per share have grown every year, the stock has basically been flat since its IPO. The stock's first trading day closed at $23.35 and today the stock is just at $26.37.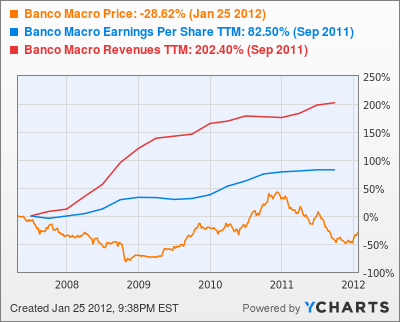 This stock has been relatively unnoticed as of yet, due to a lack of coverage, I couldn't even find the banks' annual reports in English, not even on the EDGAR database. Looking at the numbers though, I couldn't find anything wrong with this company, even the long term debt/shareholder equity ratio is much better that any other international financial institution I have researched, including Bancolombia and Itau.
Another couple of reasons that can explain why the stock has not grown might be:
The associated risk from the potential exchange rate loss from the Argentinian peso against the dollar. By looking at the annual report I found out that 13% of the loans were originally in dollars which offers some kind of protection, not ideal but it does partially minimize this risk. Also 19% of the deposits they received have been in U.S. dollars, and I believe this trend will increase over time. Also as long as the prime rate of the U.S. federal reserve stays at 0%, exchange loss from the Argentinian peso against the dollar is very unlikely. U.S. dollar has been loosing ground against the Argentinian peso over the past 5 years.
The second issue could be the Argentinian government's intervention in private companies in 2011. The center-left administration holds a stake in 42 companies after President Cristina Fernandez nationalized private pension funds in late 2008. The state was limited to holding just 5 percent of voting rights on boards of directors, regardless of how many shares it owns in the companies. However, in April 2011, it issued a decree ending that rule. Fernandez has said that the state must intervene in the economy to counterbalance private interests. Even though investors reacted very negatively to this news and the Argentinian stock market plunge I see it as a very positive sign, deregulation was the main cause of problems and abuses in financial institutions in US in the first place.
The company has been constantly increasing its dividend, from 31¢ in 2006, to 65¢ in 2009 and $2.08 since May 2011. The dividend yield today is at 7.89% which is exceptionally high if you compare that with the dividend yield of other financial institutions anywhere in the world. Bancolombia dividend yield is 2.44% and Itau 3.65%, If you look at U.S. banks, even the best are yielding a lot less than that -- Wells Fargo's (NYSE:WFC) dividend yield is 1.59% and US Bancorp's is 1.75%. Even if the stock price of Macro doesn't go up, you will be collecting generous dividends in the meantime. I find it very unlikely that the stock will go down in 2012. It is selling at a great discount, price/earnings of 6.15, making it a real bargain as compared with Bancolombia, Itau, Wells Fargo, or US Bancorp.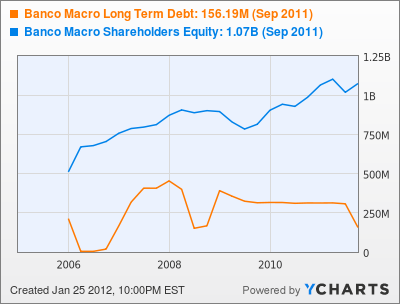 If the market finally recognizes the great potential of this company, the stock could really fly. Bancolombia which was in similar position in 2002 went from $1.51 in October 16, 2002 to $67,32 in October 13, 2010 a whopping 44 bagger for the patient investors.