Both AK Steel (NYSE:AKS) and Nucor (NYSE:NUE) reported better-than-expected earnings last week. Providing the domestic and worldwide economy continue to hold up despite Europe woes, I think this could mean better prices and prospects for companies in the scrap metal business. Here are two with reasonable valuations to consider:
Commercial Metals (NYSE:CMC) - "Commercial Metals Company engages in recycling, manufacturing, fabricating, and distributing steel and metal products, and related materials and services in the United States and internationally. The company processes scrap metals for use as a raw material by manufacturers of new metal products through 33 scrap metal processing facilities to steel mills and foundries, aluminum sheet and ingot manufacturers, brass and bronze ingot makers, copper refineries and mills, secondary lead smelters, specialty steel mills, high temperature alloy manufacturers, and other consumers". (Business Description from Yahoo Finance)
Four reasons Commercial Metals still has value at $14 a share:
The company is showing significantly increasing earnings growth. It earned $.09 in FY2010, is expected to make $1.08 in FY2011 and analysts project $1.76 in EPS in FY2012.
Several insiders bought new shares in January.
It has a moderately levered balance sheet and yields a robust 3.4%. It is also selling at the bottom of its five-year valuation range based on price to sales.
Carl Icahn made and recently walked away from a $15 a share offer on Commercial Metals. The noted investor could not get enough shareholders to tender their shares at that level. The company made $2.95 a share in FY2007 in the last peak of the cycle. I would tend to agree that the company has further potential should the economy continue to recover.

Schnitzer Steel (NASDAQ:SCHN) - Schnitzer Steel Industries, Inc. engages in recycling ferrous and nonferrous scrap metals, and used and salvaged vehicles; and manufacturing finished steel products. The company operates through three segments: Metals Recycling Business (MRB), Auto Parts Business (NYSE:APB), and Steel Manufacturing Business (NYSEARCA:SMB)". (Business Description from Yahoo Finance)
Four reasons Schnitzer Steel has upside from $45 a share:
The company is selling near the bottom of its five-year valuation range based on P/B, P/S and P/CF.
Insiders have been net buyers of the stock over the last six months.
Schnitzer sells for just 13% over book value and less than 9 times forward earnings.
The stock is showing improving technical strength and just crossed its 100 day moving average (See Chart - click to enlarge).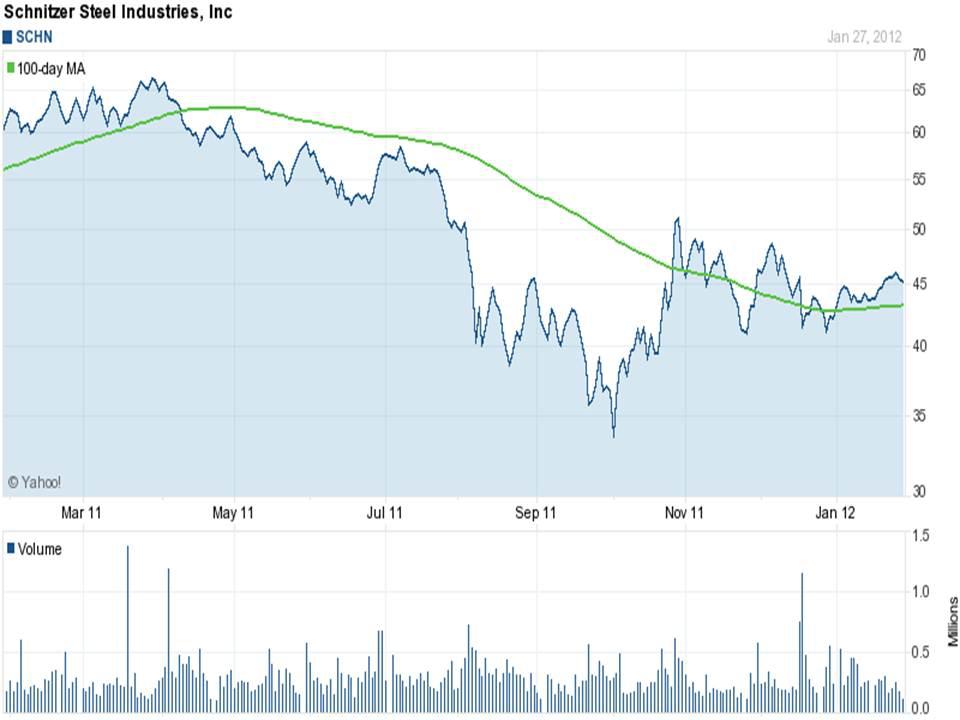 Disclosure: I am long NUE. May go long CMC in the next 72 hours.