Ampion™ provided statistically significant pain relief to patients with osteoarthritis versus placebo, according to a statement by Ampio Pharmaceuticals (NASDAQ:AMPE) early on Tuesday. The company elected to expand an early-stage trial of the non-steroidal anti-inflammatory drug after previous studies confirmed its safety. The expanded trial compared Ampion™ to steroids (saline) in patients with osteoarthritis of the knee.
The overall difference in pain score was 41% for Ampion™ at 30 days post injection compared to baseline (predose baseline 4.45/0.96 mean/SD, versus 2.47/1.9 mean/SD at 30 days, p=0.016). The placebo vehicle control (saline) showed a difference of 28% over the same time period and was not statistically significant.
Results of the trial suggest that Ampion™ may be an efficacious alternative to treating osteoarthritis, where steroids are known to cause infection, ruptured tendons, and weakening of joints when injected locally. This data marks at least the second study to show innate anti-inflammatory properties of Ampion™, a derivative of a common protein found in human serum albumin (HSA), or plasma.
In November, Ampio announced results of a randomized, vehicle-controlled, double-blinded study of patients with nasal inflammation. Ampion™, which was administered intranasally, provided safe and effective anti-inflammatory relief. Importantly, it was the first trial to test Ampion™ as a stand-alone therapy. The expanded osteoarthritis-in-the-knee study was the second.
As expected, both studies showed Ampion™ to be well-tolerated, with no adverse events reported.
Pathway to Regulatory Approval
According to a conference call held on January 26th, 2012, Ampio Pharmaceuticals has requested a meeting with the FDA to discuss the design of a pivotal trial for Ampion™. The company will look to confirm that Ampion™ will be governed by the FDA as a biologic - as opposed to a new molecular entity (NME) - and discuss the pathway to regulatory approval. The takeaway here is that biologics are generally considered safer than NMEs, and are regulated in the United States by a division of the FDA called the Center for Biological Evaluation and Research. The meeting is scheduled to take place this quarter (Q1 2012).
Notwithstanding, management admitted during the same conference call that the private sector has taken an interest in Ampion™, likely due to its large commercial application potential (see diagram, below). Ampio's Chief Scientific Officer, Dr. Bar-Or, stated:
[We] are currently in discussions with potential pharmaceutical partners for this compound for various indications.
click to enlarge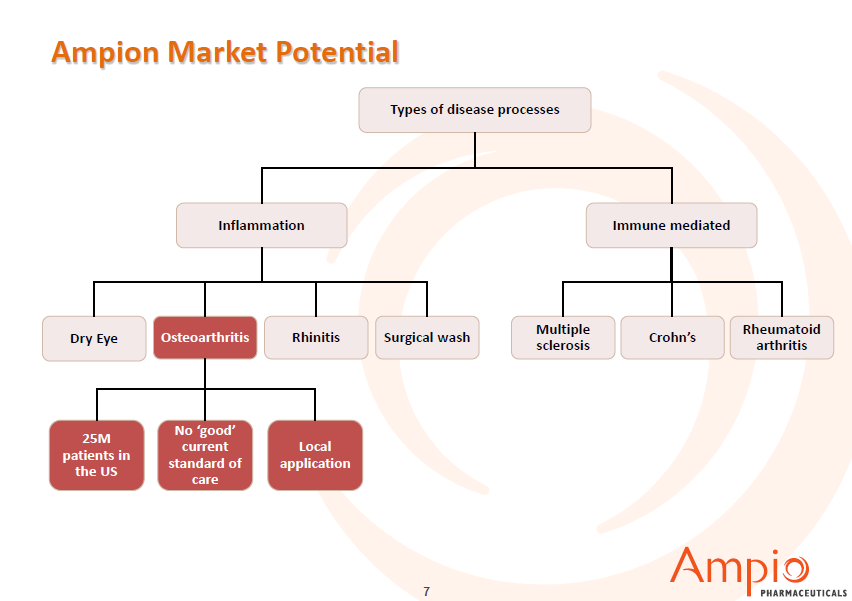 Click to enlarge
Economically Viable
Ampio operates by the belief that the pharmaceutical industry can produce products that are safe, effective, and better the lives of people, without carelessly expending shareholder monies. In their corporate presentation, the company writes:
The 'traditional' approach to drug development is broken, we believe we've found a better path.
That statement refers to the sometimes onerous drug development process that Ampio is looking to avoid with repurposed drugs that have extensive safety profiles, and, generally, shorter paths to market. Implicit in 'shorter paths to market' is cost-efficient development, the envy of companies like Geron (NASDAQ:GERN), Stem Cells (NASDAQ:STEM), Cell Therapeutics (NASDAQ:CTIC) and other cell-therapy firms that have spent billions of dollars developing technologies that may never become commercially viable products.
Geron suspended development of their cell therapy programs last November, after having spent years and hundreds of millions of dollars on development. The company explained that they would like a partner to foot the bill. Similarly, Cell Therapeutics has cost investors at least $1.7 billion thus far. In contrast, Ampio Pharmaceuticals burned through less than $6 million in the last 12 months.
Bi-weekly data compiled by NASDAQ.com shows short interest in Ampio declined for a second consecutive period, to roughly 1.49MM shares, the lowest since mid-September of last year. The data suggests that sentiment may have since reversed and investors are bullish on a number of significant milestones anticipated in the short and long-term, including guidance from the FDA on a regulatory path for the approval of Ampion™ as an anti-inflammatory medicine.
Disclosure: I am long AMPE.