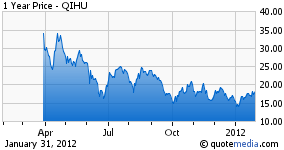 With the public announcement that the long awaited IPO of Facebook is finally imminent, there has been a sudden irrational enthusiasm for stocks in the Internet space. Frankly, in our opinion, it is somewhat frightening and it could be a trap for the less than savvy investor. For Facebook is the primo and arguably most used social networking website in the world. The sympathy rally in this market space in anticipation of one particular IPO would be akin to saying that Mercedes Benz is related to Schwinn bicycles simply because they both manufacture forms of personal transportation.
As with all herd mentality trades, there are opportunities to short over priced, under-performing, irrelevant Internet companies. Starting from the bottom up, we would like to point out Qihoo 360 Technology Co. (NYSE:QIHU) and recommend this as a short sell. This is an Internet company that operates solely in China as a third party seller of software products. The holding company is based in the Cayman Islands and has three subsidiaries in Hong Kong which are listed and traded here in the U.S. via reverse merger. If this does not cause a raised eyebrow please keep reading because the auditor associated with Qihoo is the same one used in two other reverse merger investor disasters, China MediaExpress (OTCPK:CCME) and Longtop Financial (NYSE:LFT).
Qihoo's core product is Internet security software. That industry is perpetually re-inventing itself as newer more sophisticated threats come on line. The chance of its core revenue product becoming irrelevant in that market place is significant. If you look at its website the home page is about as mish-mosh as Craigslist and about as engaging. Thus traffic it claims to be generating by selling advertising revenue is completely suspect.
Looking at the financial statements closely, the revenue growth is much higher than would seem possible given this economic environment. From the year ending 2008 through 2009 they claim total revenue growth of 91%, and then a 79% increase from 2009 through 2010. Any revenue growth of this type should always be questioned yet somehow is not, nor is it explained. These rates of growth are unreasonable given the economic climate, even if this sector were growing faster than the overall economy. During these same periods, cost of revenue grew a mere 2% the dropped 20% respectively.
As well, R&D expenses increased 130% from 2009 to 2010. Some increase in R&D expenses is justifiable when trying to grow the business, but this magnitude of increase does not on the surface appear to be reasonable, and again there is no material explanation. We would ask that the auditors look at this closely. Perhaps regular operating expenses have been misclassified in order smooth out cost of revenues (not including SG&A and R&D). The R&D expenses could be viewed by some as nonrecurring and not factored in certain valuation models used by investors.
Finally, gross margin is -18% in 2008, whereas it is curiously similar in 2009 and 2010 at +14% and +16% respectively. Any remarkable improvement in gross margin should be scrutinized particularly when the company issued an F1 filing seeking to issue more shares. Even with a sudden, drastic shift of business model, it would be unreasonable to expect these kinds of improvements in numbers.
We are not the only people to question this. Having no relationship with the group Deliotte-Watch; its website here poignantly illustrates concerns regarding material overstatements of revenue and understatements of expenses.
Additionally, the author having no relationship with Citron Research finds the answers to questions directed to the CFO Alex Xu from shareholders on the recent conference call do nothing to quell insecurity regarding the lack of integrity that is highlighted (here).
Unfortunately, getting a feel on this stock to short can be tricky. However as we went to print on this story, option volatility was at 68%, which is on the steep side historically, thus the risk of a volume explosion and premium pop out is muted. Selling naked calls is not everyone's cup of tea, however, it is an easy collection of premium as the markets sort out value and prices regain sanity. If selling calls is beyond your risk appetite, in the money puts will be a safe bet to profit from the correction as the price begins to spiral lower.
The stock has been trending lower in almost a perfect trend channel since last June, and is recently melting up toward the top of its resistance channel. After failing and stalling if it is lucky enough to trade near $19, we would recommend short selling what you can. We believe the fair value of this stock to be somewhere between $6-$7.50 share and not the $18.11 it settled at on last Friday.
With a price to book ratio of $951 and price to sales ratio of $36.55 when compared to the single digit ratios in of its counterparts in China such as Sohu.com (NASDAQ:SOHU), Sina (NASDAQ:SINA) and Shanda Interactive (NASDAQ:SNDA), we cannot understand how the price of this stock can remain at these levels.
We recommend short selling of QIHU.
Disclosure: I have no positions in any stocks mentioned, but may initiate a short position in QIHU over the next 72 hours.