As I sat in my local church for weekly service, the sermon or lesson for the day dealt with sin. The concept is a universal one, known across most societies that exist today. The basic definition for sin is an act that violates a known moral rule in a religion. As the church service went on the speaker continued to emphasize the deep hold that sin has over us. An interesting concept to say the least.
So interesting that if sin is this deeply rooted in our psyche, it must have permeated its way into most every aspect of our existence, even income investing. One can easily find a multitude of well written articles about "sin stocks" and how great they are, but can they really stand up to the test? The real question is if sin stocks actually compete with today best income generators? Sin may be tough, so let's put it to the test.
Before diving into the sin stocks, one needs to find today's best income stocks that will be competing against them. The universe of such stocks is large, but to keep it manageable I will pick a handful of diversified investments that are the most popular in today's market. If they are competing against the "sin stocks," then let's name them the "saint stocks" for short. That seems fitting for our theme at hand.
Saint Stocks
To begin, let's pick the best five favorite income-generating stocks:
1. American Capital Agency Corp. (NASDAQ:AGNC)
AGNC operates as a real estate investment trust (REIT). It invests in residential mortgage pass-through securities and collateralized mortgage obligations for which the principal and interest payments are guaranteed by a U.S. government agency or U.S. government-sponsored entity. The company funds its investments primarily through short-term borrowings structured as repurchase agreements. AGNC has definitely been a winner in the income space for investors. Coming in with a current 19.3% yield would positively make it a top choice for the angelic side of the house.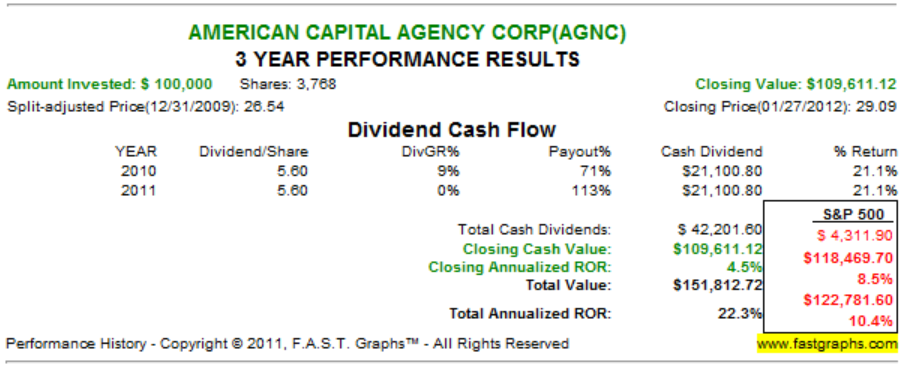 2. CVR Partners (NYSE:UAN)
CVR Partners is a growth-oriented limited partnership formed by CVR Energy, Inc. to own, operate and grow its nitrogen fertilizer business. Their nitrogen fertilizer manufacturing facility, which produces ammonia and urea ammonium nitrate fertilizers, is located in Coffeyville, Kan. CVR is relatively new to the scene and does not have the history of the others mentioned here, but it has a great story behind it. It remains one of the most popular income stocks on the market today. It currently yields 8% for income investors lucky enough to own it.
3. Enerplus Corporation (NYSE:ERF)
Enerplus Corporation operates as an independent oil and gas producer. The company's property interests are located in western Canada in the provinces of Alberta, British Columbia, Saskatchewan, and Manitoba, as well as in Montana, North Dakota, Pennsylvania, Maryland, and Delaware in the United States. Current yield for the stock is 9%, and despite a recent public offering this stock still remains very popular with income seekers.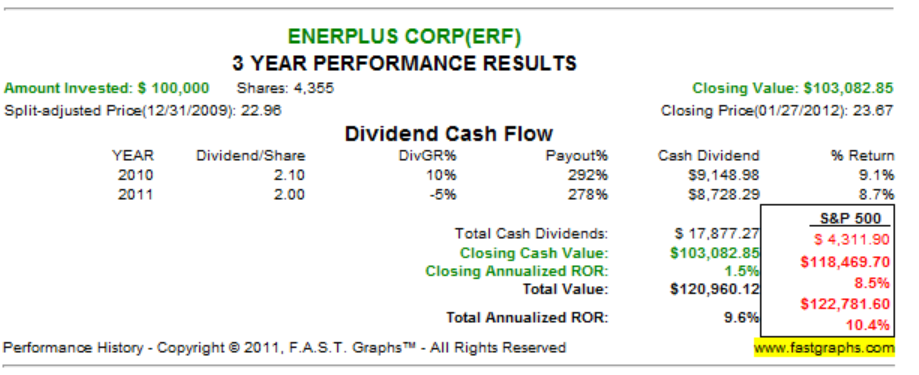 4. Seadrill Limited (NYSE:SDRL)
Seadrill Limited is an offshore drilling contractor that provides offshore drilling services to the oil and gas industries worldwide. It also offers platform drilling, well intervention, and engineering services. As of March 31, 2011 the company owned and operated 54 offshore drilling units, which consist of drill ships, jack-up rigs, semisubmersible rigs, and tender rigs for operations in shallow and deepwater areas, as well as in benign and harsh environments. The current yield is 8.2% and is a great offshore income generator to round out our group.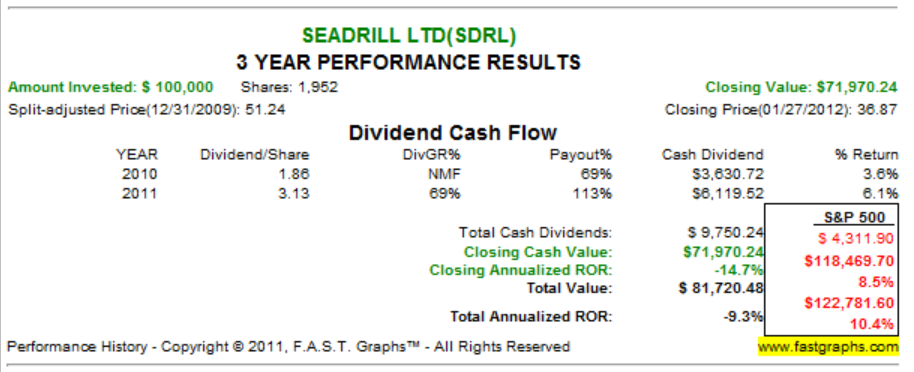 An equal investment in the above five stocks would have generated a yield of 11.1% if they were bought today. Needless to say, this group is pumping out some serious dividends and is fairly well balanced across many sectors. When taking the two year charts for each into consideration we also find the price appreciation for the group has gone up by 11%. These "saint stocks" are truly a force to be reckoned with.
The Sinners
Now to the scene come the sin stocks. These are the stocks that fall into the vice category and carry that certain negative connotation. From this field we will attempt to pick the best managed companies with the highest dividends. Keeping with the traditional sense of sin stocks, our tickers will come from companies involved with tobacco, alcohol, and gambling. Often time the weapons manufactures are lumped into this category, but for this article I am making the choice to leave them out, as I don't think they necessary fit into the vice category. Can they be controversial? The answer is yes, but I have my doubts that they fit the "sin" definition above.
Philip Morris International (NYSE:PM)
Philip Morris International Inc., through its subsidiaries, manufactures and sells cigarettes and other tobacco products. It has a variety of international and local brands, which include Marlboro, Merit, Parliament, Virginia Slims, L&M, Chesterfield, Bond Street, Lark, Muratti, Next, Philip Morris, and Red & White. What makes this company truly dynamic is the local brands it sells in foreign countries. For example, some of the labels sold outside the U.S. are Sampoerna A, Dji Sam Soe, and Sampoerna Hijau in Indonesia; Fortune, Champion, and Hope in the Philippines; Diana in Italy; Optima and Apollo-Soyuz in Russia; Morven Gold in Pakistan; Boston in Colombia; Belmont, Canadian Classics, and Number 7 in Canada; Best and Classic in Serbia; f6 in Germany; Delicados in Mexico; Assos in Greece; and Petra in the Czech Republic and Slovakia. It sells its products in approximately 180 countries in the European Union, Eastern Europe, the Middle East, Africa, Asia, Latin America, and Canada.
When looking at any sin stock article you will always find PM on the top of the list. As an income player, PM does a decent job. The current yield is 4.1%, which is competitive, but does not come close to what the angelic group is pumping out above for their current yield. But don't be so quick to count out PM. Take a look at its performance of the last 3 years and it paints a different picture. What PM might lack in yielding power, it more than makes up for in its stock price appreciation in this hard economic time. Plus, if one were to have bought PM two years ago at a price of $48.19, then the current yield is more close to 6.39%. All in all, PM seems to be holding its own against the saint group.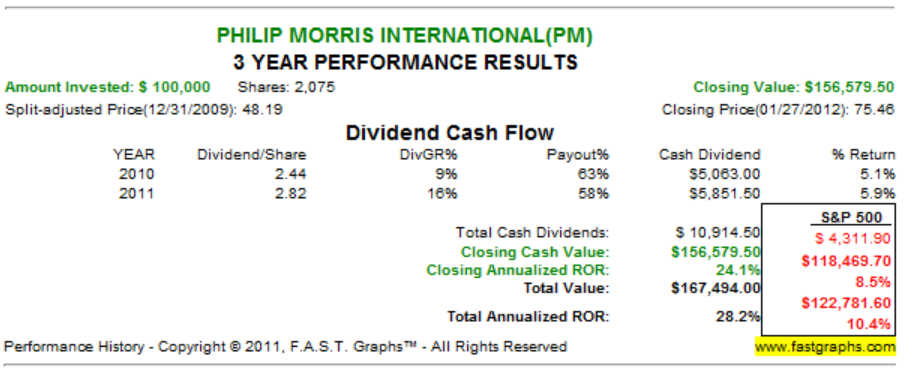 2. Diageo (NYSE:DEO)
Since we started with tobacco it is fitting to dive right into the world of alcohol. Second on the list of sin stocks is another popular pick, and that is Diageo. DEO engages in producing, distilling, brewing, bottling, packaging, distributing, developing, and marketing spirits, beer, and wine products worldwide. It offers a huge range of brands and products, and just listing them here would be enough to give anyone a hangover. Basically, what PM is to tobacco, DEO is to alcohol. Its reach is far and wide, and its customers tend to be very brand-loyal.
Like PM above, DEO also does a decent job in the income investing world. The current yield is close 3.7%. Once again, that pales in comparison to the angelic group, but we must now consider the performance of the last 3 years. History seems likely to repeat itself, and once again, what DEO lacks in current yield, it more than makes up for in stock price appreciation. If one were to have bought DEO two years ago at a price of $69.41, then the current yield is more close to 4.6%. Like its sinner sister PM, DEO seems to hold its own against the saint group as well.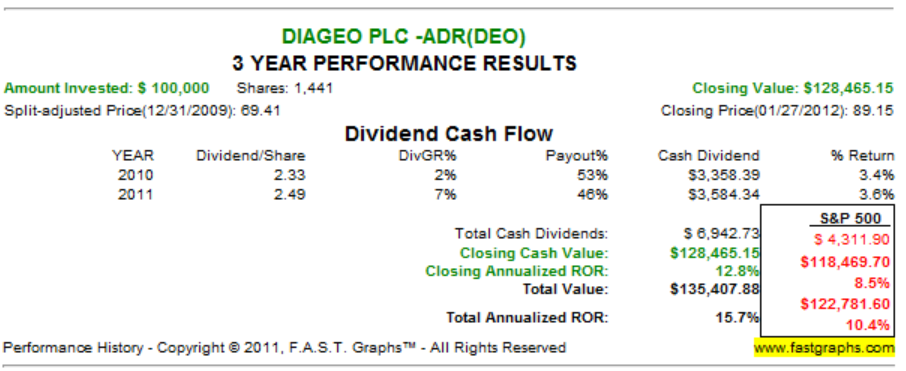 3. Wynn Resorts (NASDAQ:WYNN)
Moving on to our next sin stock lands us right in the middle of the gambling world. Casinos and related resort stocks have taken it rather hard on the chin due to all the economic problems. As a result the industry has been hard pressed to simply survive, much less find the extra cash to pay out dividends. That being the case, it was rather difficult finding a gambling stock that paid enough of a dividend to be considered. In the end, I did find Wynn with a rather unique twist to add to the scenario.
Wynn Resorts, with its subsidiaries, engages in the development, ownership, and operation of destination casino resorts. The company owns and operates Wynn Las Vegas casino resort in Las Vegas, which includes 5 restaurants, 2 nightclubs, a spa and salon, aFerrari and Maserati automobile dealership, wedding chapels, and an 18-hole golf course. Wynn Las Vegas casino resort also features approximately 147 table games, 1 baccarat salon, private VIP gaming rooms, a poker room, 1,842 slot machines, and a race and sports book.
The company also owns and operates the Encore at Wynn Las Vegas resort, which is located adjacent to Wynn Las Vegas. This resort that features a 2,034 room all-suite hotel, as well as a casino with 95 table games, 1 sky casino, 1 baccarat salon, private VIP gaming rooms, and 778 slot machines.
The company also operates Wynn Macau casino resort, located in the Macau Special Administrative Region of the People's Republic of China. Wynn Macau casino resort features approximately 595 hotel rooms and suites, 410 table games, 935 slot machines, 1 poker room, 1 sky casino, 6 restaurants, 1 spa and salon, lounges, meeting facilities, and retail space featuring boutiques. Further, it operates Encore at Wynn Macau resort located adjacent to Wynn Macau. Encore at Wynn Macau resort features approximately 410 luxury suites and 4 villas, as well as casino gaming space, including a sky casino consisting of 60 table games and 80 slot machines, 2 restaurants, 1 luxury spa, and retail space. As you can tell, Wynn is heavy into gambling and provides its guest with the most luxurious settings.
The company pays a $2 dividend, which makes for a 1.7% dividend based upon current price per share figures. That yield is really not enough for WYNN to play in the income investing world, but with a unique twist, it just might. Late last year WYNN announced a $5.00 special dividend to add to the already established $2 figure. Now the distribution is $7 per share. At today's price that makes for a new yield of 5.8%, which brings this stock back into play. Of course, one cannot count on special dividends every year, but in this case we will make an exception.
WYNN's stock price has also performed rather well, but not as nicely as the other two sinners in our group. In early to mid 2011 the stock price experienced a major dip, but has seemed to level out for the time being. That being the case, WYNN joins the other sinner in the group for the final round.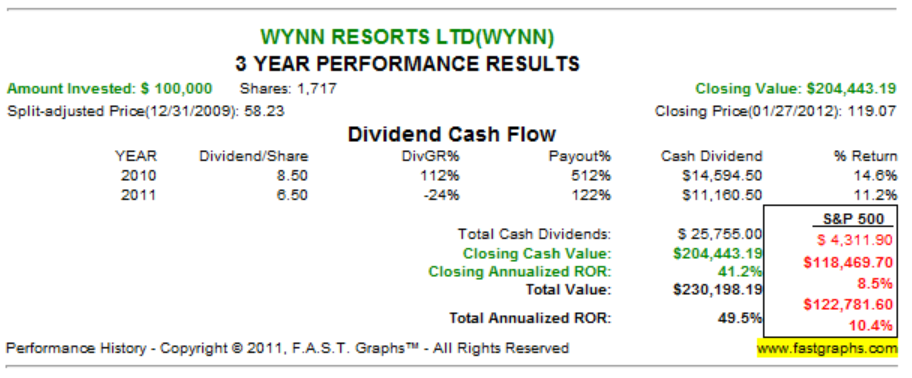 After all is said and done, do the sin stocks match up against today's top "saint stock" performers? On the surface, the answer is no. When comparing just today's prices and yields, the angelic bunch beats the sin group hands down. Coming in with a combined yield of 11.1%, is just too much for the sinners to overcome. It would be very hard to compete against an AGNC and its double digit yield, especially in this low interest rate environment. But dig a bit deeper and look at how the two groups did over a two year time period and the answer changes. Buying into the sin stocks two years ago made all the difference when one takes into consideration the change in the underlying value of the stock price. The price appreciation for the sin stocks was over 60% for the two years, while the saints could only muster 11%.
Sin may not have what it takes to compete for income, but its resilience in hard economic times makes this group a winner.
Disclosure: I am long UAN, AGNC.