There is a lot of speculation about a renaissance in the natural gas sector. Natural gas can be an excellent candidate to do the work that was once done by oil derivatives. It is not only cheaper, but also cleaner than traditional energy sources. The Department of Energy makes the following statement regarding Natural Gas:
Natural gas is a domestically produced alternative fuel, and is readily available to end users through the utility infrastructure. It can produce significantly fewer harmful emissions than gasoline or diesel when used in natural gas vehicles.
The Department of Energy also has a nice cost calculator. Using that calculator, I estimated that an average family can save up to $1000 per year by using a natural gas-powered vehicle. Note that drivers are not limited to these natural gas specific vehicles. In fact, natural gas conversion is an easy process that is widely applied in Europe for a cost of around $1000. Once converted, the vehicle can run on both energy sources. From an investment perspective, the initial capital allocation amortizes itself within a year, and offers an average savings of $1000 over the next years.
It is an irony that, although natural gas prices kept going down, the utility companies involved in this sector showed strong performance. I think, given limited energy choices, the demand for natural gas will increase, boosting the performance of utility companies in this sector. Many of these companies share their profits with the shareholders by means of fat dividend checks. Here is a brief analysis of 6 gas utility companies that show you the money. I have analyzed these stocks from a fundamental perspective, adding my O-Metrix grading system where applicable:
National Grid PLC (NYSE:NGG)
Founded in 1990, the London-based National Grid is one of the leading providers of both electricity and natural gas systems in in the U.K. as well as New York. National Grid has a market cap of $34.51 billion. The stock is trading with a relatively low trailing P/E ratio of 10.02. The company was able to show an EPS growth performance of 8.64% in the last 5 years. With a payout ratio of 60.07%, NGG offers a yield of 6.19%.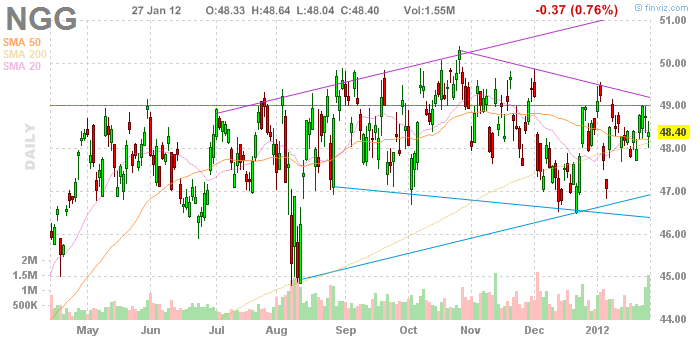 NGG was an outperformer in the last year, returning near 16.26% to its shareholders. While the debt to equity ratio of 2.84 is higher than most of its peers, the company has a steady cash flow to pay its outstanding debt. Based on EPS growth estimate of 4.30%, the stock has an O-Metrix score of 5.25.
Integrys Energy Group, Inc. (NYSE:TEG)
Integrys Energy Group is a regulated electric and natural gas utility company that operates in the U.S. and Canada. Established in 1883, the company is one of the oldest utility companies in the U.S. The market capital of Integrys Energy is $4.07 billion. The trailing P/E ratio is 15.65, while the forward P/E ratio falls to 14.72. The company had an EPS growth of -5.78% over the last five years, but is expected to have a 7.2% five-year EPS growth in the next five.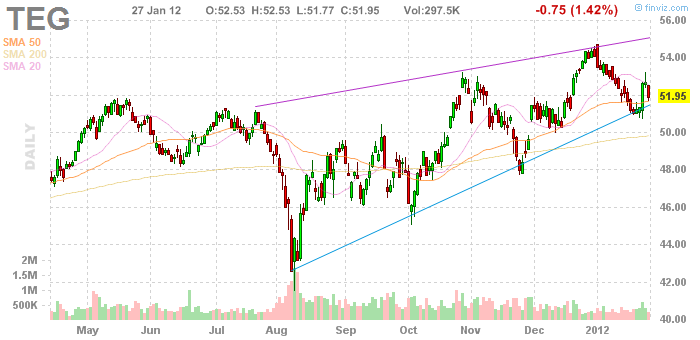 Integrys Energy's offers a yield of 5.24%, with a relatively high payout ratio of 81%. The stock is in a strong medium-term trend. Since its dip of $42 in August, it returned almost 25%. Its O-Metrix score of 4.13 is below the market average.
AmeriGas Partners LP (NYSE:APU)
AmeriGas is a natural gas company operating as a retail propane distributor in the U.S. APU also sells, installs and services propane appliances including heating systems. The company has a market cap of $2.44 billion. It is trading at a trailing P/E ratio of 22.05, and forward P/E ratio of 15.01. AmeriGas was able to boost its EPS at a rate of 7.7% in the last five years.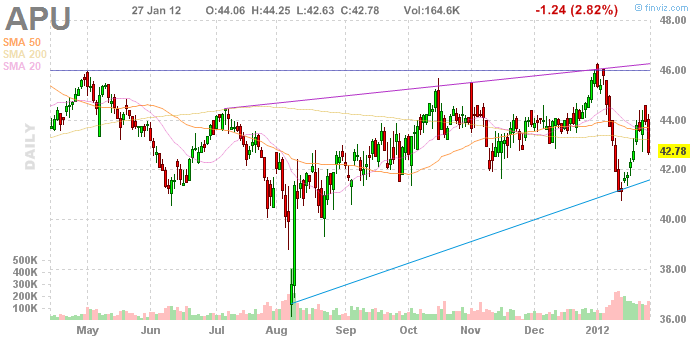 Amerigas offers a yield of 7.13%. The company's dividend payments have increased by 20% in the last 5 years. Most recently, the quarterly dividends increased to $0.7625. The previous quarter dividend payment was $0.74. With an EPS growth estimate of 8.9%, the stock has an O-Metrix score of 4.3
Niska Gas Storage Partners LLC (NYSE:NKA)
Niska Gas, founded in 2006 and based in Houston, Texas, owns and operates natural gas storage assets in North America. Its customer portfolio ranges from financial institutions to municipalities. Following the downward trend in natural gas prices the stock lost almost 50% of its market cap in the year.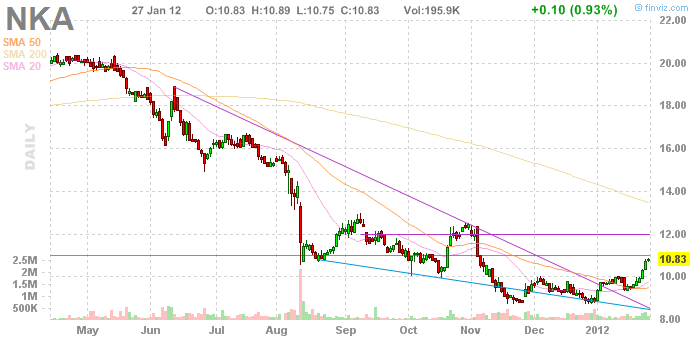 Niska Gas has a market capitalization of $740 million and a P/E ratio of 8.88. Analysts have pretty pessimistic opinions on the company's future. Niska is expected to have an EPS growth of -4.5% in the next five years. Based on this estimate Niska has an O-Metrix score of 5.06. The company offers a double-digit yield of 12.93%, primarily due to the loss in market value. Nevertheless, the stock looks like it has reached its bottom, and is poised for a rebound. The year-to-date return of 22% shows strong bullish momentum. After all, it is one of the few utility companies that trade below its book value.
Suburban Propane Partners LP (NYSE:SPH)
Suburban Propane distributes fuel oil, propane and refined fuels, markets natural gas and electricity in the U.S. Founded in 1945, the New Jersey-headquartered SPH is among the top 10 utility dividend stocks with a yield of 7.56%.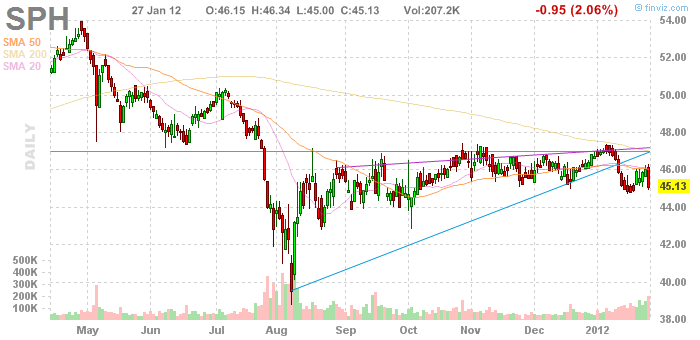 The market cap of Suburban Propane is $1.6 billion, and the P/E ratio is 14.06, while the forward P/E ratio is 13.31. While the payout ratio is slightly above the sustainable level, Suburban has cash equivalents of $4.22 per share. Thus, there is enough money in the balance sheet to support the company's current yield.
Inergy, L.P. (NRGY)
Kansas City - headquartered Inergy owns and operates several natural gas storage facilities and is also involved in the solution mining and salt production business. The company has been a dividend booster, increasing its quarterly dividends year-over-year. As of January 20, it pays a yield of 16.27%.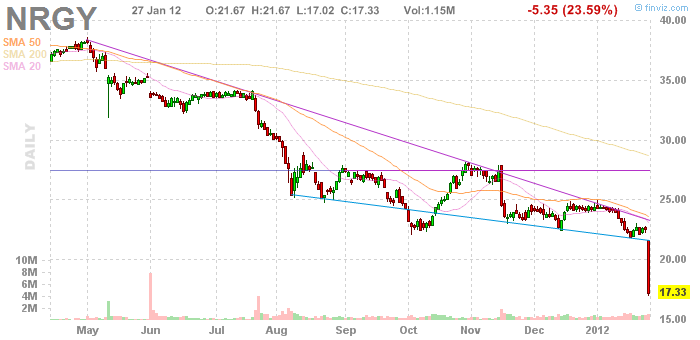 While the double-digit yield looks appetizing, the stock lost more than 50% if its market cap in the last year. It is also trading at a high trailing P/E ratio of 62. I would not buy stocks that pay dividends above their financial capacity. However, Inergy can be an exception, since insiders are extremely bullish about their company. In the recent months, both the president and the director initiated share purchases worth millions. Who knows, maybe they know something that we are not aware of yet.
Disclosure: I have no positions in any stocks mentioned, and no plans to initiate any positions within the next 72 hours.