According to the latest data from iShares, their popular Silver Trust ETF (SLV) just saw the biggest one day addition to its holdings since late-September, that is, back when the price had plunged from above $40 an ounce to below $30.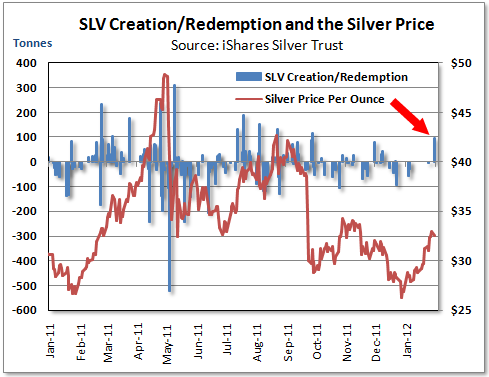 Some 98 tonnes were added to the trust yesterday - more than $100 million at current prices.
What does this mean for investors?
Well, it could be that one or more hedge funds have decided to make a bigger commitment to the silver market after the price surged more than 20% during the first four weeks of the year.
This would bode well for further price gains in the period ahead as more momentum traders enter the picture.
The silver market is all about momentum - unfortunately, for those who are long the metal, that momentum can work in both directions.
After net outflows of more than 500 tonnes over the last four months that have come in relatively small increments, yesterday's big addition could be the beginning of a major change in sentiment by those who are in a position to determine silver's price.
Additional disclosure: I also own silver bars and coins.