By Salvador N. Lara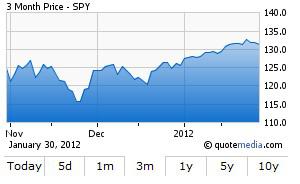 For investors who seek additional income from collecting option premium, the current market profile is unattractive to even dangerous. Typically, what makes for an attractive option "writing" opportunity is an oversold price and rich premium to sell as can be measured by the CBOE Volatility Index. For investors who sell options the S&P500 Index (NYSEARCA:SPY), prices have risen steadily for almost all of 2012 so far and the volatility index is down and has been declining for months now. Both naked put sellers and covered call sellers should be interested in volatility, as well as traditional "buy and hold" investors, because a change in volatility affects them similarly when you compare the risk profiles of each. Both the naked put seller and the covered call investor suffer if volatility increases sharply or prices fall far greater than expected in a given period.
The S&P500 has been in an uptrend of higher highs and higher lows since October of 2011 and has not seen a "correction" in prices since mid December. Without a price correction or a short term drop in prices, investors will fear that prices are overbought and extended. As part of a normal healthy market of buyers and sellers, these corrections allow bullish long term investors to enter into long positions more comfortably knowing that the lower prices allows them to buy at a discount from investors whom are exiting.
One way to track if prices are overbought or oversold relative to their current trend is by using an indicator like the measure of stocks in S&P500 above their 50 day moving average. As of this writing, 80.6% of stocks are above their 50 day moving average. Typically, this measure would indicate that stocks are in the mature stages of the current rally. When this percentage is below 50%, stocks would be seen as a better buying opportunity because their prices would be low relative to their rising moving average. Assuming the stocks continue in an uptrend, buying in a dip in that uptrend is obviously a better entry point than when prices are at higher points in the uptrend. This indicator helps identify points in the trend where stocks in the broad index of the S&P500 are as a group "low" or "high" in the trend.
The risk of buying on a low is that the stocks do not resume the uptrend and, instead, fall further or begin a downtrend. However, buying lower prices is generally still better than paying up for "merchandise" even if prices later turn out to be lower. By looking at our chart showing the percentage of S&P500 stocks over their 50 day moving average, in my opinion, it would not be prudent to say stocks are cheap (at least not technically) and it would be wise to make adjustments to portfolios in case of a correction opportunity to buy discounted stocks. For option sellers, this would not be a recommended point to sell or write puts because of the risk of loss if stocks correct to the downside. Different strategies that include buying and selling puts in combination may fare better than outright short puts not only because of prices but also because of the level of option premium currently available as seen by volatility measures.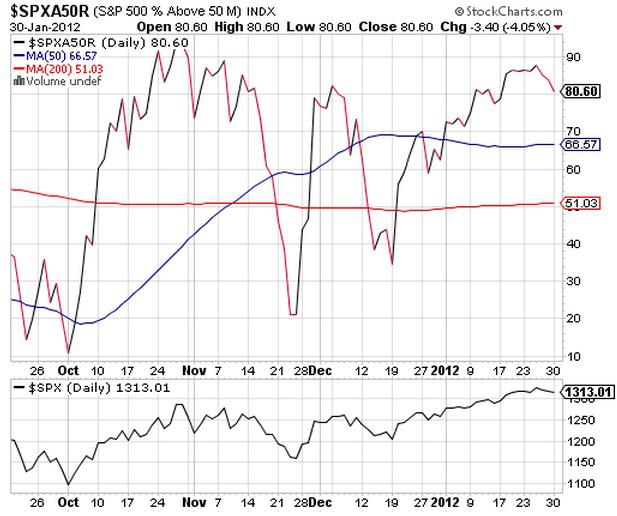 By keeping track of option premium level, investors can make informed decisions about whether or not there is enough premium in options to sell to justify taking the risk of writing options. When selling puts on stocks, investors would rather see a high volatility index that looks like it will compress to a lower calmer environment. As of the end of January 2012, we have the opposite. Volatility is low because of calm stock prices that are rising slowly higher and higher. Volatility has had no choice but to fall since bullish prices and low intraday price swings is the exact opposite of volatility. Slow movement and rising prices causes investors to accept lower and lower premiums for puts sold and also makes investors less willing to buy put option protection in this seeming calm environment. Since covered calls are essentially the same risk profile as put selling, low volatility will also affect the calls sold by covered call sellers as overall premium declines.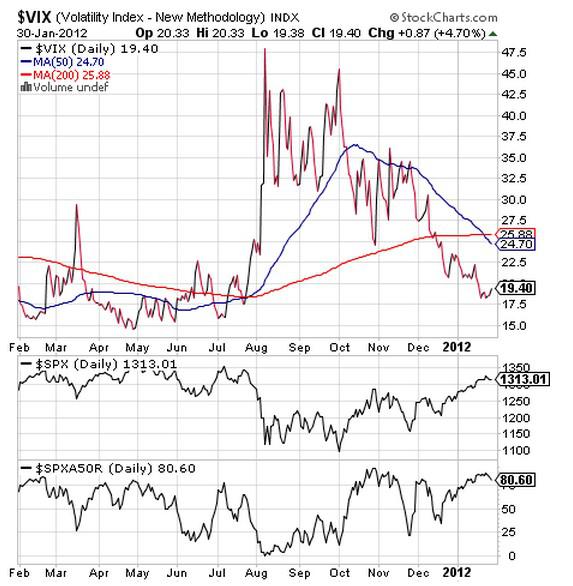 When we combine the information we gather from both our price indicator and volatility, we become better informed about the current trading environment. While selling a put outright may be attractive relative to other strategies, some investors will find the risk too high to initiate new positions here. In fact, some investors may even choose to lighten up their positions in hopes of a better opportunity in the future to collect higher premiums if either prices get a healthy correction or start having wider price swings which would both increase option volatility.
Trying to predict what stock prices will do the future is difficult and it is speculation. While we cannot consistently predict stock prices, we can measure relative levels of risk. All an experienced investor has to do is look back at the different market conditions from all the times he or she has lost money and compare those conditions to the times he or she has made money. That experienced investor will quickly realize which is more preferable and profitable. By keeping track of specific data points and indicators, all we hope to be able to do is to make informed judgments on whether or not to make an investment decision. Given volatility where it stands, I have to conclude that volatility is low and will be higher in the future. Being short volatility now seems like an inevitable path to pain that I would rather avoid. While prices don't necessarily have to go down for volatility to increase, it is most commonly associated with an increase in volatility. Therefore, I would not be comfortable being complacent in this market environment.
We even saw today, when the market was down almost 1% in the morning, an increase of volatility almost twice that of the 4.7% gain in volatility we see now at the close. Although prices did fall, the volatility increase today is most likely attributed to the volatile swings because the fall was met with buying later in the day. So, given the anticipation of greater volatility, I have a better idea of what strategies to avoid as I eagerly await those attractive opportunities that accompany a potential market shift and rebalancing.
Finally, do not forget that not all stocks are created equal and that the S&P 500 will not reflect every single company. If a particular company is doing far better than its peers, than of course their upside potential will differ than the broad market as a whole. But as mentioned before predicting and speculating is difficult, ignoring the measurable risks provided by the broad markets can be unnecessarily painful.
Disclosure: I have no positions in any stocks mentioned, and no plans to initiate any positions within the next 72 hours. I am Long Puts and Put Calendar Spreads in SPY.Information for educational and informational use only.Not to be considered a recommendation to buy or sell any investment investment vehicle. Past performance is not indicative of future results. Options are risky and can cause substantial loss.