VIX - Market Sentiment
Tuesday, S&P futures traded up very nicely into the U.S. opening bell. The market was off to the races until the consumer confidence number mentioned in yesterday's article put the brakes on the rally. S&P ETF (NYSEARCA:SPY), Nasdaq ETF (NASDAQ:QQQ) and the Russell ETF (NYSEARCA:IWM) all put the brakes on as they traded back down to flat to slightly positive.
The CBOE Volatility Index (VIX) spiked hard after the abysmal CB consumer confidence number showed a reading of only 61.1 which missed forecasts by a mile at the 68.2 level. This is the worst number miss since August of 2011. As many of you know I'm extremely skeptical of this insane rally as I'll be the first to admit I have been underinvested and participation in this rally has been light at best. Normally when I see this big of a divergence in option paper as the largest blocks continue to be bought put protection has me on pins and needles when it comes to getting more long. Regardless, as stated yesterday, the SPY puts and ultrashort ETF (NYSEARCA:SDS) calls are way outperforming the VIX calls as futures responses are muted at best as it appears the market has baked in a resolution for Greece.
Yesterday
February VIX futures 20.70
March VIX futures 22.60
April VIX futures 24.13
Today
February VIX futures 20.80
March VIX futures 22.63
April VIX futures 24.25
This is interesting as the contango continues to remain high even with spot VIX moving up hard after the consumer confidence number. Again VIX or VIX ETF (NYSEARCA:VXX) calls still do not make sense here unless doing some type of call spread or butterfly in my opinion. Although I will stick with my SPY collars and SDS calls to hedge for a potential pullback.
Amazon Options Paper
Amazon (NASDAQ:AMZN) reports after the bell today and option paper has been enormous over the past couple of days. Net premium and net deltas have been overwhelmingly bullish on this high flying name. Today is no different with more than $2.3 million in call options producing a positive net premium. The interesting part is typically on a day such as today the net premium would be sold down as call sellers come in to buy puts to hedge long positions. This is not the case and appears extremely bullish. The interesting point is AMZN earnings estimates for Q4 just last January was 1.40. After multiple revisions down this number is only .19 which is a 1.21 cut from January 2011.
The price movement expected in the options market is amazing in comparison to previous reports
Weekly straddle 18.50 9-10% move
February straddle 19.68 - 10%+ move
March straddle 23.95 12.5% move
Considering the price action of recent earnings releases of Google (NASDAQ:GOOG), Apple (NASDAQ:AAPL) and Netflix (NASDAQ:NFLX), the straddles could be yet again underestimating the move in equities in this "low volatility" environment. I personally believe AMZN is overextended here and one of a few scenarios comes to the surface.
AMZN beats and raises guidance and trades toward 210-220 range by the end of the week
AMZN misses big but beats huge on top line, AMZN could trade flat to up
AMZN beats and maintains guidance, AMZN trades down as the P/E currently at 101 will compress
AMZN misses and raises guidance, it will still trade down as people fear and Europe compress margins
AMZN misses on both top and bottom of already lowered expectations and this thing is going to get slaughtered
Regardless my trade here is nothing more than out of the money call and put butterfly's. I don't really care which way AMZN moves just as long as it moves.
Net neutral AMZN but trades are as follows.
Bought 180-170-160-155 weekly put condor for 2.05. This risks 2.05 for the potential to make 10.00 on a big move down.
Bought 205-215-225-230 weekly call condor for 1.75 and risks 1.75 for the potential again to make 10.00 on a big move up.
Net net the trade cost me 3.80 and would be a triple if AMZN pins to either 170 or 215 this Friday. This is much cheaper than buying the 180 - 205 strangle as this is currently priced at 8.35 thus reducing my cost by more than half. This is strictly a volatility play and is nothing more than playing for the volatility collapse and believing AMZN support of 170 and resistance of 215 will hold.
Click to enlarge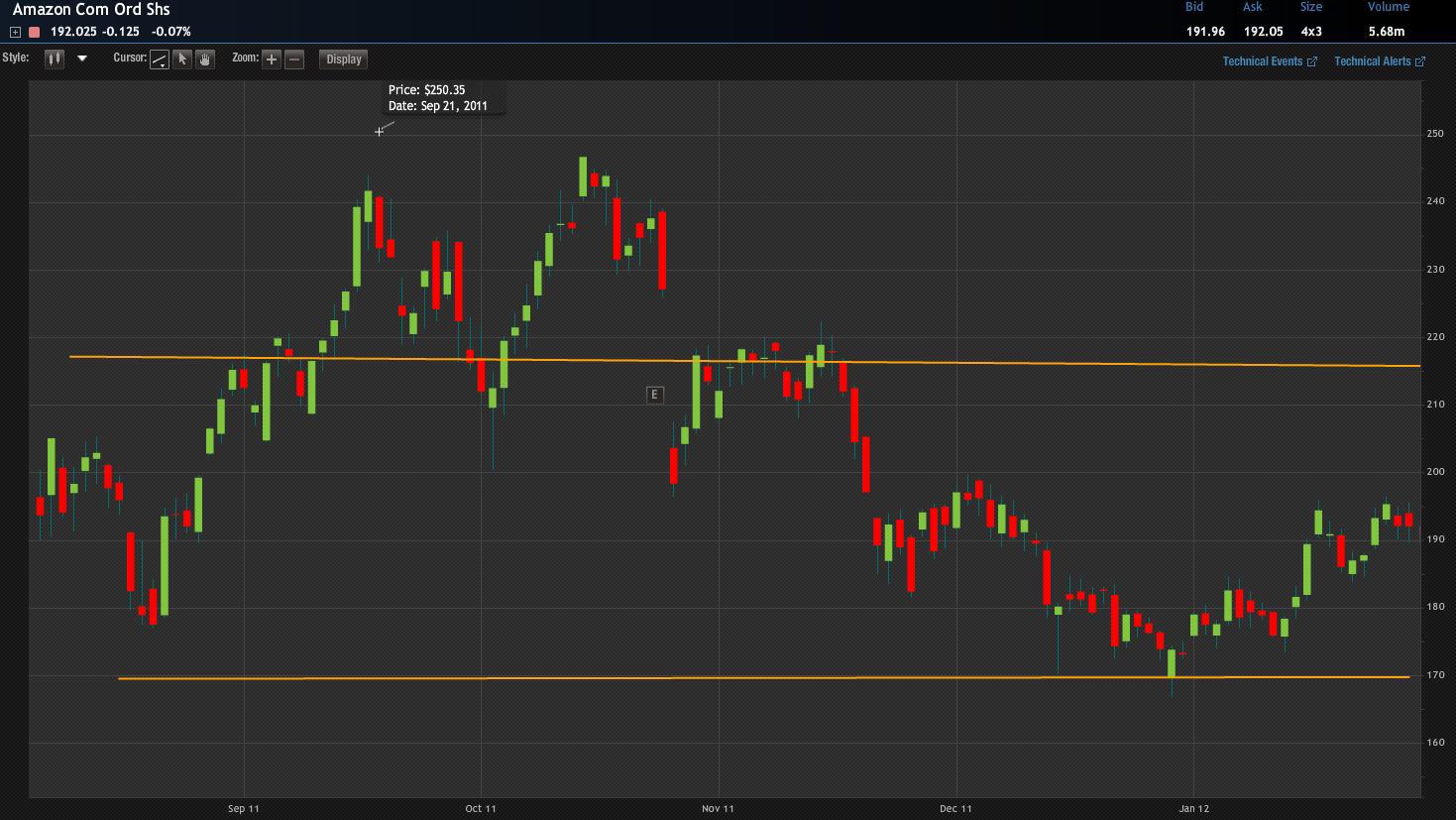 Popular ETFs and equity names with bullish/bearish paper in terms of call/put ratios:
Calls outnumbering puts:
FMC Technology (NYSE:FTI) 57:1
Micromet (NASDAQ:MITI) 32:1
Motorola Mobility (NYSE:MMI) 16:1
Clearwire (CLWR) 59:1
Headwaters (NYSE:HW) 124:1
Brocade (NASDAQ:BRCD) 148:1
Thoratec (NASDAQ:THOR) 14:1
Hutsman (NYSE:HUN) 12:1
Dollar Thrifty (NYSE:DTG) 26:1
Puts outnumbering calls:
Mid-Term VIX (NYSEARCA:VXZ) 222:1 (Huge put buying in a name which only trades 36 put options a day)
KBW Regional (NYSEARCA:KRE) 117:1(Huge buyer again of 25/20 put spread)
Jeffries (JEF) 20:1 (Again puts dominate this name)
Altera Corp (NASDAQ:ALTR) 8:1
Materials ETF (NYSEARCA:XLB) 7:1
Euro ETF (NYSEARCA:FXE) 7:1
Yum! (NYSE:YUM) 10:1
Forrest Oil (NYSE:FST) 17:1
Volatility Explosion
Radioshack (NYSE:RSH) saw share prices fall off a cliff today as the stock lost more than 28%. Implied volatility exploded to the upside as it went up more than 45%. Largest trades were sellers of the July 8/6 put spread 3.6K times and sellers of the July 9 put more than 1.5K times as people began selling the crazy volatility in this name. Most reporters believe this name could be a takeout candidate and this would be supported by the options as puts traded more than 25K into the noon hour with 42% sold at or below the bid. This action was more than 22x normal daily volume in the puts where calls also traded 15x normal volume. On the call side 52% were bought at the ask and 30% were sold at the bid. Net deltas/premium would suggest the majority of puts were sold and calls were bought as option players consider a possible rebound.
Volatility Implosion
Lexmark (NYSE:LXK) saw a more than 40% decline in IV after reporting quarterly results. Lexmark announced a very disappointing forecast and plans on cutting 625 jobs. Share prices fell more than 2% in LXK as large February put holders sold and rolled out positions across the board. Puts outnumbered calls more than 3:1 on the day with 40% bought at the ask. Option volume was more than 18x average daily volume.
As always happy trading and stay hedged.
Remember equity insurance always looks expensive until you need it
Disclosure:
I am long SDS, APC, TBT, FTR
I am short: SIAL, RAX, TMO, PBI, FXE, DB
Disclaimer: The opinions in this document are for informational and educational purposes only and should not be construed as a recommendation to buy or sell the stocks mentioned or to solicit transactions or clients. Past performance of the companies discussed may not continue and the companies may not achieve the earnings growth as predicted. The information in this document is believed to be accurate, but under no circumstances should a person act upon the information contained within. I do not recommend that anyone act upon any investment information without first consulting an investment professional as to the suitability of such investments for his or her specific situation.