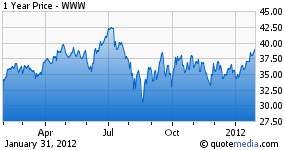 This past week saw the release of Wolverine World Wide's (NYSE:WWW) fourth quarter and full year earnings. Shares traded down on conservative guidance for 2012, despite record revenue for the company. The company has also been the subject of takeover rumors of Payless Shoe Stores parent company Collective Brands (NYSE:PSS). The conservative guidance and the possibility of the integration of Collective Brand's wholesale shoe brands offer great opportunity for Wolverine shareholders.
For the fourth quarter, Wolverine reported revenue of $460.5 million, which was an increase of 18% from the previous year fourth quarter period. Also for the quarter, Wolverine reported a profit of $23 million, which was good enough for $0.47 in earnings per share, which was a decrease from last year's comparable $0.52 per share earnings.
The full year saw Wolverine earn $1.4 billion, a 12.9% increase from fiscal 2010. Full year profit was reported at $123.3 million, an increase of 14.3% from fiscal 2010. Earnings per share for the year were $2.48, an increase on the $2.11 earned last year.
The record earnings were helped by strong demand for Wolverine World Wide shoe brands in international markets. All international regions saw double digit revenue growth. Perhaps some of the international strength was helped by new stores overseas and the influence of Kate Middleton wearing a Wolverine shoe during the fiscal year. In my last article about Wolverine, I discussed the Middleton influence and the growing international stores.
For fiscal 2011, Wolverine had called for $2.46-$2.52 per share in earnings based on revenue of $1.40-$1.43 billion. Wolverine came in at the bottom end on both numbers, which was disappointing for investors.
Also of recent news for Wolverine shareholders is the rumored buyout of Collective Brands . Bids are supposed to be reported next week for the shoe company that has appeared set to sell itself since August. Several analysts, including Morningstar, have listed Wolverine as a potential suitor for Collective Brand's wholesale shoe division. A deal would likely come in at $27 for Collective Brands and give a private equity group control of the Payless Shoe Store retail operation, and give Wolverine the wholesale division. The wholesale division includes shoe brands Stride Rite, Saucony, and Keds. The deal would allow Wolverine to immediately integrate the shoe brands into Wolverine's 93 retail outlets like Track and Trail and also expand its portfolio of brands.
In a November article on Seeking Alpha, I rated both Collective Brands and Wolverine World Wide with hold ratings. A company that could combine the large portfolio of brands could become a much stronger company. Wolverine has been focusing on the international expansion and some of its higher end shoe brands. The wholesale division from Collective could give Wolverine some much needed cash flow to fund store expansion.
In the last article I wrote about Wolverine, I called for a price to earnings multiple of fifteen. At the time that represented a target price of $42.30. Based on 2012 guidance of $2.60 to $2.70, that target price actually lowers to $39.00-$40.50. At this target price, it would appear that there is little upside for shares of Wolverine World Wide. A possible deal with Collective Brands keeps me slightly bullish on the stock over the next twelve months.
Disclosure: I have no positions in any stocks mentioned, and no plans to initiate any positions within the next 72 hours.