The railroad industry has had a hard week with CSX Corp. and Kansas City Southern (NYSE:KSU) having hard sales quarters due to missed earnings. This news comes after several short-term issues hit the railroad stocks: a shift from coal to natural gas, legislation before congress about regulation, and increasing costs. Though these railroad companies decreased in share price, Norfolk Southern Corporation (NYSE:NSC) increased in value after reporting 4th-quarter profits increasing by 19%. This is truly exceptional given the results of its competition. Of any railroad stock to own, NSC is a strong company because of its large size, forward earnings momentum, and increasing dividend. There is no sign of railroads becoming obsolete anytime soon.
(Click chart to expand)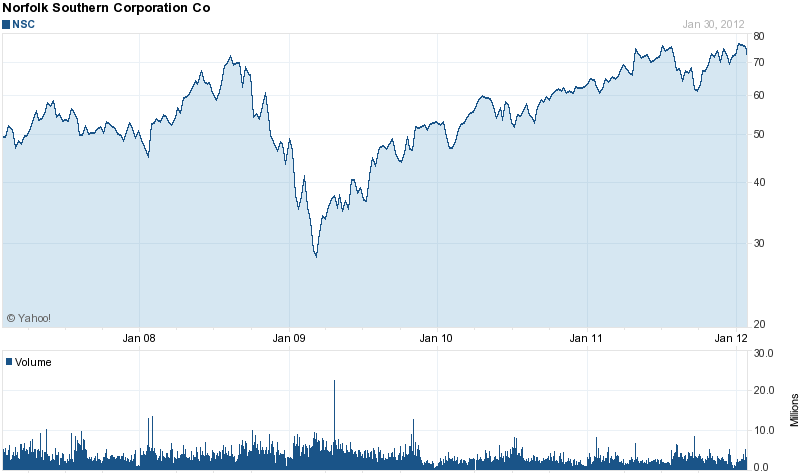 (Yahoo Finance)
Why NSC is appealing in the short term and long term:
Strong Momentum: A company that is both leading its sector and its competition is a company worth investing in. As aforementioned, NSC reported profits increasing 19% and earnings coming in above Wall Street's expectations. In the coming months, NSC will show stability after such a strong earnings report. The industry as a whole has received a great deal of publicity after legendary investor Warren Buffett of Berkshire Hathaway (NYSE:BRK.A) stated, "My time horizon is we will hold (the railroad) forever" and added he expects, "steady and certain growth over the decade." This will give the sector added near-term momentum.
Dividend: NSC's already high dividend is increasing again after its stellar performance. The company's board of directors stated that it would be raising the dividend 9.3%. This marks a 2.7% annual dividend, outperforming its two largest rivals KSU (0% dividend) and CSX (2.1% dividend). This increased cash flow to investors will make NSC an appealing investment in the near-term future.
Analysts "buy" on the stock: Localized USA reports:
Analysts at BMO Capital Markets reiterated an "outperform" rating on shares of Norfolk Southern in a research note to investors on Wednesday. They now have a $87.00 price target on the stock. Analysts at UBS upgraded shares of Norfolk Southern from a "neutral" rating to a "buy" rating in a research note to investors on Thursday, January 5th. They now have a $92.00 price target on the stock, up previously from $81.00.
This marks the sentiment on Wall Street on the stock and the forward momentum the company will have over the coming months.
Infrastructure Improvements: Logistics Management reported that:
The Association of American Railroads (NYSE:AAR) said today that the seven North America-based Class I freight railroads are on track to invest a record $13 billion in capital expenditures for 2012, with the capital going towards expanding, upgrading, and enhancing the U.S. freight rail network.
This type of increase in expenditure marks a steadfast believe that railroads are an investment worth making as trucking becomes more expensive and rail becomes more efficient. Though many may look at the government regulation coming over the industry as a negative thing, the truth is that these improvements will make rail both safer, more efficient and more profitable. NSC marks an exceptional way to be exposed to the boom in rail.
Coal shows no sings of slowing down: The industry reported that as natural gas prices decreased and coal increased, the amount of coal needing to be transported simultaneously decreases. Though this may have been true this quarter and threw other railroad companies for a loop, NSC reported that Coal revenue jumped 24 percent, to $850 million. The chart below gives credence to the fact that coal transportation is here to stay and NSC is taking advantage of the opportunity.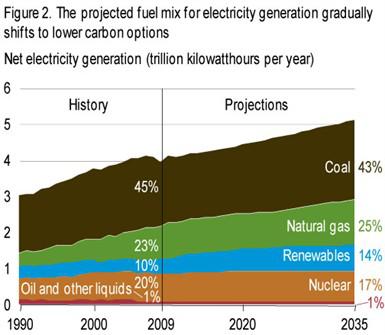 (Globe Net)
Conclusion: Warren Buffett has not made too many mistakes in his business career and when he states that the railroad industry is one to hold "forever," he is not lying. Though the industry may have its bumps over the coming years, both the short-term and long-term prospects for NSC are strong. After the company's stellar earnings and profit reports, the company is a solid investment.
Disclosure: I have no positions in any stocks mentioned, and no plans to initiate any positions within the next 72 hours.