It would be the "next big thing." It would cut our dependence on foreign oil, significantly reduce greenhouse gas emissions, and provide a bridge to an all-electric automotive future. And it had a charismatic, multi-billionare pitchman with the connections, clout, and chutzpah to make it happen.
When I first started reading about natural gas as vehicular fuel in early 2010, I wanted in. Whatever T. Boone Pickens was selling, I was buying.
There was even pending legislation to award government subsidies to purchasers of NG-powered vehicles. With rising oil prices, abundant domestic supplies of NG, geopolitical dysfunction in OPEC countries, and T. Boone at the helm, passage of HR1380 -- the Natural Gas Act -- seemed a fait accompli that would usher in mass adoption of NG-powered vehicles. HR 1380 was scheduled for congressional review in April 2011. I resolved to invest in the NG vehicle sector ahead of the anticipated passage of the NG Act and explosion in the share prices of NG vehicle companies that I was sure would ensue.
My enthusiasm was tempered by my awareness that any investment thesis that relied on the passage of government legislation was a risky proposition, no matter how sensible the legislation, as partisan politics has a nasty habit of trumping common sense. Moreover, I was also aware that T. Boone had previously championed another form of alternative energy -- wind power -- and the wind produced from that venture had emanated largely from Boone's own ample gullet rather than from wind turbines.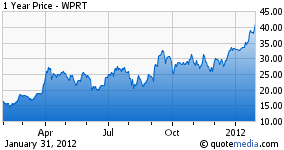 Therefore I decided to make my investment a modest one. I evaluated the "big three" NG vehicle companies -- Clean Energy (NASDAQ:CLNE), Fuel Systems Solutions (NASDAQ:FSYS), and Westport Innovations (NASDAQ:WPRT) -- and decided to go with 100 shares of WPRT, which I picked up for $18.
Immediately after I invested in WPRT, the NG sheen started to tarnish.
First, various media raised serious environmental concerns about hydrofracturing ("fracking"), the drilling process that enabled vast new domestic stores of NG to be extracted from shale rock. According to media reports, fluids used in fracking occasionally infiltrated the aquifer and poisoned drinking water supplies. Moreover, the companies that drilled for NG often neglected to clean up after themselves, leaving untreated wastewater pools in their wake.
A process that initially held such promise now had a very distinct chance of becoming a Boone-doggle.
Moreover, the NG Act did not elicit the congressional support needed for passage. In April 2011 the NG Act was referred back to the Energy and Power Subcommittee, where I believe it remains buried to this day.
WPRT shares spent the next 12 months range-bound between about $20 and $15. A year after purchasing WPRT, I found myself right back where I started, holding $18 shares.
I considered jettisoning the shares at that point, but:
I believed firmly in the American can-do spirit (even if, these days, that spirit is made in China), and was confident that the environmental challenges associated with fracking would be solved;
The Middle East remained as unstable as ever, emphasizing the urgency of replacing imported oil with a domestic substitute.
I held out hope that Congressional common sense would prevail, leading to passage of the NG Act.
I figured that WPRT would continue to languish for another year or so while these issues sorted themselves out. To eke out a bit of income in the interim, in April 2011 I sold a Jan 2012 $20 call for $1.90.
I then experienced every call seller's worst nightmare: WPRT climbed.
Slowly, haltingly, but inexorably, the shares rose. I watched helplessly as the shares soared past my strike price ... $20 ... $25 ... $30 ... ultimately closing at $35 at expiration. I mournfully bid farewell to the $1,500 in upside that I had forfeited.
You might say that, in a painful reversal of roles, gas passed me.
WPRT was much more interesting to me at $18 than it is at $38. I won't purchase shares at today's price, but WPRT does offer an intriguing bull call spread opportunity:
Buy the Jan '13 $35 strike and sell the Jan '13 $40 strike for $2.30. If WPRT shares are above $40 at expiration you'll earn 120% annualized. Moreover, the trade provides a bit of downside protection, as the break even price ($37.30) is below the current share price.
WPRT may indeed continue its upward trajectory. CEO David Demers certainly gives that impression:
"With strong growth in all areas of our business, we now expect consolidated revenue for 2011 to reach between $240 and $250 million, representing growth of approximately 70% over calendar 2010.

"A few years from now, we expect that, looking back, 2011 will be seen as the tipping point for the use of natural gas as a transportation fuel.

"We are working with three of the top four heavy-duty engine manufacturers around the world, and more than 60 OEMs. Our Light Duty business works with seven of the top 10 automotive OEMs.

"This quarter, we announced a co-marketing agreement with Shell, the largest and most sophisticated liquefied natural gas (LNG) production company in the world, that would improve the economic case for acquiring LNG vehicles along with the infrastructure, providing a complete, cost-effective solution for fleet owners who want to unlock the savings, price stability, and environmental performance advantages of LNG."
If you believe the WPRT story, and want to take a position that doesn't break the bank, the bull call spread may be just the ticket.
Disclosure: I am long CMI.