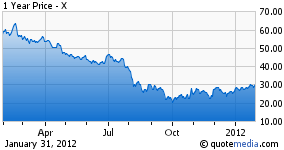 All you really need to know about whether U.S. Steel (NYSE:X) stock will outperform this year is how strong steel prices will be. Simple, right? If only. Although steel prices have been heading higher in recent weeks and commentary from top mini-mills Nucor (NYSE:NUE) and Steel Dynamics (NASDAQ:STLD) has been constructive, there more than a few worries about the health of key markets like autos, construction, and energy.
A Tough Q4, But Who Cares?
By and large U.S. Steel had a disappointing quarter. Sales climbed 12% from last year, but dropped 5% from the third quarter. Shipment volume wasn't bad (especially in flat roll), but pricing was a little disappointing outside of the flat roll business. Worse, costs were quite a bit higher despite improved utilization and overall segment operating profit wasn't a profit at all. At the bottom line, U.S. Steel missed analyst expectations by a fairly significant amount.
The good news is that nobody really cares. In commodity businesses like steel, the past quarter may as well have occurred ten years ago. What's more, about $100 million of the costs that hit profits this quarter should not be repeated in the next quarter and the sale of the Serbian operations is consummate addition by subtraction.
Waiting For The Breakout
Although integrated steel operators like U.S. Steel and Arcelor Mittal (NYSE:MT) don't necessarily address construction markets the same way as mini-mills (which often create a lot of customized product for the market), it still matters. After all, about 40% of the U.S. market for steel is construction. Unfortunately, everybody knows that commercial construction has been stagnant for a while now and most expectations call for the recovery to begin in 2013.
In the meantime, markets like autos and energy have to take up the slack. By and large, it looks like 2012 will be a better one for the auto builders and truck manufacturers like PACCAR (NASDAQ:PCAR) and Oshkosh (NYSE:OSK), as well as off-road equipment manufacturers like Caterpillar (NYSE:CAT), have been generally positive on heavy vehicle demand for the year.
As for energy, that's a wildcard at this point. U.S. Steel has a sizable business in tubular steel, but there seems to be a fair bit of doubt in the energy services market as to whether drilling activity for liquids can replace reduced gas drilling activity.
Is It Best To Be Worst?
There's a lot about U.S. Steel that most fundamental investors won't like. The company has high labor costs and pretty high fixed costs as well. While U.S. Steel does cover quite a lot of its own iron ore needs, that coverage is not perfect and the company does still require metalurgical coal. Not surprisingly, higher steel prices often herald higher iron and coal prices. What's more, about half of the company's steel prices on a spot or monthly basis.
But here's the thing - all of this makes U.S. Steel a stronger play on higher steel prices. If prices keep rising (and Nucor recently hiked prices on hot rolled steel and plate), U.S. Steel stands to benefit arguably more than any other producer in the U.S.. So the cost structure basically makes this a leveraged steel play - good steel should drive some of the best earnings improvement, but stagnation or slippage in prices will punish U.S. Steel more than others.
The Bottom Line
I cannot say that U.S. Steel is ever my favorite pick in steel; I think Steel Dynamics, Nucor, and Arcelor are all better-run and foreign plays like POSCO (NYSE:PKX) and Gerdau (NYSE:GGB) have a lot to offer as well. But there's a time, place, and price for almost any stock and this just may be the right time, place, and price for U.S. Steel.
U.S. Steel historically trades at a forward EV/EBTIDA multiple of about 6.5x (6.4x to be precise). Against the current average sell-side EBITDA estimate for 2012, that means a target in the mid-$30's. Interestingly, though, if you take what is emerging as the "bull consensus" EBITDA, that target jumps to $43. At the lower number I'd be more inclined to take my chances with Nucor or Steel Dynamics, but I happen to believe in the higher steel price thesis for 2012 and I suspect the $40+ target may end up being closer to the mark on U.S. Steel if global economic conditions don't weaken significantly.
Disclosure: I have no positions in any stocks mentioned, and no plans to initiate any positions within the next 72 hours.