The utility companies are among my favorite dividend stock picks. These companies have a long history of high and stable dividends, as well as, significant capital appreciation. While many investors discard utility stocks as boring investments, some companies in this sector returned outstanding profits to shareholders.
Among utility companies, electricity providers are probably the safest investments. The demand for electricity has a natural tendency to increase, as the population growth continues. The thought of replacing high-priced gas with electrical power is also gaining more popularity. If the consumer's demand for electric vehicles gains momentum, the demand for electricity will explode, turning these companies into profit machines. In fact, in the last 15 years, electric utility providers such as Southern Company (NYSE:SO) returned double-digit profits to its shareholders. In the same period, S&P 500's (NYSEARCA:SPY) annual return was only 6.03%.
Performance of utility companies is mostly compared with long-term government and corporate bonds. Thanks to the Fed's massive expansionary policy, government bonds yield almost nothing, if not negative. As the Fed recently announced its intention to keep the interest rates near zero levels until late 2014, I expect the utility dividends to significantly outperform treasuries. Here is a brief analysis of 5 utility companies that show you the money in terms of fat dividend checks. All of these companies are priced with a maximum trailing P/E ratio of 20, and offer a yield of at least 4%. I have analyzed these stocks from a fundamental perspective, adding my O-Metrix grading system where applicable:
Duke Energy (NYSE:DUK)
Duke Energy is one of the largest electric utility providers in the Americas. The company has operations in North Carolina, South Carolina, Ohio, Indiana, and Kentucky. Duke Energy also runs hydroelectric power generators in Latin America. The company, headquartered in Charlotte, North Carolina, employs more than 18,440 employees.
In 2011, Duke Energy made a bold move to acquire Progress Energy (NYSE:PGN), its closest rival in the South East region. That was a really bold move, given that the merger would lead to the largest electric utility company in North America, where the competition between two rivals will be eliminated. Both Progress and Duke are located in North Carolina. Naturally, it was subject to only conditional approval, asking for a plan to keep the competition alive. However, the plan was not found satisfactory and the merger is delayed for the moment.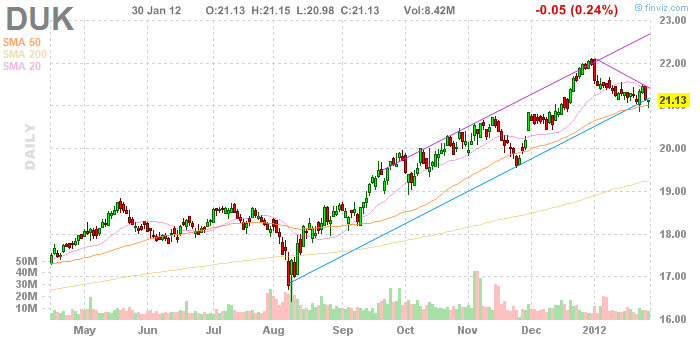 Duke Energy offers a yield of 4.72%, supported by a payout ratio of 72%. It is trading slightly above the book value. The stock was in high momentum until recently. Since its dip of $17 in August, Duke is up by almost 25%.I am not sure whether it is the best time to buy Duke since the stock looks like it lost its momentum. The year-to-date return of -3.73% is in the red territory. Based on an EPS growth estimate of 4%, Duke has an O-Metrix score of 3.02.
American Electric Power (NYSE:AEP)
Ohio-based American Electric engages in the generation, transmission, and distribution of electric power to residential and industrial customers. The company mainly operates in the central U.S.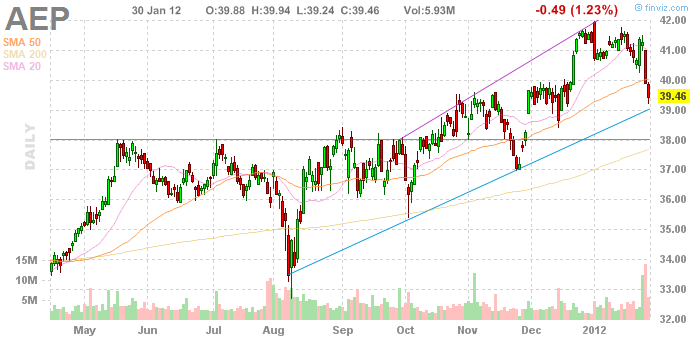 Barclays (NYSE:BCS) has an overweight rating on the company, where as Deutsche Bank (NYSE:DB) recently downgraded AEP from 'buy' to 'hold'. AEP is one of the cheapest electric utility companies as the stock is trading at a trailing P/E ratio of 12.25. Its yield of 4.71% is supported by a relatively low payout ratio of 56%. Based on an annualized EPS growth estimate of 4%, AEP has an O-Metrix score of 3.75. AEP slightly lagged its peers in terms of capital appreciation, but it will probably catch up with them in 2012.
Dominion Resources (NYSE:D)
Dominion engages is in production and transportation of energy in the U.S. Established in 1909, the Richmond, Virginia-headquartered Dominion also provides natural gas related services to its customers.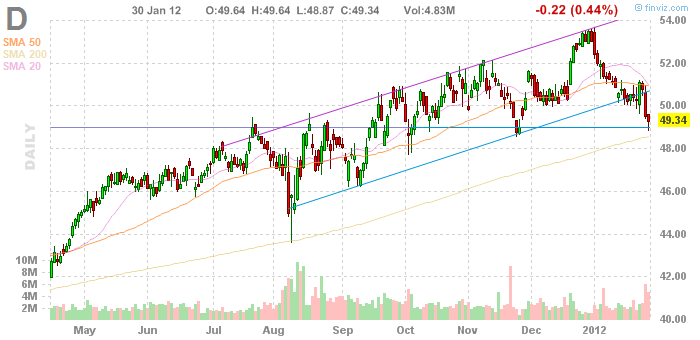 The stock has been a steady upside mover until 2012. While it returned near 25% in the last year, the year-to-date return of -6.6% is in the negative territory. The company offers a yield of 4.22%, with a payout ratio of 74%. While the trailing P/E ratio of 18.92 looks expensive, the forward P/E ratio of 14.28 falls into fair-value range. Based on an EPS growth estimate of 5%, the stock has an O-Metrix score of 2.92.
Southern Company
Southern Company is one of the most widely followed utility companies in the market. As its name implies, Atlanta-headquartered Southern operates mainly in the Southern states such as Alabama, Georgia, Florida, and Mississippi. The company also runs a telecommunication service as a side business.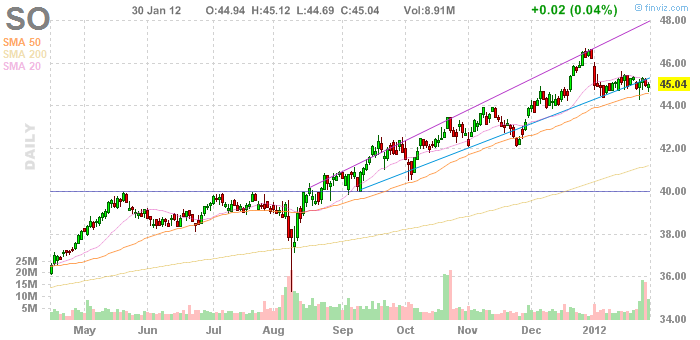 Southern Company is a slow but solid profit-maker. Insiders have been both selling and exercising options for a while. While Southern has been an outstanding stock, it might be time to enjoy profits. After all it returned more than 25% in the last year. I would rather wait for a pull-back before buying more. The stock offers a yield of 4.2% with a sustainable payout ratio. Based on EPS growth estimate of 6%, Southern has an O-Metrix score of 3.2.
PPL Corporation (NYSE:PPL)
Established in 1920, Pennyslvania-headquartered PPL operates as an integrated energy retailer. The company not only generates and sells electricity, but it also delivers natural gas to millions of customers in the North East.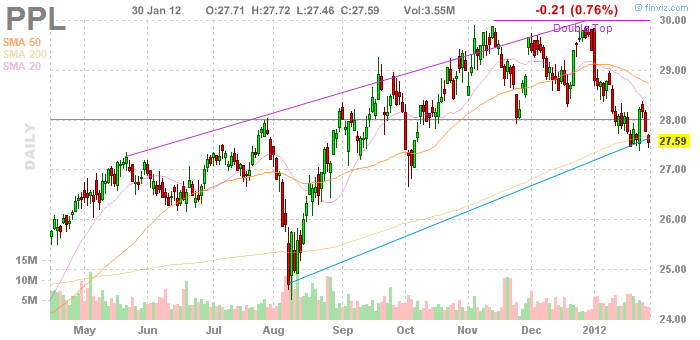 Similar to its peers, the stock underperformed the broad market indices in this year so far. After returning double-digit capital gains in the last year, the ytd return was -5.5%. Nevertheless, PPL offers a yield of slightly above 5%, supported by a relatively lower payout ratio of 54%. I think PPL is likely to outperform its peers in the long term since it is trading at relatively low P/E ratio of 10.5. Based on an EPS growth estimate of 5.2%, the stock has an O-Metrix score of 4.96.
Disclosure: I have no positions in any stocks mentioned, and no plans to initiate any positions within the next 72 hours.