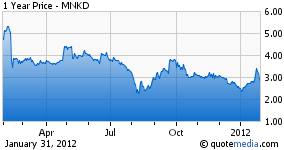 With the approval of Boehringer Ingelheim Pharma and Eli Lily's (NYSE:LLY) Jentadueto, Mannkind's (NASDAQ:MNKD) Afrezza will not make as big an impact on the type 2 diabetes market as shareholders are hoping for; assuming Afrezza receives regulatory approval. Both treatments are different because Jentadueto is a twice daily pill while Afrezza is an inhaled insulin.
To quickly sum up Jentadueto, the twice daily pill has been approved for patients with type 2 diabetes and whom are cleared to take linaglipton (approved already as Tradjenta) and metformin, which are the two medications included in Jentadueto. Jentadueto is not approved or recommended to be taken by patients with type 1 diabetes and the treatment has not been tested with insulin, which means it should be assumed for safety reasons that Jentadueto is not safe in combination with insulin.
This means that Afrezza will not have the same potential, if approved, as investors have hoped for in the past. One difference, however, is that Afrezza is a mealtime insulin while Jentadueto is a twice daily pill. Therefore, as Mannkind has stated about Afrezza in the past, patients taking Jentadueto do not have to deal with any type of embarrassing injections or inhalers that may bring unwanted attention. Furthermore patients with the opportunity to use either treatment are likely to choose Jentadueto instead of Afrezza.
At this point it is difficult to precisely pinpoint how much of the diabetes market Afrezza and Jentadueto will secure, but it is not a good sign that other type 2 treatments, such as Tradjenta, beat Afrezza to the market. One of the negatives for Jentadueto is that it is the second DPP-4 treatment to be approved for Eli Lilly and Boehringer in 11 months. With that in mind, it is important to note Afrezza is a different type of diabetes treatment. While Jentadueto is a DPP-4 inhibitor, Afrezza is essentially a powdered insulin.
Despite Afrezza possibly losing market share to other diabetes treatments, Afrezza does have an advantage over Jentadueto. This advantage is that many type 2 patients need, at some point, some sort of insulin treatment. Therefore Jentadueto may not be a long term option for type 2 patients unless Jentadueto is tested and approved in conjunction with other insulin treatments.
In the end Mannkind has been dealt another slight blow because another diabetes treatment is on the market. Even if Afrezza turns out to be a safer and more efficient treatment, the time it takes to reach the market is allowing new treatments time to be entrenched into the diabetes market. Also, many doctors and patients are weary of switching prescriptions if what they are using is already working.
All is not lost for Afrezza and Mannkind, but it appears another speed bump has been placed in front of Afrezza. Jentadueto may not be a regulatory speed bump, but it will cause the FDA to look at Afrezza's results in more detail because Afrezza is becoming less and less necessary. With that said, Jentadueto does not treat type 1 diabetes which gives Afrezza that market, but the type 1 market is roughly 5% of the total diabetes market; which will not bring in the blockbuster revenue investors are hoping for.
Currently Mannkind is optimistically (as usual) conducting the required phase three trials to get Afrezza back into the regulatory commission's hands in 2013. And as you can see in Mannkind's chart, traders will have a plethora of opportunities for profits over the next 12-18 months.
Click to enlarge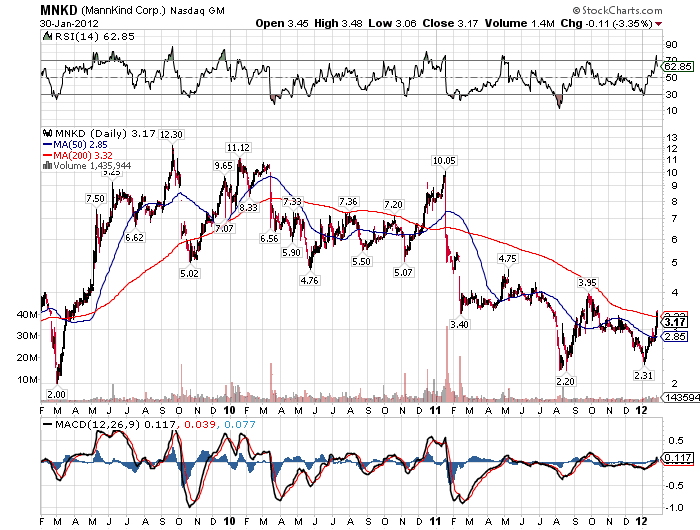 Disclosure: I have no positions in any stocks mentioned, and no plans to initiate any positions within the next 72 hours.