In 2011, the S&P 500 began the year with remarkable fanfare. The benchmark raked in 2.4% in January alone. And yet, in 2012, the S&P 500 has been even more impressive, snagging an eye-popping 4.4%.
The reasons for the risk-on gains may be easy to identify, from the notion that U.S. economic prospects are improving to the feeling that Europe will contain its debt crisis. Throw in the need for short-sellers to cover their profits in the most beaten down sectors (e.g., alternative energy, metals mining, European financials, etc.), and one's recipe for a rally is nearly complete.
Going forward, however, one country's decisions will be more critical than any other. China's.
Consider the state of world affairs near its most bearish in 2011. What turned the tides ... was it the hope that Angela Merkel would mortgage Germany's future by agreeing to euro-bonds? Did investors believe that the Fed would eventually bail out Europe with the purchase of Spanish or Portuguese debt? In truth, the first spaghetti to stick on the Wall was the mid-September rumor that China might buy Italian bonds.
Of course, China doesn't just hold the key to debt crisis containment. The world's second largest economy is the primary driver of global economic growth.
Last year, Chinese officials were busy taming the inflation dragon with tighter banking policies. Leaders steadily raised bank reserve requirements as well as interest rates, causing commodity prices as well as resources-rich nation ETFs to plummet.
This year, though, China's leadership has shown an increasing willingness to lower bank reserve requirements and/or refrain from additional rate hikes. The result?
1-Month Returns For Resources-Rich Country ETFs And Commodity-Related ETFs
Approx %
iShares MSCI Brazil (NYSEARCA:EWZ)
15.5%
Market Vectors Russia (NYSEARCA:RSX)
15.2%
iShares MSCI Peru (NYSEARCA:EPU)
13.7%
iShares MSCI South Africa (NYSEARCA:EZA)
9.4%
iShares MSCI Australia (NYSEARCA:EWA)
9.2%
iShares MSCI Chile (NYSEARCA:ECH)
8.6%
iShares MSCI Canada (NYSEARCA:EWC)
7.5%
Market Vectors Rare Earth Metals (NYSEARCA:REMX)
19.5%
Market Vectors Steel (NYSEARCA:SLX)
17.8%
First Trust Materials (NYSEARCA:FXZ)
12.8%
SPDR Metals & Mining (NYSEARCA:XME)
12.4%
iShares S&P Global Materials (NYSEARCA:MXI)
12.0%
SPDR S&P 500 Trust (NYSEARCA:SPY)
4.1%
Theoretically speaking, reversions to average P/Es should be enough to stoke a fire for equities. That said, we've already seen stocks trade for 440-plus consecutive days below 50-year average P/Es. It follows that we are far more likely to see stocks get a lift from evidence of a "soft" economic landing in China as well as any decisions China may make to keep Europe from the abyss.
Regarding the former, Goldman Sachs Group Inc. and JPMorgan Chase & Co. both believe that China is likely to buy less copper in the next few months. What's more, China's January PMI may show economic contraction when it is released tomorrow. If that is the case, and if China officials continue to wait on potential rate/bank reserve easing, stock assets would have an enormously difficult time climbing higher.
With respect to eurozone debt, China doesn't necessarily need to act as Europe's financial savior for stocks to move higher. Yet China's involvement will be crucial. Nobody knows this reality more than German Chancellor Angela Merkel who heads to Beijing on Thursday. On the agenda? Merkel may push for greater commitment to the International Monetary Fund (IMF) by China as well as a Merkel speech on the eurozone crisis to the Chinese Academy of Social Sciences.
Will China eventually lower rates and bank reserve requirements to stimulate its economy? Will China become more engaged in the eurozone debt crisis? Checking the price movement for SPDR S&P China (NYSEARCA:GXC) will give you insight into what the markets themselves think. Greater certainty would be reflected by an ability to climb above and stay above the 200-day long-term trendline.
Click to enlarge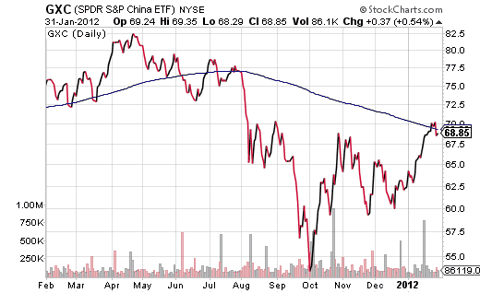 Click to enlarge
Disclosure: Gary Gordon, MS, CFP is the president of Pacific Park Financial, Inc., a Registered Investment Adviser with the SEC. Gary Gordon, Pacific Park Financial, Inc, and/or its clients may hold positions in the ETFs, mutual funds, and/or any investment asset mentioned above. The commentary does not constitute individualized investment advice. The opinions offered herein are not personalized recommendations to buy, sell or hold securities. At times, issuers of exchange-traded products compensate Pacific Park Financial, Inc. or its subsidiaries for advertising at the ETF Expert web site. ETF Expert content is created independently of any advertising relationships.